This spring Washington, D.C. is buzzing with interesting developments that impact the greater roofing industry. In early April, a broad coalition of roofing industry professionals met with federal policymakers and congressional representatives on Capitol Hill as part of the industry's annual "Roofing Day" for an educational and collaborative discussion about legislation and policies currently under consideration. Some of the topics covered, including supply chain issues and workforce disruptions, are a vital concern for the roofing, building and construction sectors.
The roofing industry employs nearly a million workers and creates $100 billion in revenue annually. Its success is vital to the national economy and to many current government initiatives. Roofing plays a critical role in efforts to address affordable housing shortages and in the building, repair, and maintenance of critical infrastructure like schools and hospitals nationwide.
Many of these efforts are in jeopardy because of continuing workforce shortages in skilled trades and labor that have hit the construction sector particularly hard and show few signs of easing soon. Systemic deficits in technical education and career training have resulted in scarcity of skilled tradesmen and tradeswomen to carry out the manufacture, transport and installation of the products that provide shelter to all Americans. Addressing these issues is essential to the success of the roofing industry and recent months have seen some federal action toward that goal.
Build Back Better
The $1.2-trillion Build Back Better infrastructure bill that was passed in November 2021 includes $5 billion in new funding for programs specifically aimed at contractors, according to an AGC fact sheet and information from the NRCA. These include a wide range of programs geared to reduce electricity use in buildings, improve the materials used to build them, and train more people to design, build, and maintain energy-efficient buildings. When you include provisions for airport construction, that total jumps to almost $30 billion. Some of the key roofing-related components of the bill include:
• $3.5 billion for residential weatherization programs aimed at helping everyday Americans upgrade their residences to be more resilient to extreme weather and more energy efficient with better insulation, windows, roofing, and heating and cooling devices.
• $1.8 billion in energy efficiency-related programs administered at the local level for commercial, residential, non-profit and government buildings.
• A $225 million grant program to help understaffed and underfunded local governments upgrade their building codes for more uniform efficiency standard across the country.
• $500 million specifically for energy upgrades to schools.
• $25 billion for airport and air traffic control construction.
The roofing industry is particularly well-placed to respond to the bill's focus on weatherization and energy efficiency since poorly sealed or under-insulated roofs are the largest single source of energy loss (heating and cooling) in most buildings. This funding will reach manufacturers and installers of roofing materials, coatings, and insulation, and it will benefit the entire roofing industry. It will also improve building energy performance and resilience at a time when energy costs and severe weather events are increasing.
Infrastructure Investment and Jobs Act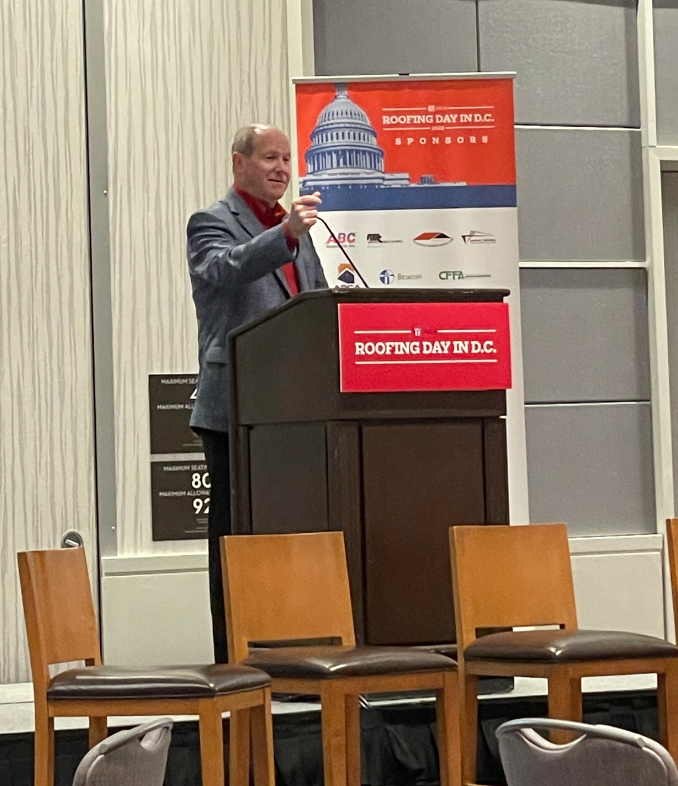 In addition to the direct funding of these building programs, the "Infrastructure Investment and Jobs Act" includes provisions aimed at addressing the supply chain and workforce issues that have caused such disruption for the construction industry. The bill funds programs to train skilled workers for trades and create incentives for more truck drivers. Some of these include:
• $10 million in grants to higher education institutions to teach students how to assess and maintain energy efficiency in buildings and train building technicians and engineers to implement modern building techniques.
• $10 million in grants for training programs for industry-related certifications to install energy-efficient building technologies.
• $50 million to support the use of energy-efficient construction materials in buildings used by nonprofits, helping improve the resiliency of low-income organizations while also spurring research into low-carbon building materials.
• A program to encourage more women to consider trucking professions.
• An apprenticeship pathway for drivers under the age of 21 to legally operate a commercial vehicle in interstate commerce. (Note: Many states currently grant CDLs to drivers 18 and older, but federal law prohibits drivers from moving goods across state lines until they are 21.)
With the bill's passage, federal agencies are now tasked with executing these provisions and creating the guidelines and rules for accessing the funds provided in the bill. One of the major goals of the Roofing Day events this year was to connect with the people involved in crafting these programs to offer information and expertise to ensure that the programs are effective in meeting objectives and are not too onerous for companies in the field to implement. Advocacy efforts are also going into recommendations for additional programs to be included in future legislation.
Though last year's infrastructure bill includes crucial funding for important programs, many needed provisions were trimmed to gain support from reluctant lawmakers as the bill made its way through Congress. Many industry experts hope that Congress will be able to reach an agreement on an even more ambitious bill to address the nexus between buildings and climate change, which would include some of the funding and programs removed from the initial $1.2 trillion bill. Roofing Day and similar initiatives provide a forum where roofing professionals can share information with lawmakers to earn their support for programs that will benefit the industry while also improving the lives of the everyday Americans who are their constituents.
As one of the nation's foremost industry advocates, PIMA is an active sponsor and organizer of advocacy events like Roofing Day that bring hundreds of industry stakeholders together for crucial conversations with policymakers. PIMA works tirelessly to promote enhanced energy codes and public policies that drive investments in the construction of energy-efficient envelopes for new and existing buildings. PIMA also supports plant tours of member facilities for state and federal elected officials, which help highlight the business of energy efficiency and manufacturing. An overview of PIMA's recent public policy activities can be found at polyiso.org/page/Advocacy.
About the author: Justin Koscher is president of the Polyisocyanurate Insulation Manufacturers Association (PIMA). For more information, visit polyiso.org.