Since its founding in 1976, Wilson Pacific Roofing has garnered a well-deserved reputation as one of Southern California's top commercial roofing companies.
"Over the last 44 years, we have roofed and re-roofed the same buildings for our clients since we opened," says owner Rick Wilson. "They are not only happy with our quality re-roof work, but our clients are also very pleased with our guaranteed roof maintenance and repairs."
When Wilson Pacific was called on to perform a re-roof project at Wildwood Middle and Upper School in Los Angeles, California, they knew Polyglass was the project's brand of choice. To ensure the highest level of quality and to meet the project's specific needs, they tapped their Polyglass technical advisor, Rick Mapes, to formulate a roof system specially designed for the school.
Project Needs and Challenges
Wildwood High School occupies a single large building consisting of a twin-barrel roof structure with a flat blind valley separating the barrels. The existing roof was showing signs of wear but was still in fair condition. The original plan had been to repair and re-coat the existing roof, but the team soon determined that the planned installation of 21 new skylights and six HVAC systems would make that strategy impractical. In addition, the roof needed to be able to stand up to a considerable amount of wear-and-tear. "We were aware that foot traffic was going to be a frequent occurrence," says Wilson. "We needed a tough and durable roof system to meet this challenge."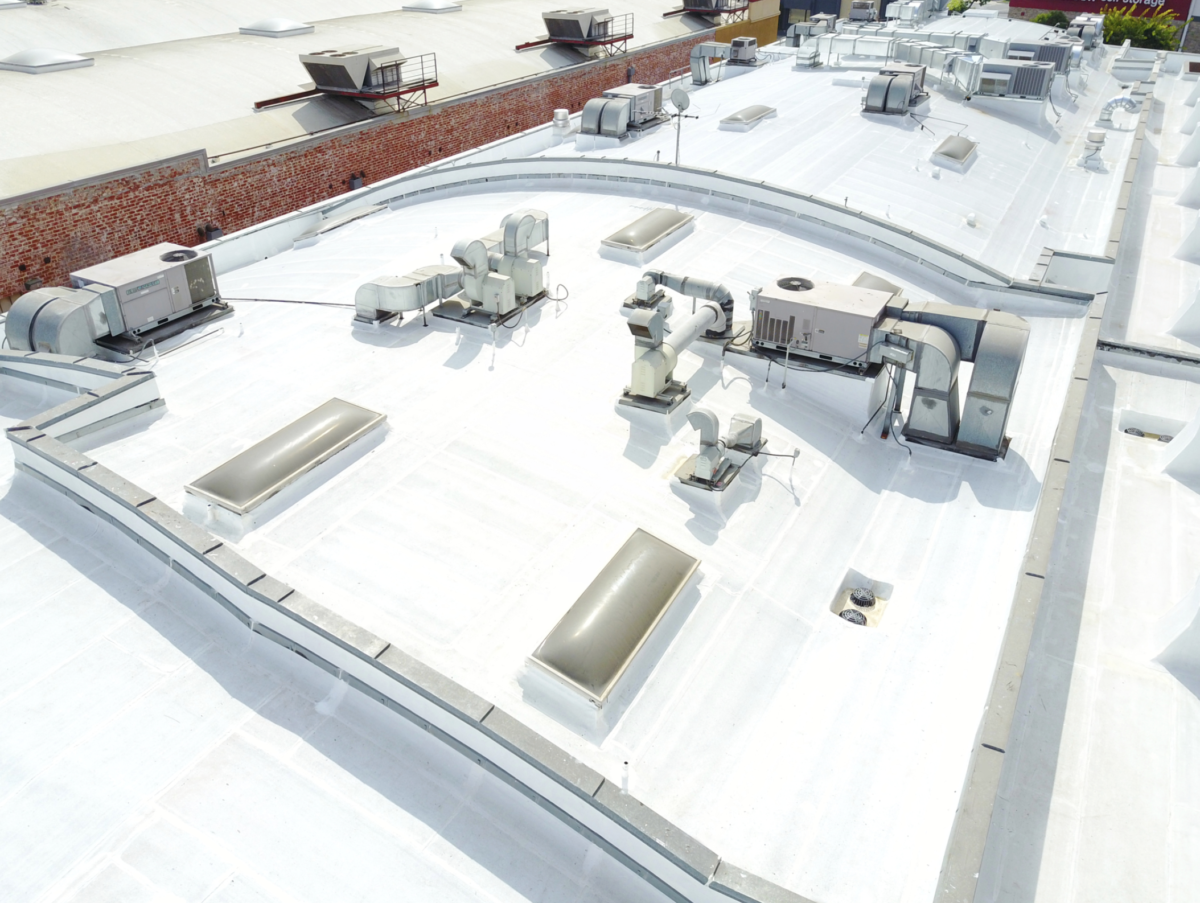 Mapes and the Wilson Pacific Roofing team determined that the best solution would be to re-cover over the existing roof structure using a modified bitumen system manufactured by Polyglass. "The structure can easily support the additional weight, and at the same time, we could save the existing roof insulation," says Wilson.
The team began by leveling the roof deck, filling in the insulation gaps left by the skylights and HVAC installations using new 4-inch polyiso insulation and half-inch DensDeck.
After priming the surface with Polyglass PG-100 Fast-Drying Asphalt Primer, the crew applied the two-layer Polyfresko G Roof System, which consists of a Polyflex APP modified bitumen membrane welded directly to the roof, followed by the application of the Polyfresko G Modified Cool Cap Sheet.
The team specifically chose the Polyfresko G system due to its patented CURE Technology. This innovative thin film technology offers enhanced performance benefits that include UV stabilization, granule adhesion, high reflectivity, scuff resistance, and stain resistance — all of which make the roof system particularly robust and durable for many years to come.
TEAM
Roofing Contractor: Wilson Pacific Roofing, Chatsworth, California, wilsonpacificroofing.com
MATERIALS
Roof System: Polyfresko G Roof System (Polyflex APP modified bitumen cap sheet and Polyfresko G Modified Cool Cap Sheet), Polyglass, polyglass.us