Utah Tile and Roofing Inc. prides itself in its ability to tackle difficult projects. When Okland Construction approached the company to help prepare budgets for a bid on a roof replacement on a building that would become a data processing center, they immediately knew this one would fit the bill.
Founded in 1948 in Price, Utah, Utah Tile and Roofing (UTR) relocated to Salt Lake City in 1966. The company handles all types of commercial roofing projects, as well as waterproofing, sheet metal, and wall panels. The current owners are Paul and Andrew Seppi, who took over from their father, founder Herman Seppi, in 1977. According to J.C. Hill, vice president, the company continues to build a reputation for craftsmanship as it works on some of Utah's iconic buildings. "We've done a lot of high-end work here in the state of Utah," Hill says. "A lot of the architectural gems here locally have our fingerprints all over them. The higher-end, more difficult work is where we've found our niche."
The Aligned Energy data facility known as Pepper River in West Jordan, Utah, would also have its challenges, including a tight schedule and difficult weather conditions. Approximately 250,000 square feet of existing roof would have to be removed and replaced, but the sensitive nature of the building would require not only a durable temporary roof to keep everything dry during construction, but a resilient, long-lasting finished roof to protect the equipment below. The answer was a hybrid roof system from Sika with a vapor barrier set in hot asphalt. It would be topped with insulation, a cover board, and an 80-mil Sarnafil PVC membrane.
The design for the roof system was developed by UTR in conjunction with the architect, roof consultant, general contractor, and the manufacturer. "The vapor barrier would be set in hot asphalt as a temporary roof. The insulation and the tapered insulation would also set in hot asphalt," Hill says. "That gave them some redundancy, which is a term those tech guys like."
Roof Removal
The building's original gravel-surfaced built-up roof had been covered over at some point with a mechanically attached white TPO roof on one side and a mechanically attached black EPDM roof on the other.
"We had to keep the building watertight as we tore it off," says Hill. "We put the temporary roof down and crews would do a nightly seal to keep everything watertight as they progressed across the building."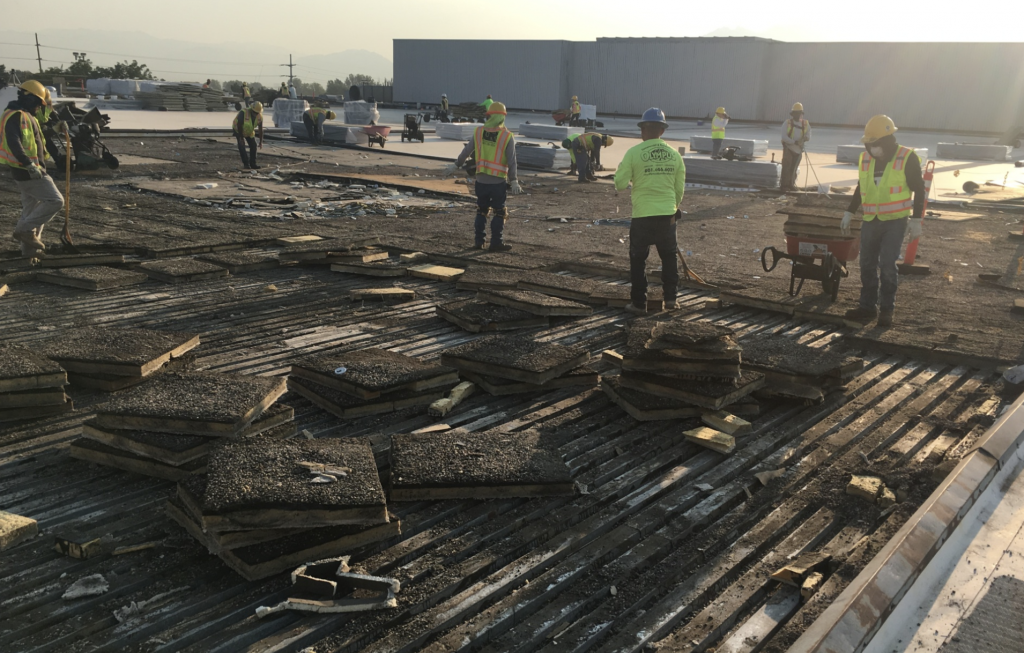 Work was done in sections, beginning on one half the roof and then finishing up on the other. The expansion joint in the center of the building was the dividing line.
The safety plan included a perimeter flag system, and those outside the warning line were tied off 100 percent of the time. A scaffold stair tower was built to provide safe access to and from the roof.
Debris from the tear-off was removed using chutes and dumpsters. First the roof membrane was sliced up into manageable sections, rolled up, and deposited into a dumpster, along with the cover board. Then the built-up roof was cut into 3-foot-by-3-foot squares and pried off the metal deck.
The deck was swept clean of debris and inspected. Some of the decking had to be replaced, including sections where skylights were eliminated. A 5/8-inch DensDeck cover board was then screwed down to the metal deck. The vapor barrier sheets were unrolled and allowed to relax in the hot sun, and then set in hot asphalt. "We were able to do about 2,000 or 2,500 square feet a day with the tear-off and dry in," notes Hill.
One unusual obstacle was a Canadian goose that had set up her nest in the expansion joint. "We had to leave that section undisturbed while she was waiting for her chicks to hatch," says Hill. "Actually, there was a pretty good-size section of the roof in the middle that we weren't able to address until she left. Luckily there was plenty of roof to work in, and we didn't want to disrupt her. Even after she left with her chicks, she would come back and chase the guys around every once in a while."
After the temporary roof was installed, the existing parapet walls were raised. The durable temporary roof allowed carpenters other trades to work on the roof without excessive fear of damage. After the trades completed their work, the finished roof system was installed right over the temporary roof.
The PVC System
First a layer of polyiso insulation was set in hot asphalt. Next the tapered insulation layer was also set in hot asphalt, followed by another layer of insulation to achieve R-30. Half-inch DensDeck Prime was then set in low-rise adhesive and the white PVC membrane was fully adhered.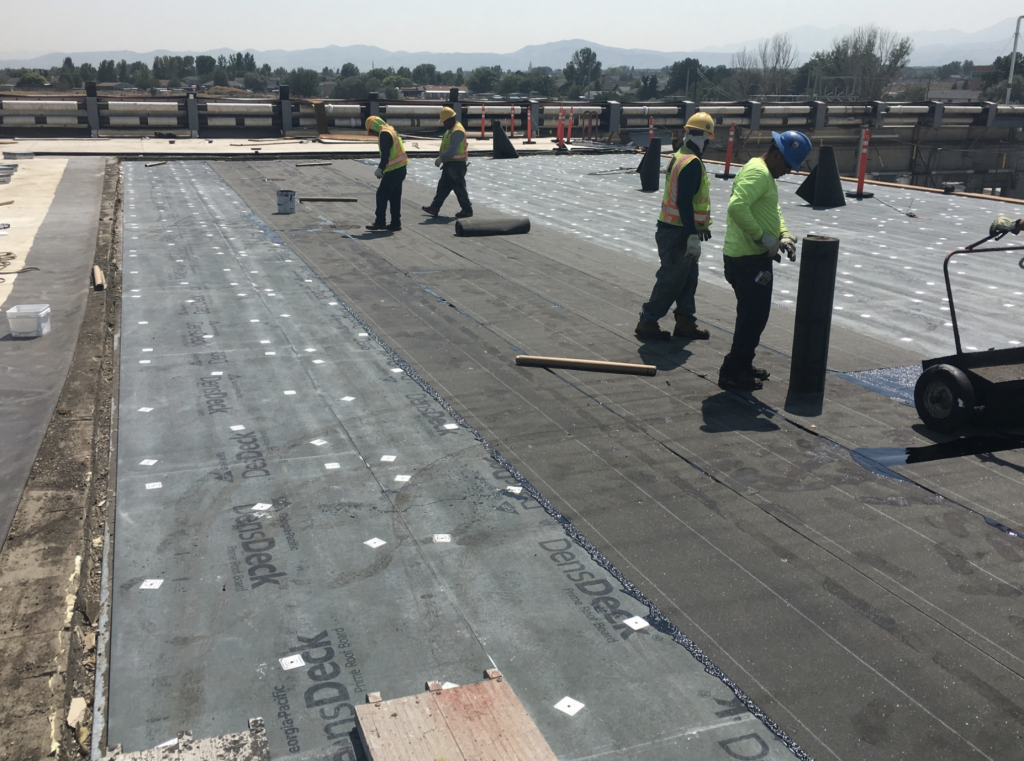 "We actually had two crews for that phase: a hot crew and a single ply crew," Hill states. "The hot crew would be laying the insulation out in front, and then the single-ply crew would lay the cover board in the low-rise foam and start fully adhering that membrane down. It took a coordinated effort with the guys we had out there to make sure that there was no asphalt contamination of the PVC membrane and that white roof remained clean."
As work continued on the second half of the roof, cold weather set in. Due to the temperature limitations of the membrane adhesive, the decision was made to switch to a self-adhered membrane. "We were having production issues with the cold weather, and we went back to Sarnafil and they recommended putting the SA down," notes Hill. "It was the first time we had ever installed the self-adhered membrane. It saved our production, and we were able to install nearly as much as we were doing in the better weather days."
The last steps on the project included installing edge metal. "We did a Sarnafil high-wind edge detail with their clad metal and a pre-finished metal fascia plate over the top," says Hill. "It gave the building a nice finishing touch from the ground and also from the roof side."
Meeting the Challenges
The biggest challenge on the first phase of the project was the tight schedule. "We had to get that first phase operational so they could get the data hall up and running," says Hill. "We had to get the first section dried in so the trades — electricians, drywallers, painters, and tech guys — could get in there and do their work."
Work began in April of 2019 and wrapped up in December of the same year. After the first phase was completed, the weather posed the greatest difficulties. "The winter was quite heavy," Hill says. "We had to remove snow quite often to be able to go back to work."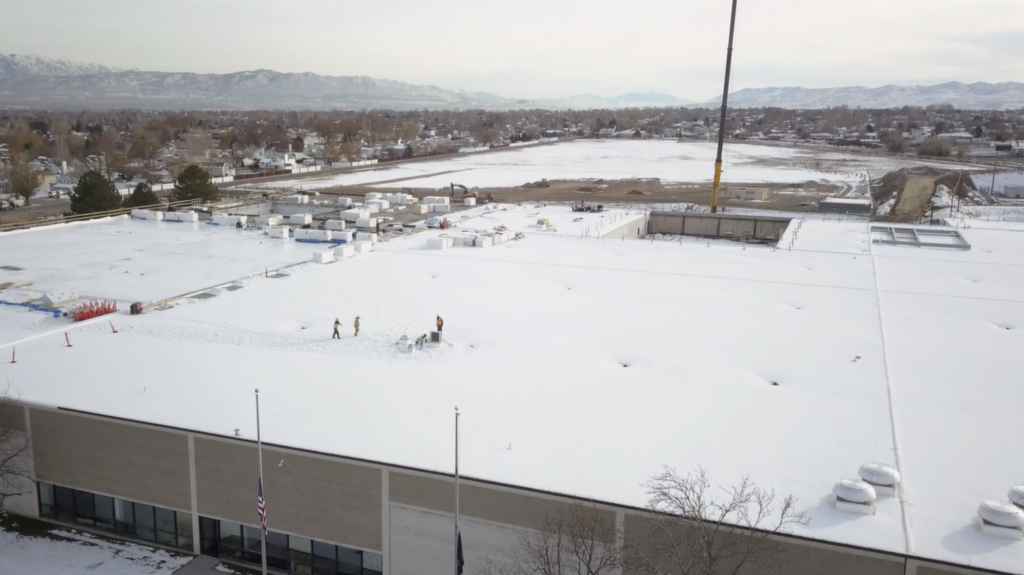 Hill credits the teamwork between all of the principals and the excellent craftsmanship of job foreman Rudolfo Garcia and his crew for the success of the project. He also cites durability of the temporary roof and the extra protection the hybrid system provides as critical components in the design. "With carpenters and steel guys working over that temporary roof, the typical peel-and-stick vapor barriers simply wouldn't have been durable enough," he says. "This building has to remain dry. That temporary roof with a cap sheet over the top of it could have been a completed system, so it gave them the backup that they needed. If there ever is a problem on the top layer with that single ply, there is still that temporary roof underneath to keep them dry."
Utah Tile and Roofing received first place in the 2019 Sika Sarnafil Project of the Year Awards in the Low-Slope Re-Roof category. "The award is a testament to how good our guys in the field are," Hill says. "Because we have such good field mechanics, we are able to take on these tougher projects that take more critical thinking and more experience. They are the best at what they do, the engine that drives this thing. They are the ones that make it happen."
TEAM
Architect: HKS Inc., Salt Lake City, Utah, www.hksinc.com
General Contractor: Okland Construction, Salt Lake City, Utah, www.okland.com
Roofing Contractor: Utah Tile and Roofing Inc., Salt Lake City, Utah, www.utahtileandroofing.com
MATERIALS
Roof Membrane: Sarnafil G410 80-mil PVC, Sika, https://usa.sika.com/sarnafil/
Insulation: Sarnatherm ISO, Sika
Vapor Barrier: HA-87 SBS Ply Sheet, Sika
Cover Board: DensDeck Prime, Georgia-Pacific, www.buildgp.com