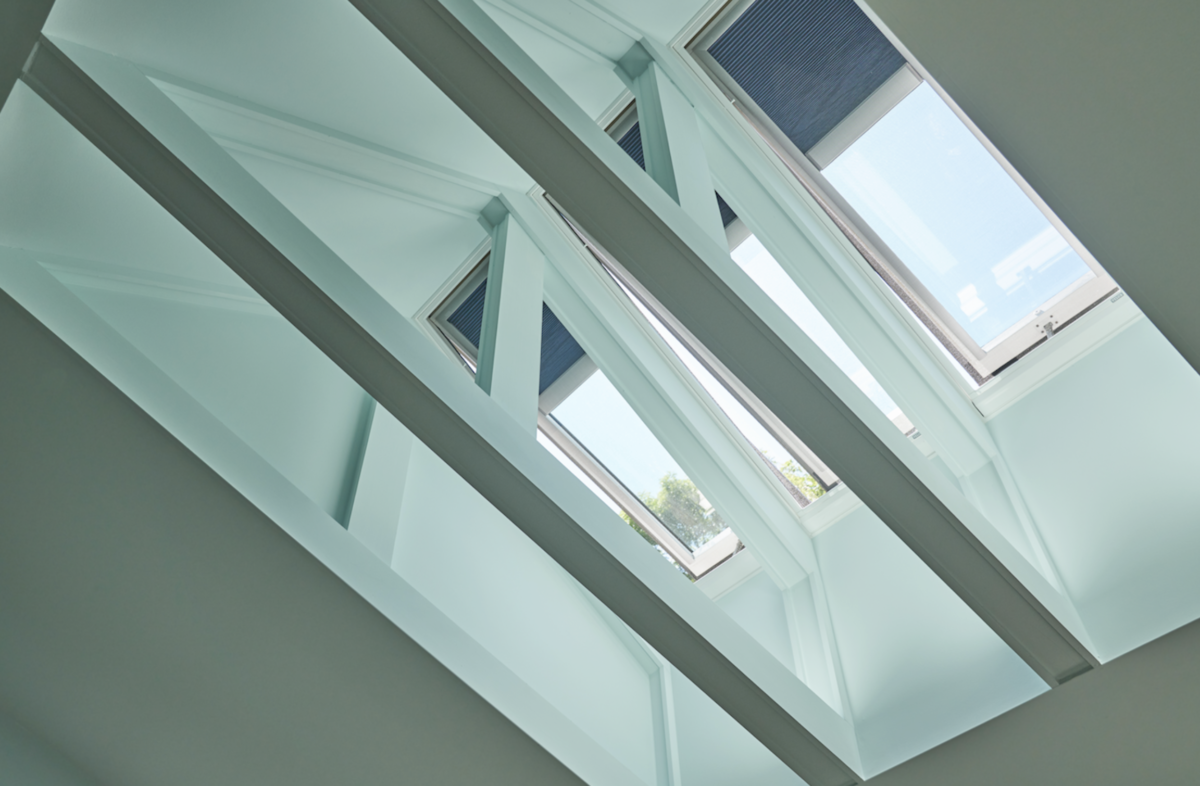 Pre-engineered systems are changing building efficiencies for the better. A trussed roof, or a truss, is a pre-engineered A-frame structure that offers strong support and reduced labor costs. They can be installed as one piece. Therefore, they're widely used in building construction.
What if your client wants a skylight in the mix? At first glance, it may not seem possible.
It's actually not that difficult. Skylight installations in truss roofs should be just like any other skylight installation. First step: consider the roof structure and the best way to distribute daylight. Second step: get creative.
With a new build, it's easy to factor skylights in, but with truss roof retrofits, the bottom line is: Consider the best way to approach the install to maximize natural light in a bedroom or living space without having to get into deep engineering.
There are several key things to keep in mind.
Don't Cut The Truss Unless You Absolutely Must
It's simply not a standard practice to cut a roof truss. Doing so can create an engineering nightmare because, by definition, truss roofs are pre-engineered and not made to be customized or modified. Once they are, the design and the load are compromised.
Rafters, however, can be cut easily, and framing is simple to reinforce most anything you've cut. It's important to work with an installer you trust who has a firm understanding of what to use where and what can — and cannot — be done on a truss.
The bottom line, which will help save on your client's bottom line, is that truss roofs limit the width of the skylight you can use as they must fit between each truss. That's not to say you can't get creative.
Take Your Measurements
Let's break down the numbers. After all, the install is seamless once you have a plan.
• Trusses are placed every 24 inches on center, and each truss is an inch-and-a-half wide. Make sure to find a skylight that fits between the trusses but comes in a variety of heights or lengths for your client's consideration. While width between trusses must be considered, you can go up to more than 70 inches in length/height or build custom units. Don't forget to use the right flashing kit (more on this in a moment).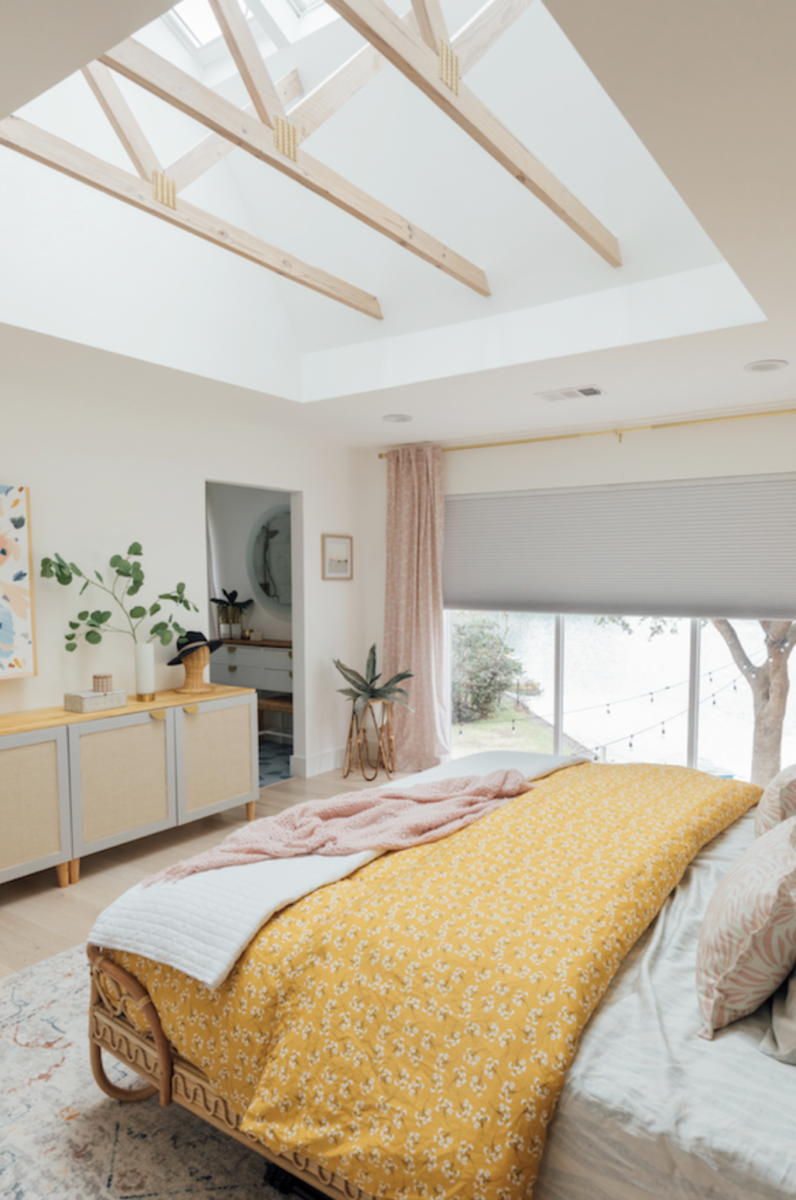 • Look to line skylights up with the edges of a window or another focal point in the room, such as a kitchen island. It's not necessary to install in the exact center of the room with a truss roof — as long as you're pretty close, it will look nice.
• How many skylights are you able to fit? Instead of one 70-inch long skylight, consider stacking two or more shorter skylights vertically in between each truss to create an interesting visual rhythm. You can install multiple skylights in numerous combinations depending on the size of the truss roof.
• Build your skylight design with 4-inch spacing over and under, as close as 2.5 inches side-by-side, and up to 12 inches in half-inch increments. A one-piece gutter will run between the skylights.
• Another inexpensive design solution is spanning a 46.5-inch-by-46.5-inch curb mount skylight over the truss roof instead of between each truss.
Flashing is crucial for any skylight installation. Flashing kits are designed to shed water without relying on sealants that can break down over time. With an install as precise as a truss roof, it's more important than ever to have the right flashing kit.
That's where combi flashing comes in. Pre-engineered flashing kits allow installers to configure multiple skylights in an almost unlimited array, creating the glass look without any custom design needed. There are many types of combi flashing kits — for truss roofs, select a low-profile kit designed for groupings of deck-mounted skylights on roofing materials such as shingles and shakes. This will ensure a weathertight installation.
Stick To A Top-And-Bottom Flared Light Shaft
Flared light shafts, sometimes called a chase, change the game with skylights, inviting more light into various parts of the room. When using skylight sizes that fit between trusses, it is best practice to flare only the top and bottom of a shaft for a clean install and a beautiful look.
With a steep A-frame roof and an exposed truss, flaring the top and bottom of each skylight opens up a room in ways homeowners didn't even expect.
While you technically can flare all four sides, it's not common. It creates additional framing work and ultimately creates a great large opening in the ceiling which may not be aesthetically pleasing or functionally sound. Not to mention, working with an engineer increases project cost.
Take The Design a Step Further
Once the skylights are flared, the last step is considering design. Truss roofs offer contractors opportunities to impress and get creative, too.
By framing trusses out, daylight fills more surface area than having them confined to separate shafts. For a design option without combi flashing, span a couple of curb mount skylights over the trusses for a unique visual effect that offers plentiful natural light.
Trusses can be covered in plywood and painted to match the look of a home, covered in stained wood or even reclaimed wood for rustic highlight beams.
Does the homeowner want to finish the brackets, webbing and nail plates to a corresponding hardware finish in the room? Do they want to cover the entire truss in cedar or leave it exposed?
Trusses are an architectural feature made even more beautiful by natural light from skylights. Instead of being an obstacle, look at them as an opportunity to wow your customers.
About the author: Timothy O'Neill is the district sales manager with VELUX America. For more than 22 years, he has specialized in daylighting solutions for residential and commercial spaces. For more information, visit veluxusa.com.