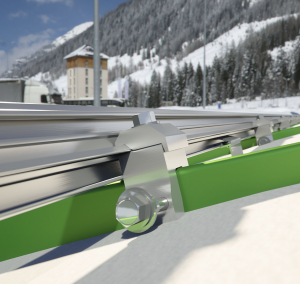 AceClamp offers the Color Snap, a patented snow-retention system that utilizes a snap-fit design. The product ships to roofers with fully assembled, ready-to-install components and snap-in ice clips. The product is available for either standing seam metal roofing or membrane roofing with a variant of the product known as Color Snap-M. According to the company, both varieties offer greater installation flexibility, are easier to install, and help to reduce labor costs by minimizing preparatory tasks.
"We aimed to reduce setup, installation times and labor costs significantly and we've had an overwhelming response from our clients on just how cost-saving the Color Snap product can be. We're happy to let roofers, architects, and engineers know that Color Snap is now available for delivery and that they can count on AceClamp to continue producing innovative solutions and clever products for the greater roofing industry."
For more information, visit www.aceclamp.com.