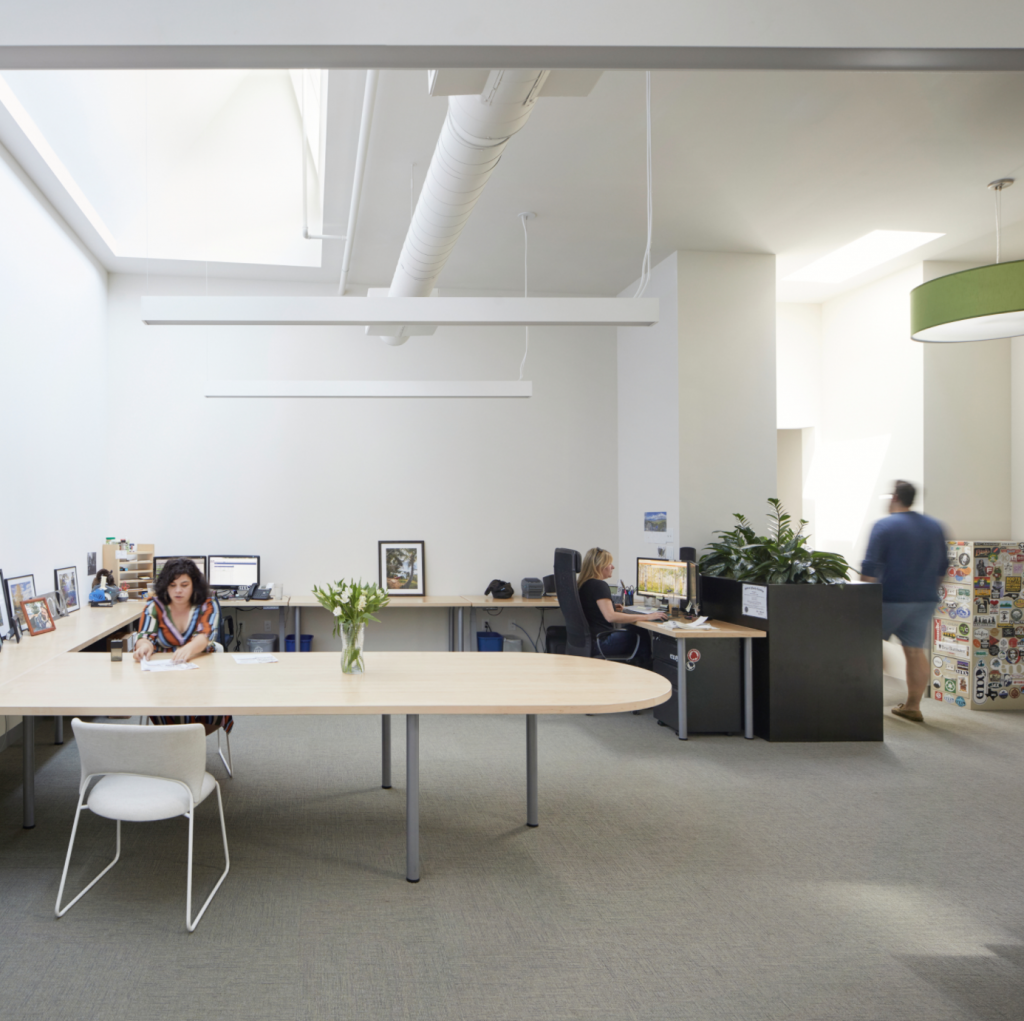 For years the staff of Eagles Nest Outfitters (ENO) worked in cramped, dark offices in downtown Asheville, North Carolina. Their second office didn't even have any windows, which isn't ideal for an outdoor equipment company specializing in portable hammocks and camp chairs.
So, when it came time to move from downtown to a location that could accommodate both the office and a warehouse, the company's leaders challenged architects to connect the new space to the outside.
"We're an outdoor company, and we'd all rather be outdoors each and every day," says Lane Nakaji, general manager with ENO. "No one wants to work in darkness."
Challenge: Opening Up a 1970s Building
The new building was at first not very promising. Located in a business park with views of the Blue Ridge Mountains, it dated back to the 1970s with a red brick exterior and a cedar shake mansard roof.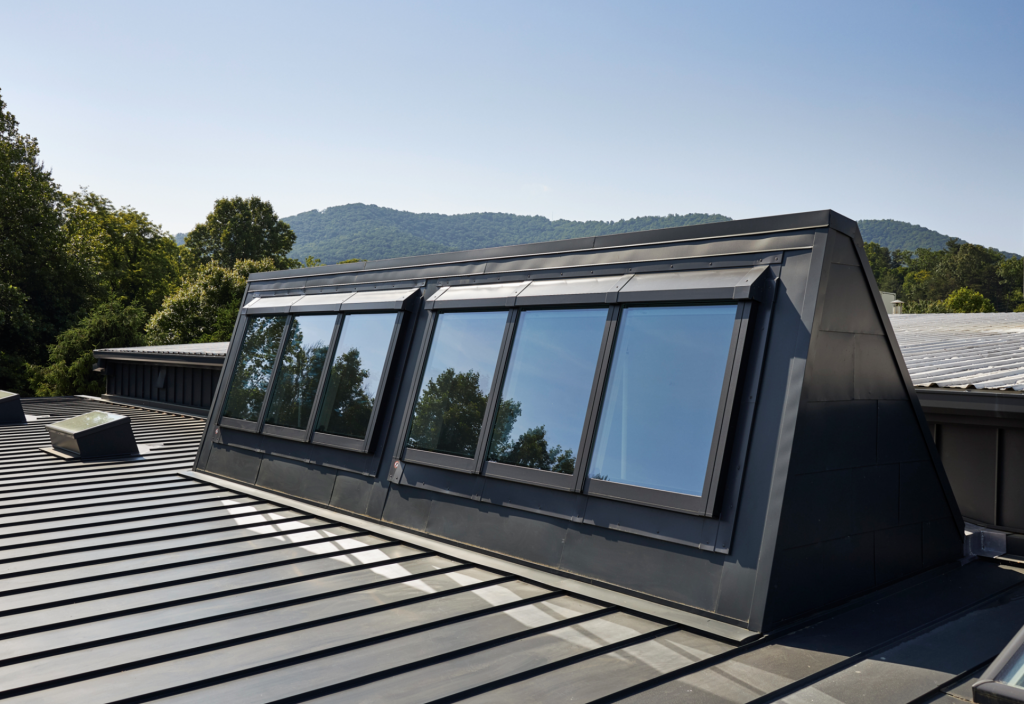 "It was a rabbit warren of an office," says Charles Krekelberg, the project manager on the ENO project for Samsel Architects. "They had perimeter windows behind arbor vitae trees, so it was oppressively dark."
"They wanted to radically transform the space," Krekelberg adds. "They wanted open spaces for people to collaborate, planters and natural light."
The building was gutted down to the exterior walls and a new roof constructed. Inside, the maze of hallways and offices became open space. And to solve the lighting problem, architects turned to two VELUX products: VELUX Modular Skylights (VMS) – Northlight Configuration and Fixed Curb Mounted skylights.
The VELUX Modular Skylight system eliminates the need for on-site glazing and can be installed quickly in varying weather conditions, which for this project included freezing rain and snow.
Ridgelights 25-40° have the classic A-frame look: two rows of self-supporting skylights mounted on standard steel profiles. The skylight installer, JP Ross & Co., installed 320 Ridgelight modules on the Burkert building configured into four rows over the center of the manufacturing space.
"We only turn the lights on when it's raining or very cloudy," says Allison Ettinger, ENO's credit manager. "Natural light is generally more relaxing. It's definitely softer than turning on the electric lights."
The skylight units are all fixed with dimensions of 39.4 inches in width by 47.2 inches in height and high-efficiency glazing. The LowE3, argon-filled dual paned glazing assembly consists of a high-strength outer tempered pane and an inner laminated pane. The system is equipped with electrically controlled shades, which employees say are only drawn on weekends to optimize the building's energy efficiency.
The office also has nine VELUX Fixed Curb Mount skylights (FCM 2246) with LowE3, laminated glazing and solar-powered remote controlled shades installed over offices, hallways and conference rooms. The building is topped by a 24-gauge standing seam metal roof system manufactured by Englert Inc., which was installed by DLV Roofing.
Quick Installation
Like other VMS configurations, the Northlight system arrives on the jobsite palletized for easy staging. Its plug-and-play installation method takes less time than custom, site-glazed skylights. It took the crew from JP Ross & Co. one week to complete the installation.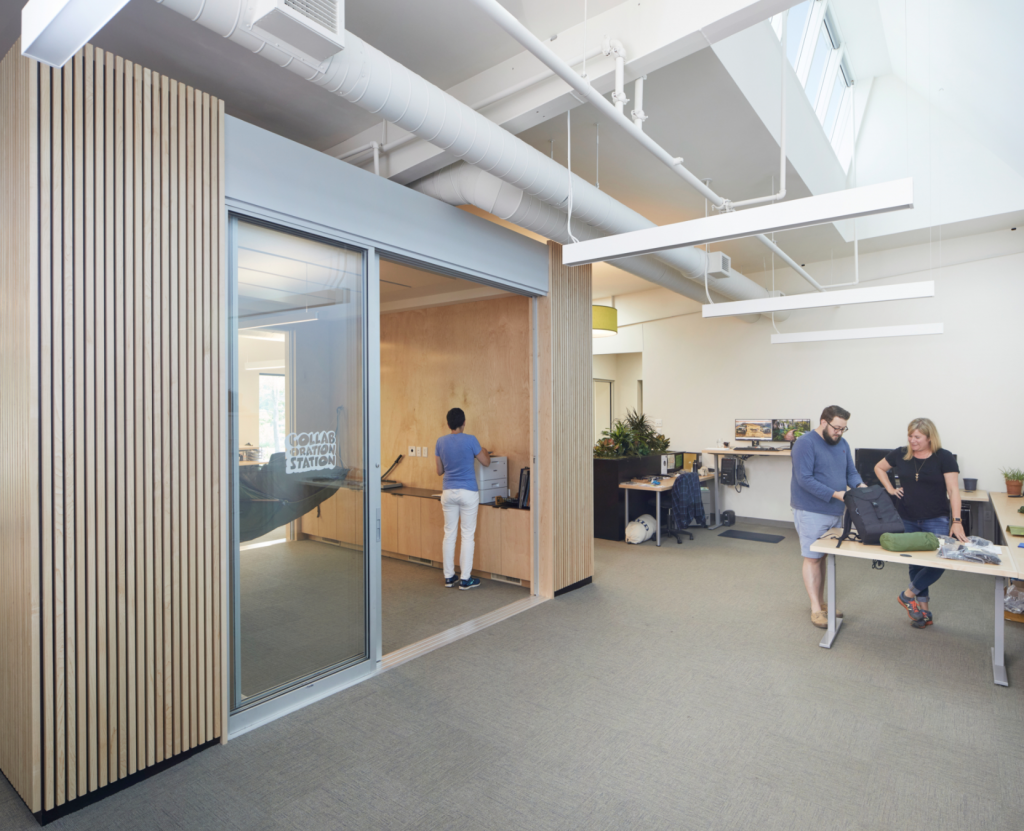 "We focus only on skylight design, sales and installation and have over 20 years of experience," notes Jason Peterson, project manager with JP Ross &Co. "The only difference with the Northlight was that the panels were installed vertically."
A vapor barrier wraps around the skylight modules and lines the interior roof rough opening for an airtight seal between the skylight modules and the building, creating a very energy-efficient building envelope.
Natural light bathes the sales department and product development area throughout the day, and employees are happy to have it. "When we don't have that glare from artificial lights, it creates a calm," says Julia Schell, manager of e-commerce at ENO. "Things get hectic round here. Sometimes when we come in after the weekend and the blinds have been closed, we forget and turn the lights on and it's like 'What's wrong?'"
The Northlights also give the building's exterior a unique look. "The owner wanted the skylights to be as much of an exterior expression of the design as an interior lighting device," Krekelberg says. "They truly liked the look of the skylights and wanted them on the roof."
TEAM
Architecture/Design: Samsel Architects, Asheville, North Carolina, https://samselarchitects.com
General Contractor: Heritage Restoration & Construction, Asheville, North Carolina, www.heritage-restoration.com
Roofing Contractor: DLV Roofing, Asheville, North Carolina, www.dlvroofing.com
Skylight Installer: JP Ross & Co., Charlotte, North Carolina, www.jprossskylights.com
MATERIALS
Skylights: VELUX Modular Skylight system – Northlight Configuration and Fixed Curb Mounted skylights, VELUX, www.veluxusa.com
Metal Roof: 24-gauge mechanically fastened standing seam roof system in Charcoal Gray, Englert Inc., www.englertinc.com