The solar-power industry has changed dramatically in the past five years. Products and manufacturers have come and gone; tax incentives have become less attractive; and requirements for utilities to maintain a certain percentage of their energy portfolio from renewable sources are not enough to help the market in most places. Despite these negatives, unique financing mechanisms and the remarkable decrease in the cost of solar panels keep the industry booming. These ups and downs demonstrate why Matthew Bennett, vice president for design and engineering and founder of Dovetail Solar & Wind, Athens, Ohio, refers to the industry as the "solar coaster".
Bennett's business, which was established in 1995, installs solar on residential and commercial buildings. As such, he has worked with a number of roofing contractors over the years and sees synergies between the trades. Roofing asked Bennett how roofing contractors and solar installers can improve their relationship and achieve successful solar installations upon watertight roofs.
Roofing: When must you coordinate with roofing contractors?
Bennett: On almost every commercial roof where roof penetrations are required we'll have a roofer come in and flash the penetrations and sometimes install a sleeve to get our conduit off the roof and into the building.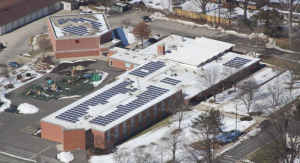 The other common reason for coordinating with a roofer is because the roof may be under warranty. Sometimes the warranty is held by the roof manufacturer, so we receive a list of roofers who can do the inspection. Usually there's an inspection that needs to happen before and after the solar installation. We're sometimes paying $1,000 to get inspections.
A lot of times we're not fastening solar panels to flat commercial roofs; we're installing what's called a ballasted system where we may need to use an approved pad or put down an additional membrane to protect the roof from the pan that is holding ballast and keeping the array on the roof. Sometimes different roofing manufacturers are picky about what they allow on the roof and different kinds of roofs require different treatment, so it's important to have a good roofing contractor available.
Roofing: When you hire contractors, what are you looking for?
Bennett: We're looking for a roofing contractor that does quality work at a fair price because, I'll be honest, we've been overcharged by roofers more than any other subcontractor. We take notes when we work with a roofing contractor: how easy they are to work with, how responsive they are to emails and phone calls, the quality of work and the price. We know roughly what to expect after being in business all these years. If we get a fair quote from a recommended contractor, we'll often go with them without looking at other bids. We prefer to use a roofer who is familiar with the roof. A good relationship with the customer also is an important consideration.
Roofing: Are there situations in which you defer entirely to the roofing contractor?
Bennett: It's a little unusual. We just put a system on a slate roof on a million-dollar home. The roof was very steep and we didn't even want to get on the slate, so we hired the roofer to install the rails and solar panels. We did all the electrical work and procurement. We provided one of our crew leaders to be there the entire time to train the roofing crew and help them because they had no experience with solar. They knew how to get around on a slate roof and mount the solar flashing and they actually installed the whole array. They did it in not much more time than we would've done it. We were very impressed with them.