It's no surprise that almost all states require general contractors and some subcontractors to register with regulatory boards and pass a qualifying exam in advance of bidding, contracting, and certainly physically undertaking construction work. That's not new. However, there is an emerging trend towards requiring general contractors, and even some subcontractors, to participate in continuing education. Depending on the jurisdiction, some contractors and subcontractors are now statutorily obligated to complete a certain amount of continuing education — similar to what has been historically required only of doctors, lawyers, and accountants — to maintain licensure.
For instance, this summer, North Carolina became the most recent state to impose continuing education requirements for general contractors. Effective January 1, 2020, general contractors will be required to complete 8 hours of continuing education per year. Because roofing contractors in North Carolina performing work in excess of $30,000 are required to be licensed as general contractors, they will now be subject to the new continuing education requirements.
This recent legislation and its impact on the roofing industry raises questions about what is required for roofing contractors nationwide. Does roofing require special licensure and registration or continuing education? The answer is entirely dependent on the jurisdiction where the work is to be performed.
The following states currently require licensure for roofing: Alabama, Alaska, Arizona, California, Florida, Hawaii, Illinois, Louisiana, Massachusetts, Michigan, Minnesota, Mississippi, New Mexico, North Carolina, Rhode Island, South Carolina, Utah, and Virginia.
Other states don't require licensure per se but do require roofing contractors to register. For instance, Oklahoma requires roofing contractors to register with the Construction Industries Board. Failure to register is a misdemeanor, and registration and endorsement as a commercial roofing contractor requires 4 hours of continuing education every 36 months. Similarly, Idaho does not require a state license, but requires roofing contractors to register with the Idaho Contractors Board.
As seen in Figure 1, even among the states which require continuing education, the requirements vary greatly both in the amount and type of education required. For instance, Florida law requires contractors holding a roofing license to take 1 hour of wind mitigation methodologies as part of the 14 annually required continuing education hours. In Massachusetts, construction supervisors within the roofing industry are required to take 2 hours of continuing education in code review and four one-hour courses in topics of workplace safety, business practices, energy, and lead safe practices.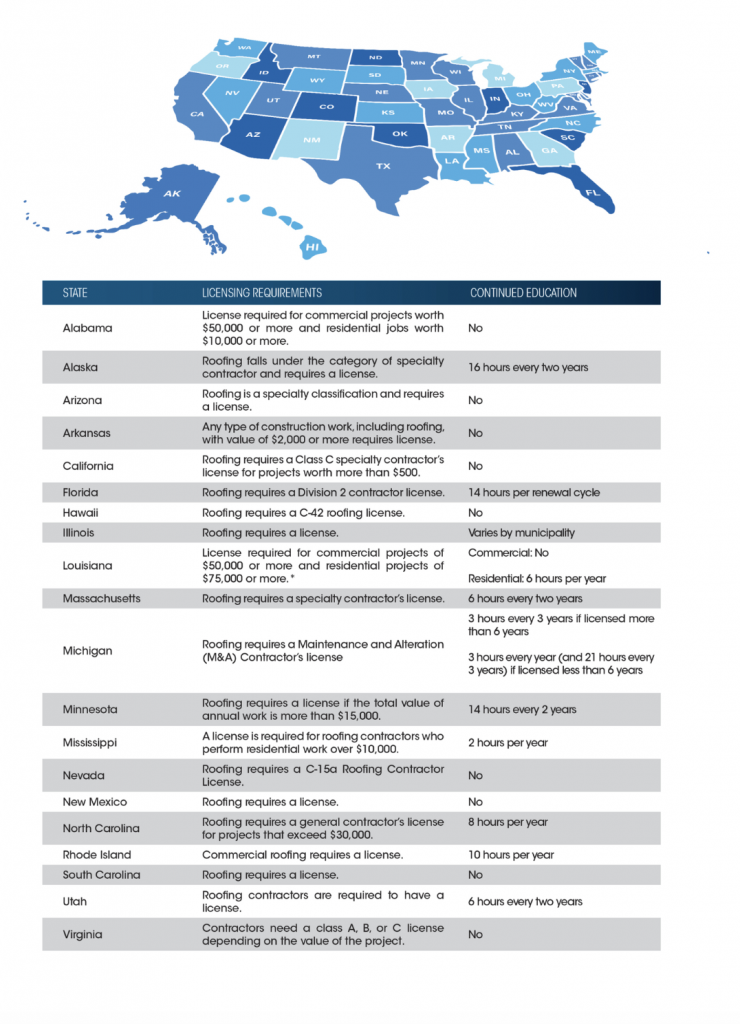 Finally, in those states which don't require licensure or continuing education, some industry groups have developed self-regulation. These industry groups are aimed at consumer protection and seek to secure public confidence in the roofing industry. In Georgia, which does not require a state roofing license, the Roofing and Sheet Metal Contractors Association of Georgia (RSMCA) provides a voluntary licensing program. Similarly, Kentucky has no license requirements for roofing contractors. However, the Kentucky Roofing Contractor Association (KRCA) is a nonprofit and professional organization which certifies roofing contractors. To obtain and maintain KRCA certification, roofing contractors must complete 10 hours of continuing education per year.
But just because a state legislature or professional association has not enacted regulations necessitating continuing education does not mean contractors are free from such requirements. While not mandated by the state itself, many cities have imposed their own directives. States such as Kansas, Kentucky, Illinois, Indiana, Maine, Missouri, New York, Oklahoma, Wyoming, and Pennsylvania each contain at least one municipality that compels contractors to take board-accredited continuing education courses. For example, Idaho Falls, Idaho, requires 8 hours of continuing education.
Regardless of where you are engaged in the practice of roofing contracting, it is imperative that all contractors exercise due diligence and review and comply with all state and local regulations before undertaking any project.
Contractors and trades are seeing a rise in regulation through the government by way of mandated continuing education courses. Do you think contractors should be required to take continuing education classes? Is this a necessary void that needs to be filled by the government intervention or is this just another example of unnecessary government regulation? Tell us what you think.
About the author: Lindsey E. Powell is an attorney with Anderson Jones, PLLC practicing in North Carolina and Georgia. Questions about this article can be directed to her at lpowell@andersonandjones.com. Special research credit is given to Kyle Putnam, Juris Doctor candidate and summer law clerk with Anderson Jones, PLLC.
Author's note: This article is intended only for informational purposes and should not be construed as legal advice.