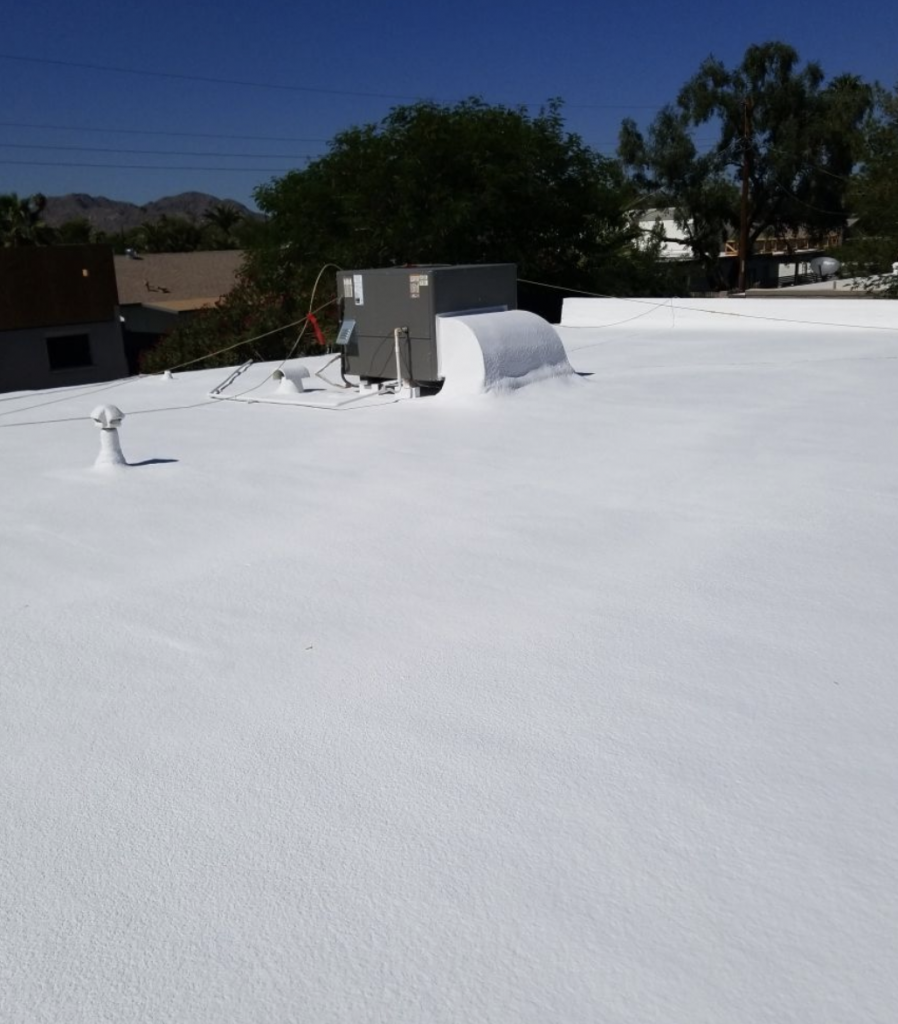 Pat Overson has been running roofing companies since 1982. He currently co-owns Overson Roofing LLC in Mesa, Arizona, a company he founded along with his son Brett in 2005. Approximately 85 percent of the company's work is residential, most of it re-roofing. A large chunk of that work — Overson estimates 20 percent — involves spray polyurethane foam (SPF), which is common on houses in Arizona.
"With the heat we have out here, it really helps insulate your home as well as provide good roof over your house," Overson says. "It is the only roof out there that provides an insulation factor somewhere around R-7, which is close to about 4 inches of fiberglass insulation."
Overson Roofing strives to recommend the best roof system for each project. Overson often finds himself recommending spray foam for existing low-slope roofs, especially those with drainage issues. He pointed to a recently completed residential project as an example. The 3,100-square-foot home in Scottsdale had a three-ply hot tar built-up roof. The homeowners noticed ponding problems, and they were also looking for ways to make their home more energy efficient. Overson felt the house was a great candidate for a Lapolla spray polyurethane foam roofing system with an elastomeric coating. The white elastomeric coating protects the SPF from ultraviolet rays and provides reflectivity to minimize temperatures on the roof.
"Sometimes customers ask us for a foam roof, and we evaluate it and make sure that it would be a good roof for their project," he notes. "Often we recommend a foam roof when there are drainage problems because it's a very easy system to help modify or enhance the drainage on a roof that has ponding problems. In this case, the homeowners were also very interested in the insulation factor, and they were looking to save money on electric costs and make it more economical to heat and cool."
Roof Removal and Installation
The first step was preparing the house for the roof removal, which was done by a separate tear-off crew. The work area was covered with tarps, and the roof system was removed and taken away in a trailer. Magnets are used as part of the clean-up process to ensure nails and other debris are not left behind.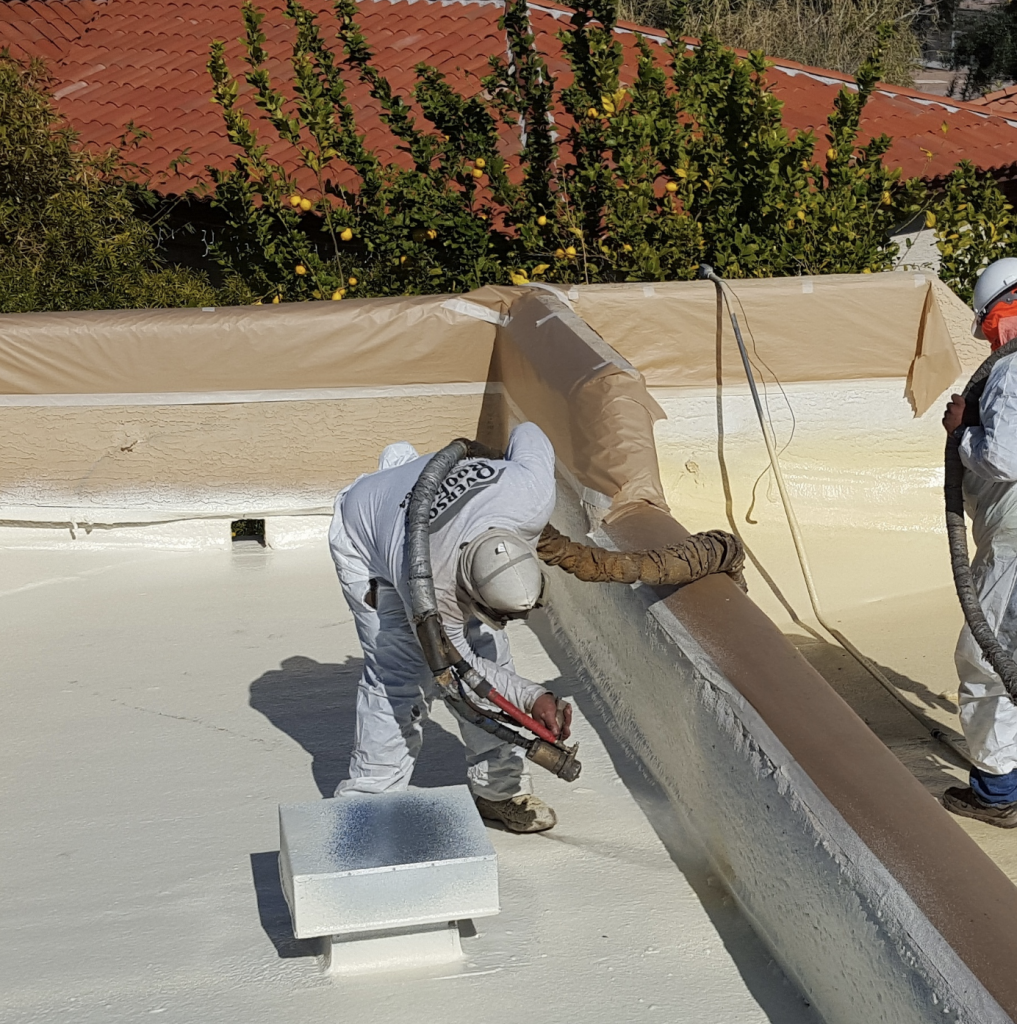 The substrate was then cleaned and primed before the SPF system was applied with a sprayer. When the two-part system is applied, parts A and B combine to form a closed-cell roofing system. "The result is a monolithic roof," Overson says. "Foam roofs usually don't have leak problems because there are no seams, and that's a big advantage. It will also seal to almost everything. It will seal to metal, it will seal to wood, it will seal to stucco, and it will seal to almost every type of roof system."
The keys to a successful project include proper substrate preparation and being aware of weather constraints. "It has to be, as we call it, 'clean, dry and tight,'" Overson says. "It has to be a clean roof surface. It has to be dry — foam doesn't adhere to any kind of moisture or water at all. And it has to be tight, which means there can't be any bubbles or blisters in the systems you're going over."
After the roof is removed, the surface must be cleaned with brooms or blowers. Then the area must be secured and taped off to ensure the foam won't be sprayed anywhere it's not required. For example, windows and walls might need to be covered.
"It's almost like you are a painter up there," notes Overson. "You often have to do extensive tarping and taping. You also have to make sure it's not windy. You don't want winds in excess of 5 or 10 miles per hour. Preparing the area is very important step. You don't want any overspray."
The spray foam is applied in two layers. "You spray it on a half-inch think the first lift, and you have a second lift, also a half an inch," Overson says. "It dries pretty quickly — often in a few minutes — so you can put on the second layer almost immediately. Similarly, after the second coat dries, you can apply the coating. We used an elastomeric coating in this project, while others might call for a polyurethane, silicone, or acrylic coating."
In coping with different types of substrates, the skill and experience of the applicator can be crucial. "It's an art as much as a skill," he says. "You have to have the right rhythm and the right touch. We have really skilled applicators, and they do a great job. The techniques vary, but you are just trying to get an even surface, an even spray."
In this case, the application was designed to eliminate drainage problems. In low areas, crews added another inch of insulation and created the proper slope toward the scuppers. "You can feather it in, and that's where the skill of the applicator really shows," he says. "It's exciting that you can help people with these issues. You can't do this with other products."
As part of the safety plan, applicators wear white body suits that cover their skin and clothing, as well as goggles and protective breathing equipment. Proper fall protection plans must be in place for each project.
Benefits for Homeowners
Feedback from the owners has been positive, according to Overson. "We were able to enhance the drainage quite a bit and eliminate all of the ponding and drainage issues they had," he says. "They were happy about that, and they also were excited to find out how much they saved on their monthly bills. They haven't gone through a full cooling season yet, but many of our homeowners stay in touch with us over the years, and some find they are saving $40 to $50 a month on their electric bills."
Overson summed up the project this way: "Around here, we say roofs have to do two things: they have to not leak and look good. And we achieved both of those things on this project. This is a nice-looking roof. It's white, and it will reflect the sun, and that's a big factor here in Arizona. We take pride in our jobs, our crews take pride in their jobs, and we know it's not going to leak. The customer was very happy, and if the customer is happy, we are happy."
TEAM
Roofing Contractor: Overson Roofing LLC, Mesa, Arizona, www.oversonroofing.com
MATERIALS
Roof System: Lapolla Spray Polyurethane Foam and Elastomeric Coating, Icynene-Lapolla, www.lapolla.com