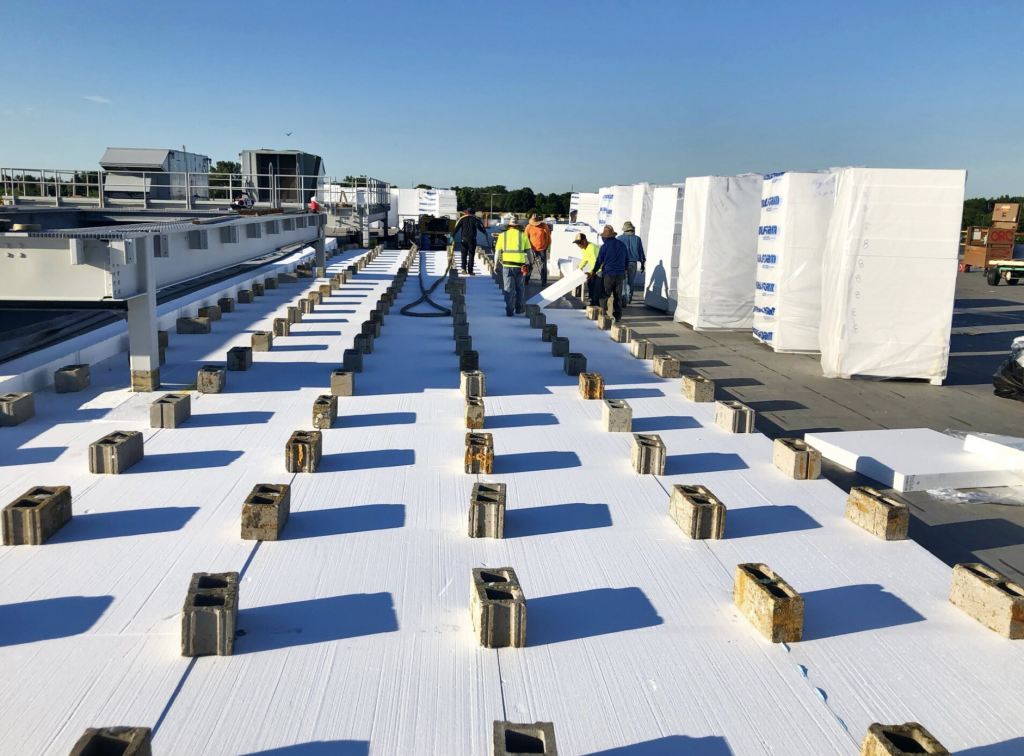 Dubbed the world's sixth busiest airport in terms of total passengers, Chicago O'Hare International Airport accommodated 84 million passengers and 900,000 arriving and departing flights in 2019. Naturally, nearly every domestic commercial airline carrier is represented at the international transportation hub. To ensure passengers arrive to their final destination safely and on time, each airline company is supported by a network operation center (NOC). From this offsite locale, hundreds of highly trained employees coordinate travel logistics and monitor day-to-day flight activity.
When it comes to designing a best-in-class NOC facility, a properly insulated roofing system plays an integral role in optimizing operating efficiencies and ensuring long-term protection overhead. So, when a major commercial airline carrier purchased a 200,000-square-foot warehouse space near O'Hare to house its new NOC, project designers turned their attention to the roof. Upon initial examination, the existing roof system was deemed subpar and the NOC project designers elected for a complete overhaul.
A Creative Roofing Solution
Challenged with sourcing a superior insulation material for the renovation, the project's roofing company, Olsson Roofing, opted for tapered expanded polystyrene (EPS) from Insulfoam. Tapered EPS satisfies International Building Code (IBC) requirements across both new construction and re-roofing applications, while maintaining consistent thermal performance and long-term moisture resistance.
NOC project designers turned to this rigid foam insulation as a logical, cost-effective means of building up the pitch of the low-slope structure. Positive slope will reduce stress on the roof's membrane by eliminating the risk of standing water, a serious threat to the integrity of the building system. Without adequate drainage, the building owners may face costly repairs down the road or premature roof failure. By employing the tapered EPS approach, NOC project designers will proactively avoid these issues and extend the lifespan of the roof system.
Moisture Resistance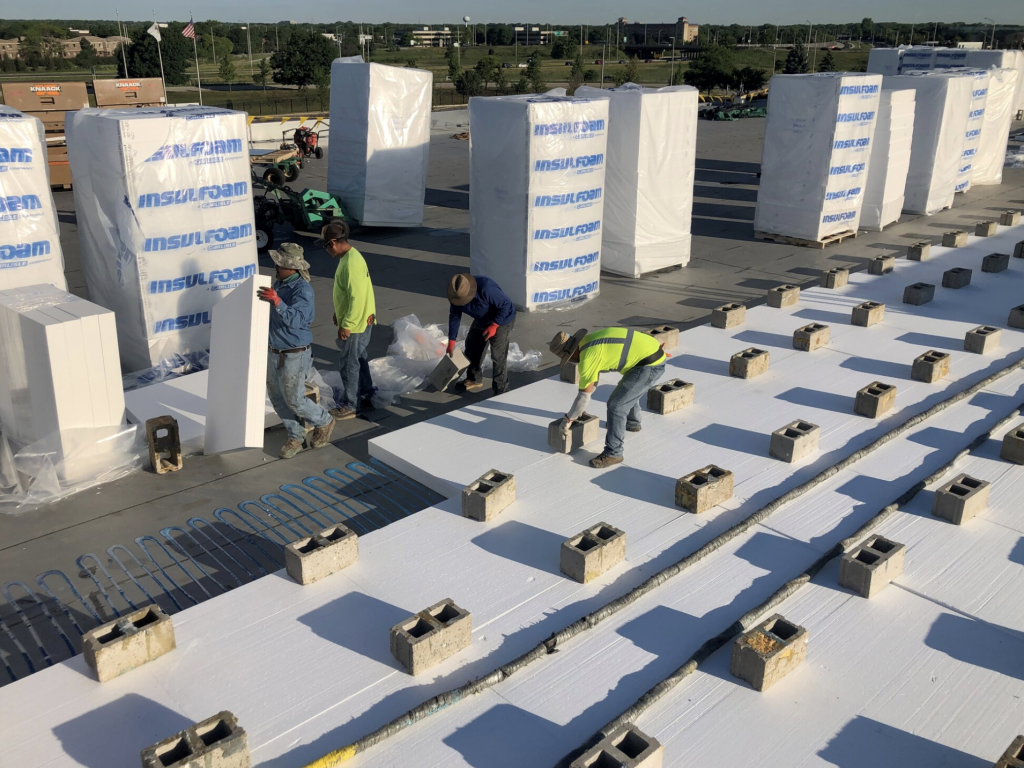 Long-term exposure to moisture can be extremely detrimental to a roofing system. But while the purpose of a tapered EPS approach is to keep pooling water at bay, moisture absorption is sometimes inevitable — particularly during Chicago's winter months. To the NOC project designers' advantage, EPS provides a high level of moisture resistance and breathability. A study by the Energy Materials Testing Laboratories (EMTL) has shown that EPS installed in a well-constructed roof does not absorb appreciable moisture, even under conditions characteristic of prolonged, cold, damp winters. The same amount of moisture absorbed (an average of 0.2 percent by weight) has little or no effect on its compressive or flexural strength, and the material retains between 95 and 97 percent of its thermal efficiency. With this level of ingenuity, NOC project designers can ensure the roof system is equipped to withstand Chicago's harsh weather.
Customization
Because tapered EPS is available in large blocks up to 40 inches thick and can be cut to satisfy virtually any slope, it's possible to achieve superior thermal efficiency — high R-values — without the added material or labor costs that are typically associated with building up multiple layers of insulation. Installed much like enormous puzzle pieces, the small crew hired to construct the NOC was able to easily adhere three layers of 4-inch tapered EPS, in combination with flat EPS, across the roof deck. The factory-cut pieces of material were installed quickly thanks to their ultra-lightweight composition. In application, the rigid foam material kept the project on budget by decreasing upfront material costs and minimizing the number of hours spent on the jobsite.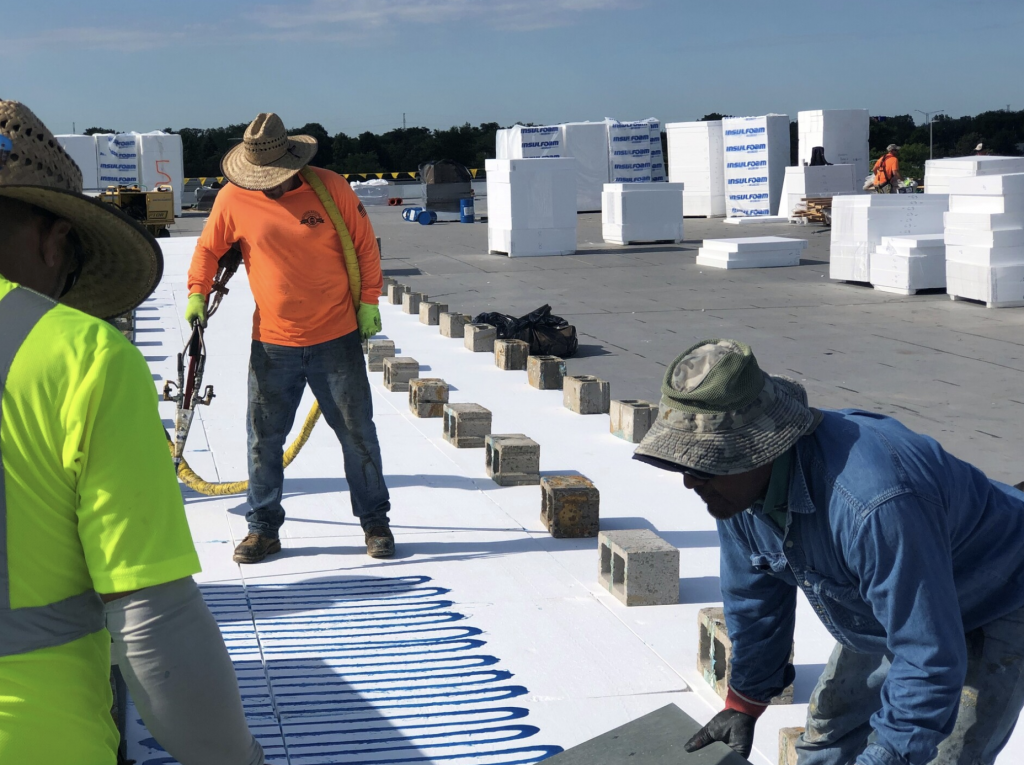 NOC project designers looked to tapered EPS not only for material and labor cost savings, but also for its stable thermal performance. EPS insulation delivers R-values ranging from 3.6 to 4.2 per inch. EPS rated at R-4 per inch can provide up to two times greater insulating effectiveness than other insulation materials of the same thickness. Much to the delight of NOC project designers, Insulfoam was able to deliver the desired R-25 designation in three layers of material, slimming the costs associated with building up the pitch.
Further, third-party testing conducted in 2008 evaluated the field performance of EPS following a continuous 15-year installation period. The results demonstrated that EPS delivers 94 percent of its specified R-value after 15 years in use. Because the material does not experience off-gassing, the R-value remains stable over its entire service life.
Valley Panels
In addition to employing tapered EPS roofing insulation solutions, the NOC design team also opted for factory-cut EPS valley panels from Insulfoam. "Opting for pre-cut EPS valley panels was perhaps the biggest time saving element of the entire NOC renovation project," says Kris Eschmeyer, Territory Sales Manager, Insulfoam. "Often with new sloped roofing systems, builders have to cut every valley in half diagonally and throw the unused piece away. It's a big waste of time and materials." To combat this, Insulfoam offers custom-made valley panels that can be tailored to meet exact project specifications. This level of customization reduces the amount of material waste on the jobsite. It also eliminates much of the field-cutting, which again supports labor cost-savings and accelerates the projects' timeline.
High-Performance System
The roof membrane installed was a 90-mil, grey FleeceBACK TPO manufactured by Carlisle SynTec. The newly minted roof was completed in July of 2020 after two years of construction. By taking the tapered EPS approach, project designers were able to reap the benefits of the rigid foam material. They achieved a positive pitch in fewer layers of material, creating a slope for positive drainage and bringing forth a high R-value in twofold. In turn, designers kept material and labor spending in check, and ensured a high-performance roof system. Like a protective blanket, the well-insulated roofing system will safeguard NOC operations for years to come.
About the author: Tom Savoy is the technical director for Insulfoam, a division of Carlisle Construction Materials. He has worked in the EPS Industry for 33 years and in construction materials (manufacturing and testing) for 38 years. He actively participates in many trade organizations including ASTM, SPRI
TEAM
Architect: ROOFTECH Roof Technical Services Inc., Fort Worth and San Antonio, Texas, rooftechnical.com
General Contractor: Clune Construction, Chicago, Illinois, clunegc.com
Roofing Contractor: Olsson Roofing, Aurora, Illinois, olssonroofing.com
MATERIALS
Membrane: 90-mil grey FleeceBACK TPO, Carlisle SynTec Systems, carlislesyntec.com
Insulation: Insulfoam IX Flat and Taper Panels, Insulfoam, insulfoam.com