For people who live in Tornado Alley, thunderstorms can be nerve-racking any time of the year. Every storm has the potential to form a tornado, which the NOAA National Severe Storms Laboratory says is "among the most violent phenomena of all atmospheric storms we experience." These viciously rotating funnels can leave miles of destruction in their wake. Texas, the state within Tornado Alley that reports the most tornadoes annually, is all too familiar with the devastation tornadoes can cause.
On Sunday, October 20, 2019, an EF-3 tornado (defined as wind speeds of 136-165 mph) tore through densely populated North Dallas around 9 p.m. The tornado was on the ground for more than 15 miles and left $1.55 billion in damage, reportedly the costliest tornado event in Texas history. Fortunately, there were no fatalities.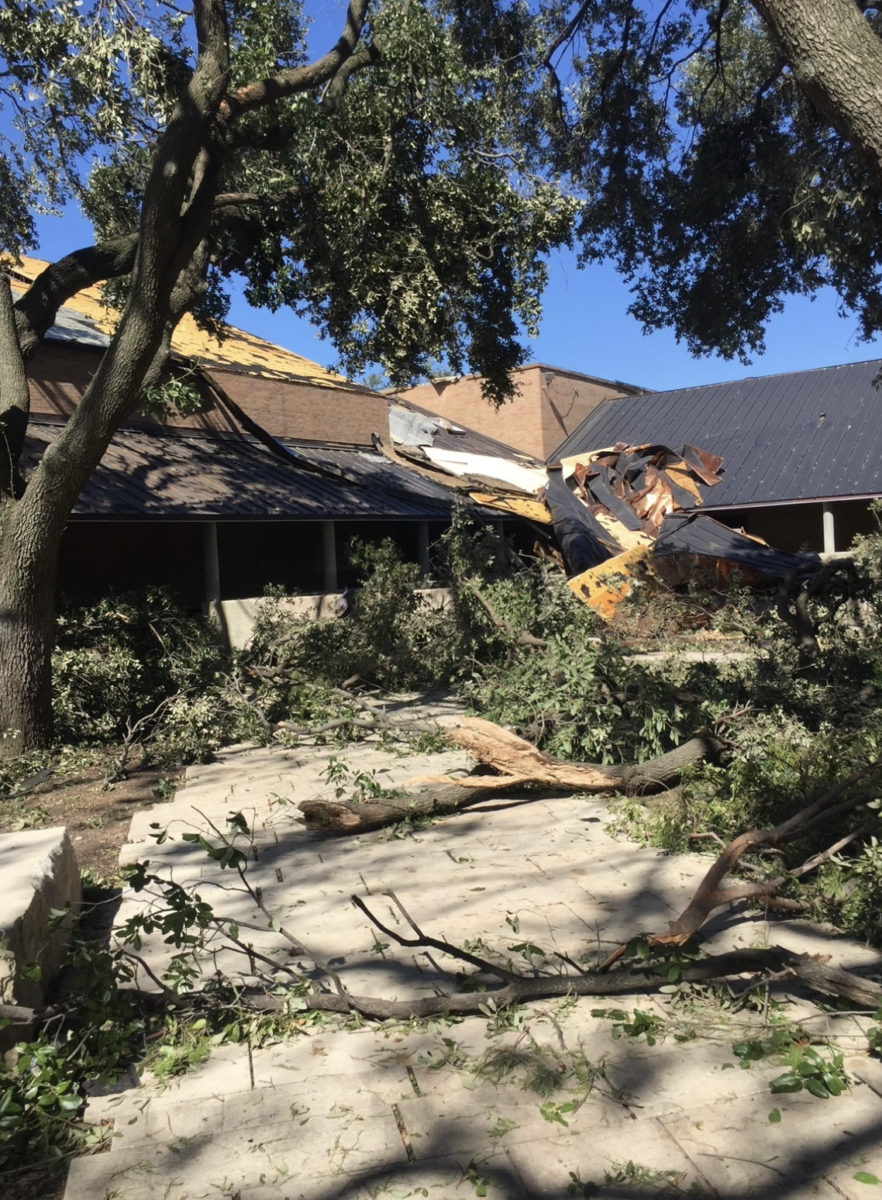 St. Mark's School of Texas, a private, nonsectarian college-preparatory boys day school, was in the tornado's path, and all 11 of its buildings were impacted in some way. Texas Roof Management INC, Richardson, Texas, holds the service and maintenance contract at the school, so on Monday, October 21, John Wayne Whitten, director of operations for Texas Roof Management, called Mark Webb, St. Mark's director of the physical plant, to assess the damage at the school.
"I asked Mark how bad it was and how many guys did he need, and the words out of his mouth were, 'It's terrible and I need all you can get me,'" Whitten recalls. "That was five o'clock the morning after the tornado hit."
Before the sun had risen that Monday morning, Texas Roof Management had 60 people onsite working to get St. Mark's buildings in-the-dry before torrential rains were predicted to move into the area on Thursday. Thus began the contracting company's 13-month operation to re-roof and/or repair 10 buildings at the school, totaling about 200,000 square feet of damaged roofs and components, including downspouts, gutters and details.
The Right Roofer
To mobilize 60 roofing workers for St. Mark's, Texas Roof Management pulled all its crews off other projects that were at a stage they could be left and sent them to the school. The crews worked around the clock for the next three days to tarp each roof ahead of impending storms. "We did experience another storm that Thursday, but we had been able to tarp all the roofs and really mitigated millions of dollars of interior damage that would've occurred had we not been able to make the buildings watertight," explains Catherine Awtrey, president, CEO and owner of Texas Roof Management.
Awtrey's son was a senior at St. Marks at the time, so Awtrey and her son went to the site the morning after the tornado. "I had been a parent at the school for years and watched my son grow up on that campus so what I saw that Monday morning, was heartbreaking," Awtrey recalls. "Some roofs were twisted; there were big pieces of copper embedded in 100-year-old oak trees. The damage was devasting. What was once a vibrant gym was now just empty space with some very minimal structure remaining. The new state-of-the-art locker room attached to the gym that was just completed for the fall football season was so damaged it had to be torn down. Major identifying elements of the campus architecture, such as the steeple on the campus chapel, were damaged significantly, profoundly demonstrating the destruction the tornado created."
Texas Roof Management had roofed the school's Winn Science Center addition in 2018 with a standing-seam SNAP-CLAD roof from Petersen in 16-ounce copper. The addition features a domed planetarium and, while surveying the damage on campus, the team realized only 17 panels were damaged on Winn Science Center's roof—all of which had been hit by debris.
"When looking at the work we had just completed mainly withstanding the tornado, besides the debris damage, St. Mark's knew they had a good contractor to go with for the tornado repairs, in addition to the service work we had done for them," says Danielle Begley, director of project management for Texas Roof Management.
After insurance claims were settled, it was determined seven roofs on campus were totaled. Eventually an eighth building, McDermott-Green Physical Science Center, which had been damaged by hail before the tornado struck, was added to the list of re-roofing work. Two additional buildings, including Winn Science Center, needed roof repairs because of flying debris.
So Many Roofs, So Little Time
For the first couple weeks after the tornado struck, police barricaded the neighborhood in which St. Mark's is located to protect the damaged high-end homes in the area from looters, as well as to keep fly-by-night contractors from going to door-to-door.
"We got to the point where we would take a golf cart and drive six city blocks down the street and escort our people into the jobsite because the police knew the St Mark's golf carts that we used onsite," Whitten explains. "That was every day for the first couple of weeks. After that, it was easier to get in and out of the neighborhood."
St. Mark's had featured beautiful standing-seam copper roofs across its campus, but after the tornado hit, Texas Roof Management's crews encountered torn-off copper panels, gutters and downspouts strewn across campus, and serious damage to all the roofs caused by flying debris.
Texas Roof Management sustained a crew of 60 to 70 workers onsite each day for several months. St. Mark's leaders wanted this large project completed as quickly as possible, so four separate crews worked on different buildings simultaneously. "Each crew was supervised by an OSHA-trained foreman, as well as our experienced superintendents and, ultimately, John Wayne and myself," Begley notes. "The standing-seam roofs required 100 percent tie-off. The modified sections of roofing required safety rails and/or fall-protection carts."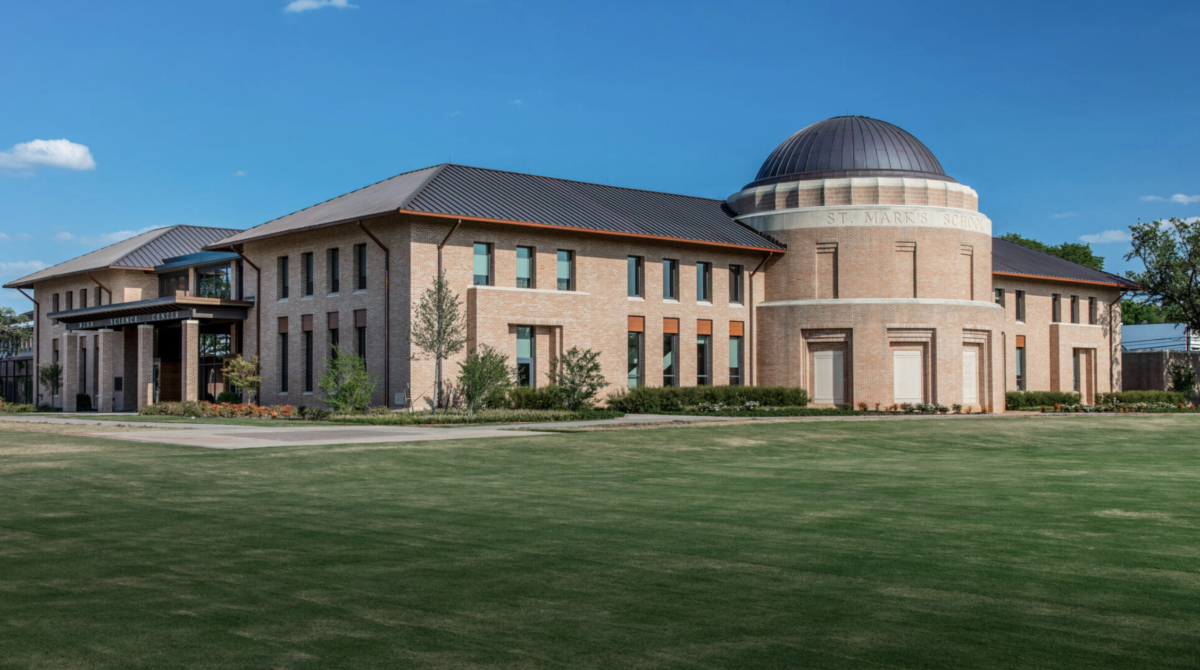 What remained of each existing roof was removed down to the deck. New polyisocyanurate insulation brought each roof up to the local energy-code requirement of R-25, LASTOBOND Shield HT underlayment from Soprema was adhered, and then the buildings were covered with standing-seam SNAP-CLAD panels from Petersen in 16-ounce copper. Texas Roof Management purchased coils of copper for the project. These coils were sent to Petersen to be roll formed into SNAP-CLAD panels and measured to fit. In addition, 11,050 square feet of Siplast two-ply modified bitumen membrane was installed on three buildings.
"Fortunately, getting materials to the site for this project was pretty straightforward," Begley explains. "This was before the supply-chain material shortages we are all experiencing today. However, we had to coordinate which buildings came first and make sure our materials were staged properly, just with the complexity and size of the project. But as far as lead times and getting materials, we were able to stay on top of it and so were our manufacturers."
Pandemic Pressures
For the first two weeks of the project, students were not allowed on campus while buildings were investigated to determine whether they were structurally sound and watertight. Once students arrived for classes, general contractor The Beck Group had created very clear paths for construction materials and crews to keep students and faculty safe. "If there was a scheduled event, we knew we couldn't work on that building," Begley recalls. "We had to maintain clear communication between Beck, ourselves and the St. Mark's team."
And then COVID-19 abruptly shut down the campus in March 2020, and students went home to learn online.
Although Texas Roof Management's crews could continue working, they were faced with new and unprecedented challenges. "In those first few months of the pandemic, each day presented us with new regulations, new guidelines and new hurdles to overcome to continue our progress," Begley remarks. "Our crew members wore facemasks and gloves; each tech had to answer survey questions about their health and have their temperature taken before beginning work in the morning; we transformed our water jugs on the trucks into hand-washing stations; and we strove to maintain 6 feet of social distance between techs when possible."
A Special Moment
The class of 2020 was scheduled to graduate in late May; however, because of COVID safety concerns, a late July graduation ceremony was planned instead. The ceremony is held annually in St. Mark's quadrangle in the middle of campus and, by Spring 2020, the buildings surrounding the quadrangle were in various stages of completion.
"Our team made a big push to complete work in those areas so that the graduation ceremony wouldn't be held in an active construction site," Awtrey states. "The results of our eight months of work were spectacular — not only had our crews completed a sizable amount of the work in this timeframe, the new copper panels looked fantastic for the ceremony."
"We finished to a point for graduation to happen, but there was another building that St. Mark's specifically wanted to wait to start on until summer," Begley points out. "We actually finished the project entirely mid-November 2020, so it took just a little over a year to complete all the work."
Begley is proud of the stellar team on the St. Mark's job and that they were able to provide a somewhat normal end to the class of 2020's school career. "We had a great team that was able to let those seniors — who were missing out on everything else because of COVID — at least graduate with a campus that looked like the one they had experienced prior to the tornado," she says.
Whitten was encouraged by the kindness of St. Mark's faculty and staff. "I've been doing the same thing for 49 years. It all comes pretty standard anymore," he says. "The rewarding thing truly for me was learning the culture of the school and getting to know the people at the school. They're the greatest bunch of people I think I've ever dealt with in my life."
For Awtrey, the success of the St. Mark's project was felt on a deeply personal level. "I was so proud of our company and the incredible artistry and intelligence that went into this project — from John Wayne and all the calculations he did and the complex logistics he orchestrated to complete such intricate roofs, to Danielle and the way she organized the project management and choreographed everything so beautifully," Awtrey says. "It all came together in such an incredible project, that for me, was so very personal. My late husband wanted our son to attend St. Mark's, so when I actually got to sit in the quadrangle for our son's graduation and look all around me at everything that this incredible company had done to bring this project to fruition, I will never be as proud of any project in my life as this because of just how all-encompassing and outstanding it truly was."
About the author: Christina Koch is editorial director of retrofitand past editor-in-chief of Roofing. She can be reached at christina@retrofitmagazine.com.
Team
Roofing Contractor: Texas Roof Management INC, Richardson, Texas, texasroof.com
General Contractor: The Beck Group, Dallas, Texas, beckgroup.com
Roof Consultant: DRYTEC Moisture Protection Technology Consultants, Dallas, Texas, drytecmptc.com
Roofing Distributor: BEACON, Irving, Texas, becn.com
Materials
Copper Panels: SNAP-CLAD, Petersen, pac-clad.com
Modified Bitumen: Siplast, siplast.com
Underlayment: LASTOBOND Shield HT, Soprema, soprema.us