Rising demand and a low barrier to entry make roof coatings a golden opportunity for contractors to diversify and grow their businesses.
Building owners are turning to coatings to extend the lives of their existing roofs and enhance the energy efficiency of their buildings. For contractors not already working in the fluid-applied roofing space — particularly residential contractors wishing to expand into commercial work — adding coatings to the menu of solutions they provide can open the door to new work with minimal investments in equipment and crew training. And manufacturers stand ready to provide the education and support that contractors need.
It is not a matter of whether a roofing contractor should begin offering coatings, but how.
Rising Demand
Sales of roof coatings have grown by more than 15 percent this year. It is easy to understand why: Building owners recognize that roof restoration is a smart investment in maintaining their properties.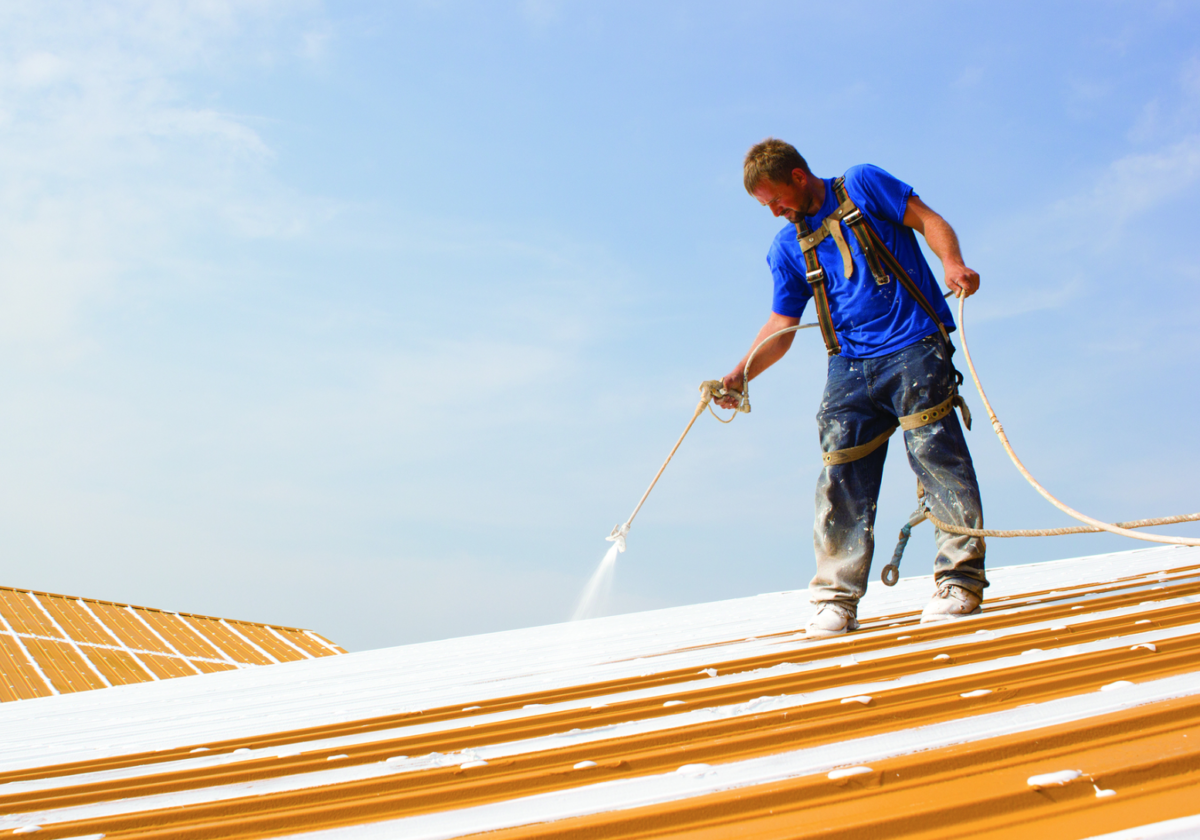 Coating an aging, but still-sound, roof can return it to near-new condition — watertight and able to protect the building, its occupants and its contents from whatever Mother Nature dishes out. It can delay for years (even decades) the need for a full tear-off and replacement. That can be a big budget-saver and boost to the bottom line; thanks to lower labor and materials costs, a roof can typically be coated for 20% to 40% the cost of replacing it.
White roof coatings can significantly enhance a building's energy efficiency, helping building owners manage rising energy costs and meet increasingly stringent energy-related building codes while keeping building occupants comfortable. The coatings lower temperatures on the rooftop and inside the building by reflecting much of the sun's energy away from the roof and releasing most of the energy that is absorbed back into the atmosphere. That reduces the need for air conditioning, helps maximize the performance of rooftop HVAC units, and mitigates the urban heat island effect.
Restoring a roof is far less intrusive than replacing it. Normal building operation can go on with little (and often no) disruption. There is no need to temporarily vacate areas or cover building contents while the roof above is open to the elements. The mess and noise are minimal. Fewer parking spots are commandeered for materials storage. Walkways and building entrances remain more accessible.
Thanks to advances in coatings technology, today's products deliver far superior performance to those available only 10 or 15 years ago, and manufacturers are backing them up with robust warranties. No Dollar Limit system warranties of up to 20 years are available on commercial projects, and materials-only warranties of up to 50 years are available.
Finally, there is greater awareness of the impact that roof tear-offs have on the environment. Roofing materials are the third-largest contributor to landfill waste, and a growing number of regulations are being implemented across the country to address the problem. The simplest and most effective solution is roof restoration; when a roof is coated, the existing roof stays in place and out of the local landfill.
Easy Entry to Market
For residential roofers looking to expand into the commercial side of the business, fluid-applied roofing – and silicone coatings in particular – provides the smoothest path.
The required upfront investment in equipment and tools is minimal. The necessary rags, rollers, brooms and airless spray guns can be purchased for a few hundred dollars, rather than the thousands of dollars that must be spent on the hot air welders and other tools required to install single-ply systems.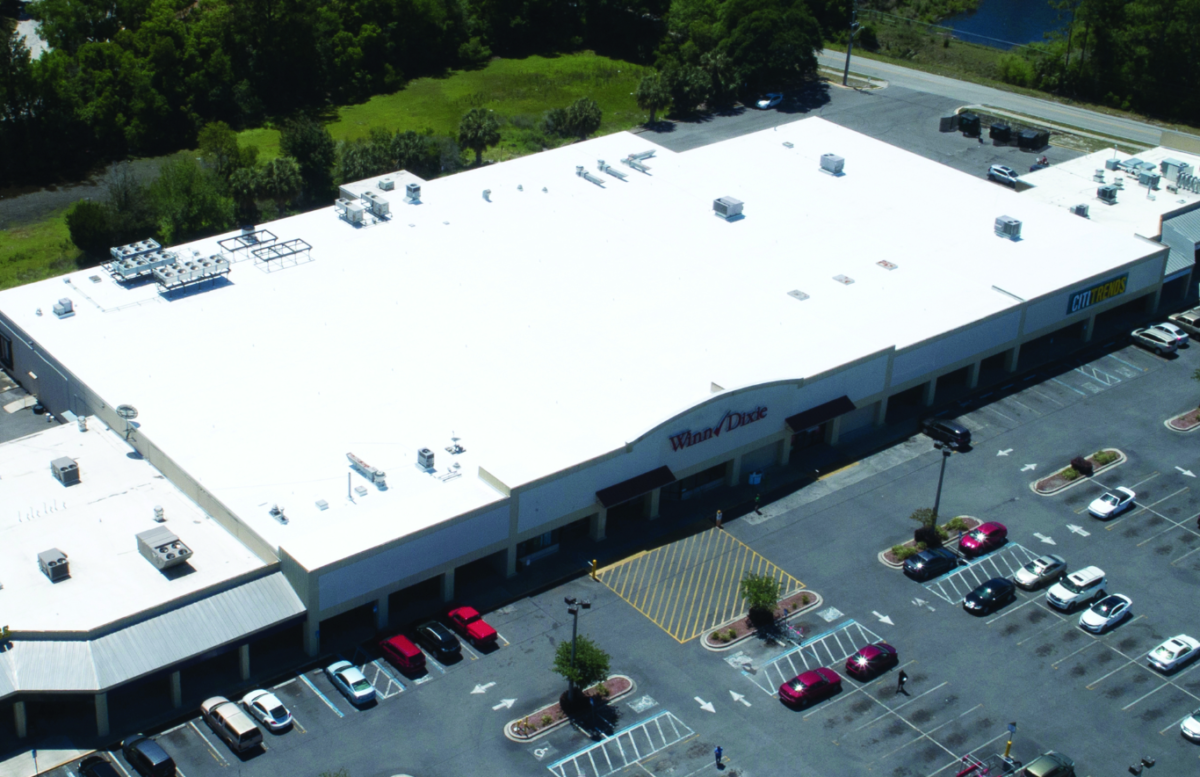 The same holds true for the training that crews need. While it is vital that crews be taught how to determine whether a roof is a good candidate for coating and how properly apply roof coatings, the learning curve is far shorter than that for mastering the welding and other steps involved in single-ply installation, and the date when a crew can efficiently complete quality applications comes much quicker.
Coating a roof also typically takes 20% less time than it would to replace it. The contractor can, therefore, be paid for the work that much sooner, more quickly recoup the money fronted to purchase materials and pay the crew, and move on to the next job.
And establishing a foothold in coatings is a great way for residential contractors to begin learning the ropes of the commercial roofing world, including how to inspect/evaluate commercial buildings, how to work with commercial real estate professionals, and how to navigate elements that are specific to commercial properties, such as client workflow, parking and safety. That knowledge can then be a springboard to offering other commercial roofing installation and repair services.
Don't Be Misled or Dissuaded
Tales of coatings "failures" have circulated through the roofing industry for years, giving coatings a bit of a black eye. That reputation is undeserved, and it should not dissuade contractors from getting into fluid-applied roofing or discourage building owners from using coatings to restore their roofs.
When coatings do not perform as expected, the cause is virtually never the products themselves. The "failure" is, instead, rooted in a misunderstanding of what coatings can and cannot do, and not properly assessing the existing roof to ensure that it is a good candidate for restoration.
Many regard coatings as "miracles in a bucket" that can fix any problem on any roof. They are not. They are restoration products, designed to extend the life of a roof that is in good repair. They will not make an unsound roof sound again; unsound roofs must be replaced. They also will not magically resolve pervasive leaks, ponding water and other significant issues; these problems must be corrected prior to coating or, if that is not feasible, the roof must be replaced.
Take, for example, the most common coating-related issue: blistering. When this happens, it is nearly always because the coating was applied to an underlying substrate that was saturated. As the water then evaporated out of the roofing system — and water always finds a way out — the coating blistered. The problem was not the coating or how it was applied. The coating was used in an environment it was not designed for and had no chance of succeeding in.
The first step in any successful coatings project is completing a thorough assessment of the existing roof — from the top layer to the roof deck — to determine whether it should be coated. Too often, however, contractors are not aware of the importance of this step or do not know how to properly execute it. Assessing a roof is not a difficult process but, like any skill, it is something that must be taught, learned and then practiced to proficiency. Manufacturers are there to help.
The Most Important Tool
In fact, the most important tool in a coating contractor's arsenal is a good relationship with a quality manufacturer that has a strong technical team ready to provide the training and support needed for success.
It starts with the manufacturer's representative working side-by-side with the crew on their early jobs, showing them how to assess the roof and determine the appropriate course of action. The representative also provides hands-on application training, teaching the crew how to complete coatings jobs according to specifications and warranty requirements.
And that close partnership does not end after the first few jobs are in the books. The manufacturer's representative will provide ongoing training — in-person, online and via written materials — to keep contractors up-to-date on the latest products, techniques and regulations. He or she also will be backed up by technical, customer service and warranty support teams that are available by phone or email to answer questions and provide advice and assistance.
Contractors should take full advantage of this help. And if they find that their manufacturer partner is unwilling or unable to give it, the time has likely come to rethink the relationship.
Fluid-applied roofing presents contractors with a golden opportunity to expand and diversify their businesses and position them for long-term growth. Demand for coatings can only be expected to continue increasing. The barrier to entering the fluid-applied space — and opening the door to the commercial roofing world — is low. And manufacturers stand ready to provide the education and support necessary for success.
About the authors: Jeremy Grunewald is National Product Manager for Mule-Hide Products Co. Inc. (mulehide.com), manufacturer of low-slope roofing products and systems. He has nationwide responsibility for the company's portfolio of commercial roofing products, including single-ply membranes, roof coatings, modified bitumen, sealants, adhesives, insulation, underlayments, fasteners and accessories. He is on the Board of Directors of the Roof Coatings Manufacturers Association (RCMA) and is a member of ASTM International's Committee D08 on Roofing and Waterproofing. He is a Registered Roof Observer through The International Institute of Building Enclosure Consultants (IIBEC) is a ProCertified Trainer through the National Roofing Contractors Association (NRCA), holds NRCA ProCertification for Training, and is a Cool Roof Rating Council (CRRC) Educator. He can be reached at jeremy.grunewald@mulehide.com.
Chris Kuykendall is Fluid-Applied Segment Manager for Mule-Hide Products Co. Inc. (mulehide.com). He provides contractors, specifiers and Mule-Hide Products' associates and distributor partners with training, education and other support related to the company's portfolio of roof coatings, sealants and adhesives. He can be reached at chris.kuykendall@mulehide.com.