As a roofing professional, you undoubtedly are familiar with polyiso insulation, as it is used in 70 percent or more of the commercial roofs in North America. Polyiso is popular with roofing professionals because it offers a high R-value per inch, is affordable, readily available, compatible with many roofing systems and meets both FM 4450 and UL 1256.
While you likely have specified or installed flat stock polyiso products, you might be less familiar with specialized product make-ups, which can help you simplify roof insulation jobs. Three options to be aware of are:
Tapered systems
Pre-cut hips and valleys
Pre-fabricated sumps
Tapered Systems
As roofing professionals know, water is the enemy of the roof assembly. To prevent ponding and provide a positive slope to drain, polyiso insulation manufacturers offer sloped panels. Tapered polyiso typically comes in 4-foot-by-4-foot or 4-foot-by- 8-foot panel sizes, and in various compressive strengths. Commonly available slopes (per foot) include 1⁄16 inch, 1⁄8 inch, 3⁄16 inch, 1⁄4 inch, 3⁄8 inch and 1⁄2 inch. Tapered systems range from two-panel to eight-panel repeats, with such systems including varying thicknesses of flat polyiso insulation to complete the taper profile.
Tapered polyiso insulation installs similar to flat stock polyiso insulation, using adhesives or fasteners. As with multi-layer flat stock installations, when installing tapered products, crews should stagger the joints between layers to reduce potential pathways for airflow and condensation within the insulation layers.
Full-service polyiso manufacturers can design a tapered insulation layout based on the roof plan and specified R-value. They then will provide shop drawings showing where to place each tapered and flat stock panel to ensure positive slope and effective drainage across the entire roof.
Pre-Cut Hips and Valleys
In addition to the one-way sloped tapered panels discussed above, roofing professionals have access to pre-cut hips and valleys made of polyiso insulation. The hips and valleys help direct water on more complex roof designs. Well-equipped manufacturers will custom design and fabricate pre-cut, one-piece polyiso hips and valleys to meet your jobsite requirements including slope, and minimum and maximum thicknesses.
While crews can form hips and valleys by field-cutting tapered panels, ordering the pre-cut, one-piece panels reduces labor time and costs, as well as dumpster fees. It also prevents material waste caused by cutting errors.
Pre-Fabricated Sumps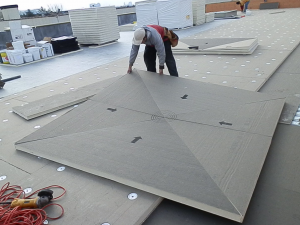 Going a step farther in slope complexity, and further reducing ponding water, some polyiso insulation manufacturers offer pre-fabricated roof sumps. Commonly available as 4-foot-by-4 foot panels that ship flat, pre-fabricated sumps direct water from four directions to a center drain point. Some manufacturers also offer 8-foot-by-8-foot hinged sumps for greater design flexibility. All of these sumps offer a variety of starting thicknesses at the drain from 1/2 inch to 2 inches.
Choosing a Polyiso Supplier
Roofing professionals can obtain polyiso roof insulation from several suppliers. Which one is right for you? Following are a few factors to consider to help simplify your next roofing job.
Access to technical support: Some polyiso manufacturers provide customers with a variety of technical services. Having access to designers and estimators who work every day with specialized polyiso products takes the guesswork out of the process for you, saving time and money while helping ensure a high-quality roof.
Ready availability: Choosing a supplier with facilities throughout the country helps ensure timely access to specialty polyiso insulations when you need them.
Training support: To help your crews get up to speed faster on working with specialized polyiso roof insulation systems, look for a manufacturer that offers training support — whether via online videos, in person or on the jobsite.