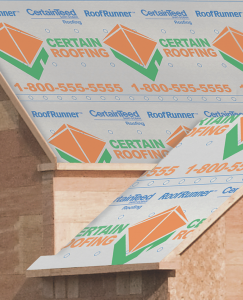 CertainTeed's RoofRunner underlayment can now be customized, allowing companies to have their logo printed directly onto the face of the underlayment sheet. This gives contractors a tool that can turn each roofing project into an advertisement for their business.
"Roofing companies brand their uniforms, vehicles and websites, so it made perfect sense to us to allow them to brand this product," said Dale Walton, manger of residential products for CertainTeed Roofing. "Installing RoofRunner with a company logo on it is a powerful advertising and lead generation tool that transforms each passerby into a potential customer. It's a win-win because it allows contractors to show their name from the rooftops, which lets us offer even more value to the customers who use this underlayment."
Customized RoofRunner prominently displays a roofing company's logo on a 24-inch-by-42-inch print area that repeats throughout the length of the sheet, offering 1,000 square feet of advertising space per roll. Logos can be printed in up to three colors (CertainTeed blue plus two additional colors), with a minimum order requirement of four pallets (196 rolls).
RoofRunner is a lightweight, polymer-based synthetic underlayment designed for use on roof decks as a water-resistant layer beneath asphalt shingles. According to the manufacturer, this scrim-reinforced underlayment includes a special top surface treatment that provides excellent slip resistance, even when wet. RoofRunner offers 90-day UV stability, allowing for a more flexible installation timeline without compromising the integrity of the roof. It also conforms to the physical requirements of both ASTM D226 and D4869.
To create a customized RoofRunner order, customers should contact CertainTeed Customer Service by phone at 866-712-7488 or send an email to ctrpgrccs@saint-gobain.com.
For more information, visit www.certainteed.com.