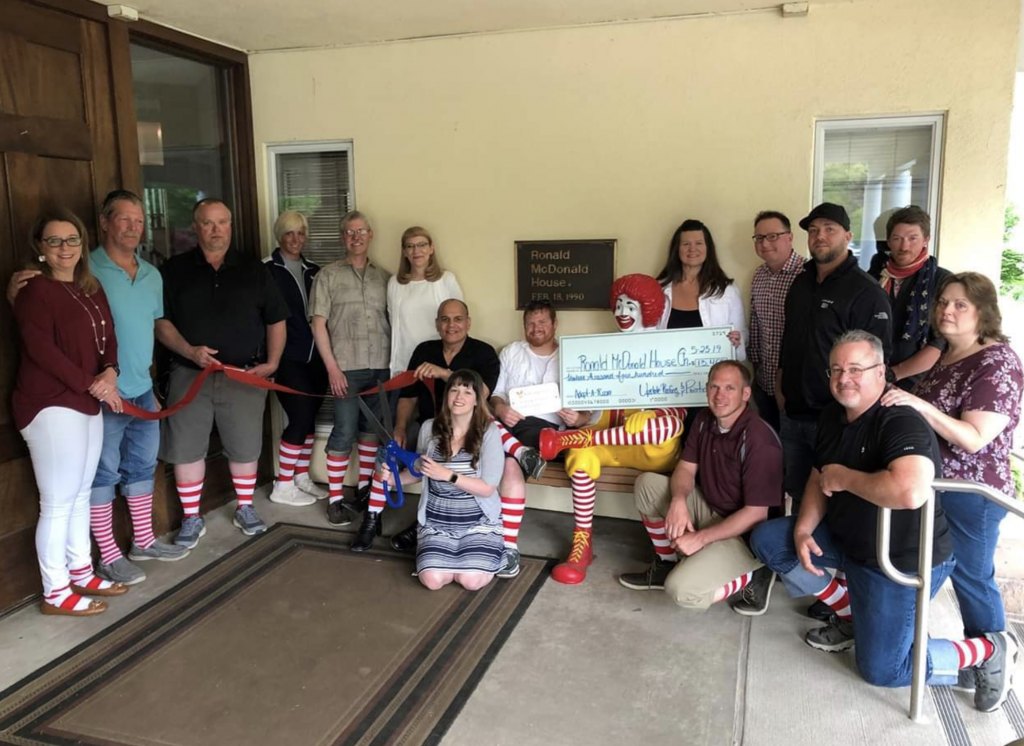 In April of 2017, the Roofing Alliance, with the focused efforts of Roofing Alliance members, NRCA members and staff, began working with Ronald McDonald House Charities (RMHC) to create a partnership that would connect the roofing industry with the standalone Ronald McDonald Houses to provide ongoing roof maintenance. The Roofing Alliance is the foundation of the National Roofing Contractors Association (NRCA) and at 169 members strong, it is a dedicated forum of roofing contractors, manufacturers, distributors, service providers and industry professionals. These roofing men and women promote and fund the advancement of roofing through research, education, technology and philanthropic initiatives to help shape the future of the industry.
A Roofing Alliance member since 2014, Bob Morgan, C.E.O. of Upstate Roofing and Painting, was very intrigued by the partnership with RMHC and was one of the first roofing companies in the country to adopt their local House, Ronald McDonald House Charities of Rochester, NY Inc. In fact, the roofing industry as a whole has enthusiastically embraced the efforts of RMHC to help families with critically ill or injured children stay together, near the hospitals providing them medical care. Ronald McDonald Houses provide private sleeping rooms, meals, and opportunities for families to interact as they go through difficult times. Through sponsorship funds and the adoption of the roofs of the 165 standalone Ronald McDonald Houses in the United States, the Roofing Alliance has brought together roofing professionals and companies who donate their time and talents to provide regular roof system inspections, maintenance and repairs.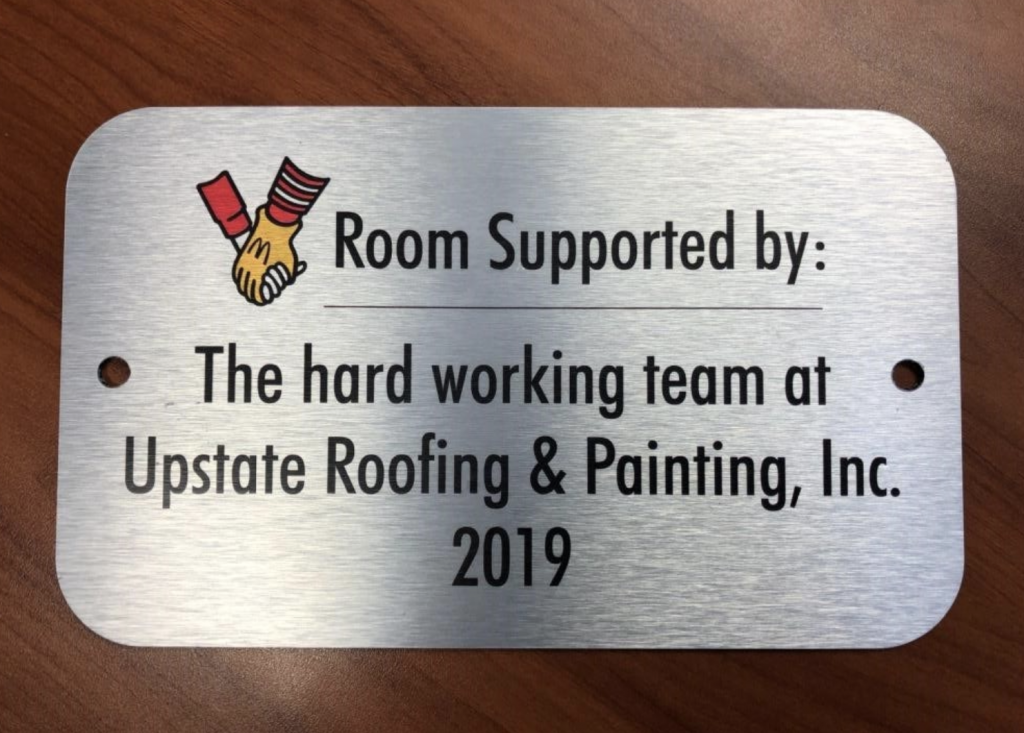 After signing up in October of 2017, Morgan shared the initiative with his company's team. Upstate's roof inspectors went out to look at the Ronald McDonald House Charities of Rochester, NY Inc. roof and performed an assessment. The House was broken up into several sections with steep sloped roofs that featured asphalt shingles. On their initial visit they performed a thorough inspection and provided a detailed report. (All contractors who adopt Houses share their inspection reports, maintenance work and any re-roofing with the Roofing Alliance, which maintains a national database with information on all of the Houses.) After the assessment, the Upstate team performed some pro-bono maintenance to ensure that there were no leaks.
Now knowing that the roof was in good shape, Morgan and his team started looking around for other opportunities to help the House. Upstate, founded in 1974, added commercial painting services for their clients in 2006 so they offered to "freshen up" a few rooms with a new coat of paint from time to time if needed.
With the help of Sherwin-Williams material donations, the Upstate team ended up re-painting the entire interior of the House. The combination of material and labor saved their Ronald McDonald House about $15,000 while providing a fresh look for all the rooms and common areas. Upstate was so committed that not only did they offer to donate the labor, they paid their painting team for their normal 40-hour week. Upstate's teammates saw this and really took Morgan's gift of giving back to heart.
Meeting a Challenge
Every March, Upstate Roofing and Painting has their annual kickoff for the upcoming season of work. It is a full day of safety training, award presentations, guest speakers and is capped off with a profit-sharing celebration. Morgan always recaps which charities the company donated to in the previous year. He lets the team know that it's not just the company writing a check. It's a result of everyone's hard work that allows Upstate to be able to make those donations. At the spring 2018 meeting, Morgan really wanted to share the excitement he and many of his team had for their latest philanthropic effort with their local Ronald McDonald House. He reached out to fellow Roofing Alliance member, Charles Antis of Antis Roofing and Waterproofing out of Orange County, California, to talk about what his company had been doing with their philanthropic programs. Antis made a video of his team thanking the Upstate team for all their work and donations. The video was played on the big screen for all to see during the meeting. It was the inspiration that really got the Upstate team rocking.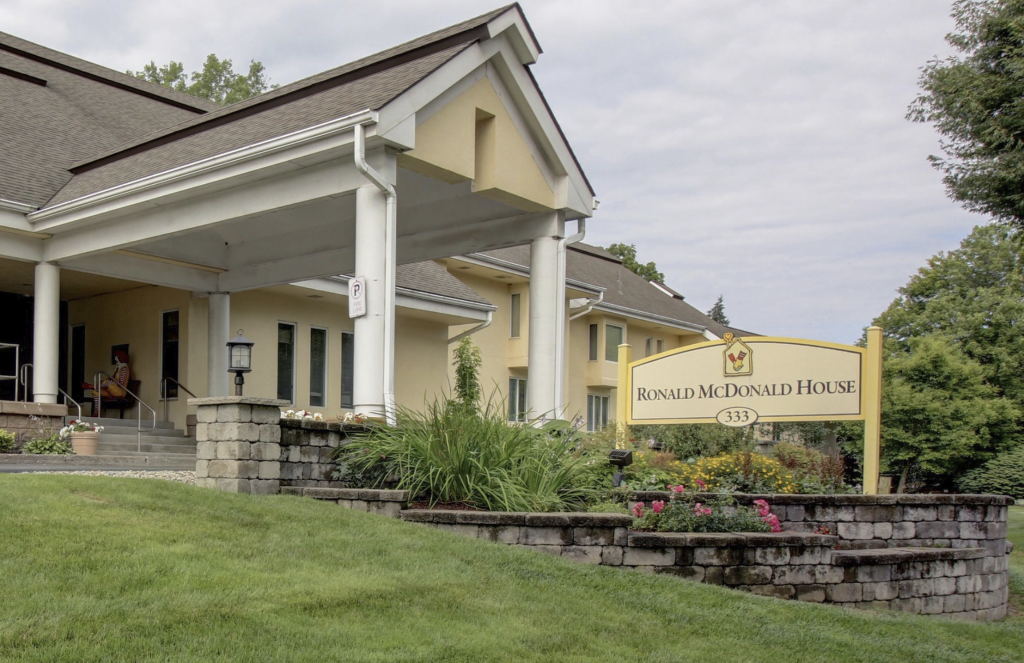 Upstate was already working with the United Way on an annual basis and remains very proud of the nonprofit, which was founded in Rochester by George Eastman, founder of Kodak. In 2018, when the Upstate employees found out that they could donate directly to Ronald McDonald House Charities of Rochester, NY Inc. through United Way, a challenge was initiated.
In 2019, representatives from R.M.H.C. and the United Way visited the Upstate employees and thanked them for all the work they had done and the pledges they had made to the House through United Way. After the guests departed, Morgan issued a challenge to his teammates that he and his wife Kim would personally match every dollar that they donated to the RMHC during the campaign. The goal was to raise $5,000 and have a room named after the entire Upstate team. The enthusiasm from everyone showed right away. Some even donated a second time to help increase the matched dollar amount. In total, over $13,000 was raised.
Morgan was amazed at the generosity of his team, but he was not surprised. "Our team has one of the toughest jobs on earth," stated Morgan. "They work extremely hard, often in less than desirable conditions on a daily basis. For them to give their hard-earned dollars to a local charity speaks volumes to the character of our team."
Because the naming rights for a room was set at $5,000, the House later named a second room in memory of Bob Morgan's parents: Robert and Deanna Morgan. Deanna had passed away the day after Morgan challenged his team to donate.
Morgan's dad owned a painting company at the time of his death after a battle with cancer 13 years ago (2006). Upstate hired a few key people from the painting company immediately in an effort to start offering painting services. Morgan's brother Don was one of the hires in 2006 and serves an important role today in the business. "In construction we see the strength of family, and this is a beautiful example of how family continues to be the strength behind many companies," said Morgan.
As a result of those hires in 2006, today Upstate is one of the most respected painting companies in the Rochester market with 35 painting teammates and growing. They offer commercial services for both interior and exterior painting, high-end office spaces, multi-family residences, hospitals and commercial roof coatings. Many of their contracts are a combination of roofing and painting working with general contractors. With all the success of their business, the true success is apparent in the culture of the company and the enthusiasm of all teammates. They know that the greatest strength of the company is the people who work there. They really care about what they do, and it shows.
To learn more about the Roofing Alliance and RHMC partnership, visit www.roofingalliance.net or contact Bennett Judson, the Roofing Alliance's executive director, at bjudson@nrca.net.
About the Author:Heidi J. Ellsworth is partner and owner of RoofersCoffeeShop and HJE Consulting where she provides marketing and business strategies, initiatives for sales success and overall content development for companies and associations within the roofing industry. Along with Karen L Edwards, she has co-authored two books: "Sales and Marketing for Roofing Contractors" and "Building a Marketing Plan for Roofing Contractors."