The University of Virginia's expansion of University Hospital was an ambitious, multi-year project. With more 450,000 square feet available for new space — which is roughly 50 percent of the size of the current hospital — and about 95,000 square feet for renovations, it is one of the biggest projects the University Medical Center has ever undertaken.
The first floor of the expansion was dedicated to improving the Emergency Department, increasing the capacity from 43 beds to 80 beds. The second floor is set up to deal primarily with prepping patients for surgery and helping them recover afterward. It features four new operating rooms, new cardiac catheterization labs and other procedural rooms. Additions to the hospital included adding a heliport to the top of the new building and a green roof that provides scenic views for patient rooms.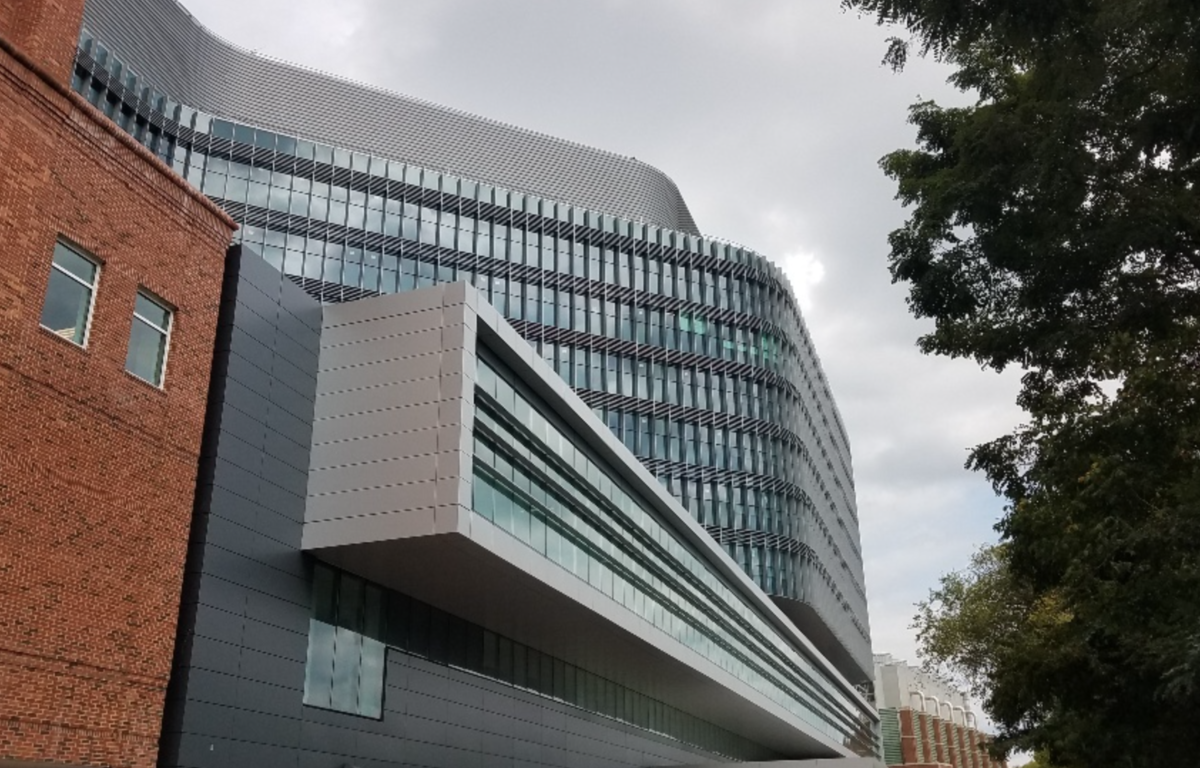 The hospital needed professional roofing and waterproofing contractor that was up for the challenge to build this prestigious addition. This multi-phased project needed a contractor with experience not only with installing the different roof assemblies, but one capable of producing a safe and quality product for the customer. General contractor Skanska USA Building, Inc. contacted CFE, Inc., headquartered in Elmira, New York, to see if the company would be interested in this complicated project. "We have worked with Skanska on many high-profile projects," notes Bob Pringle, Vice President of CFE, Inc., whose parent company is Evans Roofing Company, Inc.
CFE, Inc. completed the roofing portion of the project and installed the waterproofing system on the vegetative roofs. "Having a team approach with this project was the key to its success," says Pringle. "Everyone working safely together to produce an amazing addition to the hospital was every awarded contractor's wish."
Safety First
Skanska was in full control from the beginning of this project until completion, according to Pringle. Safety was the top priority. Everyone who set foot on the site — regardless of task — was required to attend and complete a four-hour safety training session conducted by Skanska's Safety Team.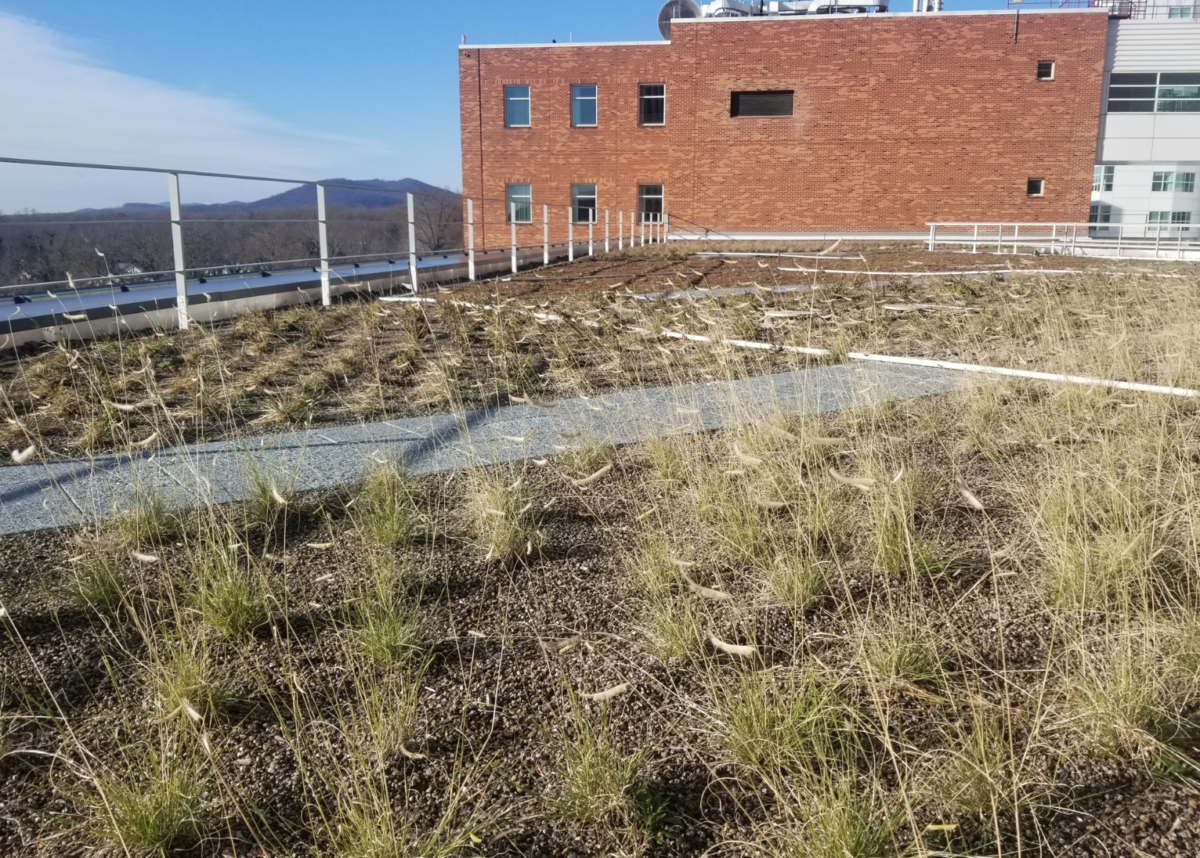 "This requirement sets the tone for safety for all trades," says Dan Nowak, Corporate Environmental Health and Safety Manager for Evans Roofing Company, Inc. Nowak is responsible for ensuring each and every company associate has the necessary safety training to perform their jobs safely. Aaron Whaley, Construction Risk Specialist for CFE, Inc., had the weekly task of traveling to the site, providing safety mentoring to crews on the project, and helping coordinate communication between Skanska and CFE, Inc. "We had multiple teams on many roof levels performing their work, which required a separate set of safety requirements," Whaley says. "Each roof level had its own fall protection requirements. Ensuring proper setup and maintenance of these fall protection systems was key in protecting our associates."
Roofing and Waterproofing Assemblies
The hospital required durable roofing and waterproofing systems that would hold up to the Virginia climate and hospital traffic. The systems specified were manufactured by Sika Sarnafil. The roof assembly consisted of loose-laid Sarnavap PE 10 vapor barrier, polyiso insulation, a cover board, and 80-mil Sarnafil G410 PVC. Half-inch DensDeck Prime was mechanically fastened on metal decks only, along with a 4-inch minimum of 25 PSI polyisocyanurate. Consequent layers of insulation, including tapered insulation, were all adhered, and topped with DensDeck Prime and the PVC membrane, which were also adhered. The membranes on levels 9 and 10 were self-adhered.
The waterproofing assembly began with Sarnafil G476SA waterproofing membrane, which was adhered to a primed concrete deck. Drainage composite board 3811R and two layers of Owens Corning Foamular RB extruded polystyrene insulation were then installed, along with and a separation layer of filter fabric. The green roof overburden assembly was subcontracted to Greenrise Technologies, Inc.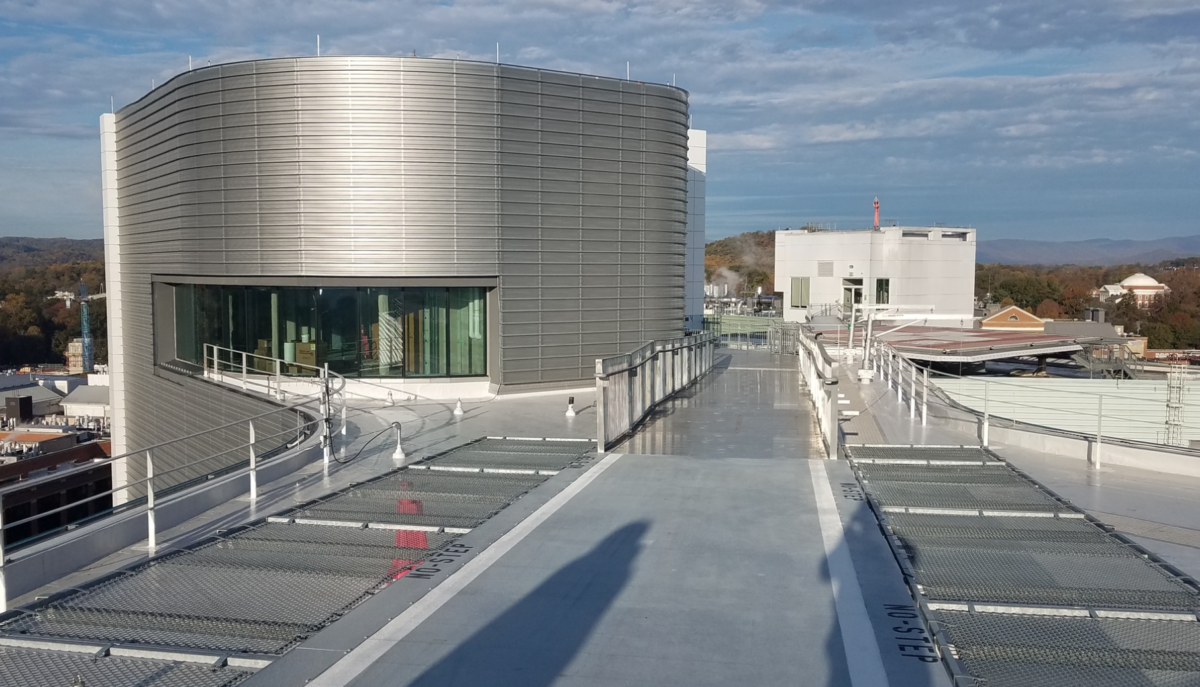 CFE, Inc. teams from both North Carolina and Virginia offices worked on the project. "This was a very challenging job, with many roof levels with hundreds of penetrations," says Mark McKinney, Superintendent for CFE, Inc.
Solar systems were installed on levels 3 and 11. A Heliport with extensive platforms and walkways had to be accommodated at level 10.
It took a coordinated effort between Sika Sarnafil and CFE, Inc. to select the right roof and waterproofing systems for this project. "We appreciated all of the support from Sika Sarnafil headquarters located in Canton, Massachusetts, including our corporate representation, Jim Corcoran, and our state of Virginia representation, Steve Alley," Pringle says.
"CFE, Inc. is a highly skilled company that has installed Sika Sarnafil products for over 35 years," notes Jim Corcoran. "I have worked with CFE, Inc., a Sika Sarnafil ELITE Applicator, on many complicated projects and the UVA expansion is certainly no exception. Having the right contractor installing the best roofing system is a recipe for success."
Safe and Successful
Ensuring safety was an ongoing challenge, as there were multiple roof areas that were all in need of specific fall protection solutions. "CFE, Inc. proudly waves the VPP Mobile Workforce STAR flag on all projects glorifying their corporate culture of safety, quality and uncompromising customer satisfaction," Nowak says. "This project had 35,000 man hours without a recordable incident. This is what it means to put your employee's safety first over profit. Morning stretch-and-flex, daily safety huddles, a keen detail to specific fall protection systems for each roof level, and safety support from the dynamic Skanska Safety Team on site all contributed to our safety success. Keeping all site workers safe was the 'zero incidents' mindset all contractor companies shared and supported."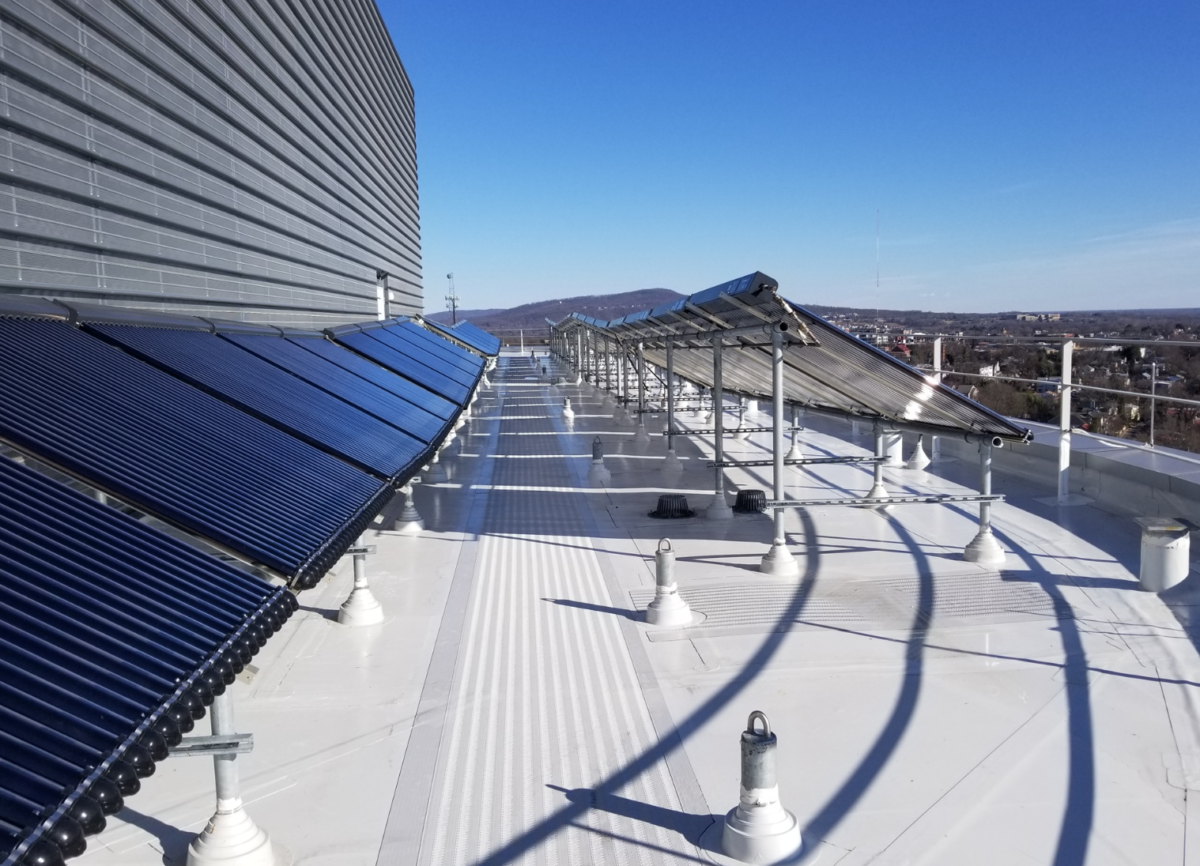 Pringle agrees. "Delivering a fantastic project like the UVA expansion to the owner is a huge accomplishment, but delivering a fantastic project with no casualties is a blessed event," Pringle says. "This building will serve the community for many years to come, offering the very best medical consultation and treatment. We are so proud to take part in this project, to work once again with all of our partners in offering long-term roofing solutions at UVA Healthcare."
"The University Hospital Expansion project at the University of Virginia was one of the more complex projects completed by our firm," notes Bill Fischer, President of Evans Roofing Company, Inc. "The site logistical obstacles were quite intense, as this building is nestled between an incredibly busy existing hospital, an operating rail line, and much of the infrastructure supporting the University and city of Charlottesville."
TEAM
Architect: Perkins & Will, perkinswill.com
General Contractor: Skanska USA Building, Inc., Vienna, Virginia, usa.skanska.com
Roofing Contractor: CFE, Inc., Apex, North Carolina, evansroofingcompany.com
Green Roof Overburden Installer: Greenrise Technologies, Inc., Readyville, Tennessee, greenrisetech.com
MATERIALS
Roof Membrane: Sarnafil G410-80 PVC, Sika USA, usa.sika.com
Vapor Barrier: Sarnavap PE 10, Sika USA
Cover Board: DensDeck Prime, Georgia-Pacific, buildgp.com
Waterproofing Membrane: Sarnafil G476SA
Insulation: Foamular RB XPS, Owens Corning, owenscorning.com