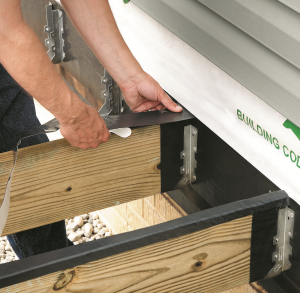 MFM Building Products, a manufacturer of a full envelope of waterproofing and weather barrier products for the building industry, introduces DeckWrap PowerBond.
DeckWrap PowerBond is a self-adhering waterproofing membrane that protects the surface of the wood with a highly aggressive, patented PowerBond adhesive system. The membrane aggressive bonds to wood or metal surfaces at temperatures as low as 25°F (-4°C). The membrane also is self-sealing around nails, screws, punctures and other fasteners. The self-sealing properties prevent water penetration to protect the structural elements extending the life of the deck.
DeckWrap PowerBond is suitable for use with treated, untreated and synthetic woods and stops corrosion of metal components that come in contact with ACQ-treated lumber. It is ideal for ledgers, joists, top edges and post applications to protect against premature rot and degradation. The "self-stick" property allows for quick and easy installation. The only tools required are a sharp utility knife.
DeckWrap PowerBond is available in pre-packaged rolls of 3-inches and 6-inches by 75-feet length, and 12-inches width by 25-feet length. Thickness of the membrane is 25 mils. For more information, visit www.mfmbp.com.