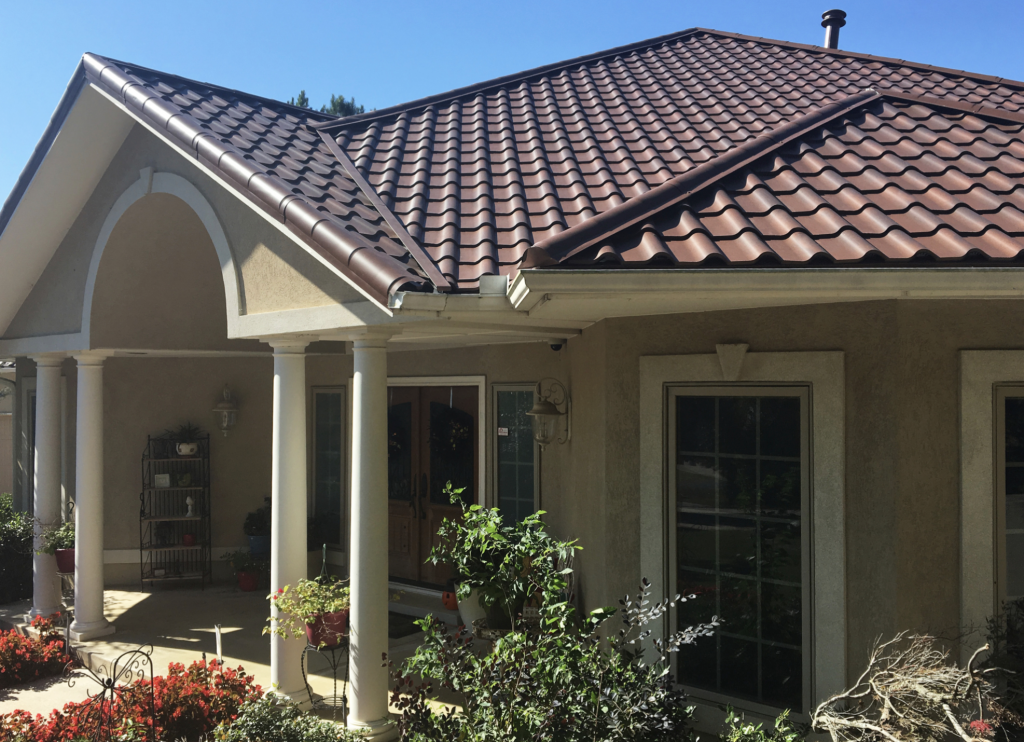 Scott McCollum, owner of McRoof Residential and Commercial Roofing, has been in the contracting business for half a century. Since 2007, his Edmond, Oklahoma-based roofing business has concentrated on wind and impact-resistant asphalt products — the kind needed for homes often in the path of tornados, hailstorms and other wind events common to Oklahoma and Northern Texas.
"We're right in the middle of the hail belt and tornado alley, so people are extremely concerned about hail and wind," says McCollum. "Those are really big drivers that make people willing to spend more on a roof that is going to give them better performance."
In 2019, McCollum introduced CertainTeed's Matterhorn Metal Roofing into his product offering. The lightweight, steel panel roofing system offers top-tier wind and impact resistance, with bold colors and designs that emulate popular styles like shake, slate, and clay tile.
McCollum said most of his customers are homeowners and business owners making insurance claims due to severe hail and storm-related roof damage. He often recommends higher-end and SBS-modified asphalt products, but began offering metal roofing due to a surge of consumer interest. After experimenting with a few metal systems, McCollum settled on Matterhorn from CertainTeed for its looks, solar-reflective color options and ease of installation.
"We really believe it's the most beautiful metal roofing product on the market," says McCollum. "We've always been a value-added contractor, so this is a good fit for us."
Overcoming Contractor Concerns
According to McCollum, customers typically come to McRoof because they are frustrated with typical products after several roof repairs or replacements following storms. "Some have had to replace their asphalt roof every five to seven years, so we've always recommended higher-end products," notes McCollum. "I've always understood the benefits of metal roofing when it is installed correctly, but I was concerned about introducing it into our product line with our available labor resources. What was the learning curve, and what does it take to get the job done … those were the questions I had."
Since its inception, McRoof has relied exclusively on CertainTeed for its asphalt products. After a chance meeting with a CertainTeed Matterhorn metal roofing field representative, McCollum decided to give the product a try.
"Most of the concerns I had went away after the first one or two installations," McCollum says. "Matterhorn is a well-thought-out product and the way it fastens and goes together is seamless. It takes a little more time to get drip edge and hips and ridges done, but once the deck is prepared, the installation of the field tile goes very quickly."
McCollum said that on the first couple of Matterhorn roofing installations, CertainTeed sent field representatives to the project site who worked alongside McRoof installers to help them avoid any costly or time-consuming installation errors.
"Some contractors are worried about getting into metal roofing, but the monetary investment for the hand tools you need is next to nothing, and the learning curve is very low," says McCollum. "With a metal nibbler, some snips, a crimper and a handbrake, you're good to go. The additional revenue basically doubles the size of my company."
Making the Sale
McCollum says that in storm-prone Oklahoma and Texas, most of his customers are open to the idea of metal roofing, which is known for its durability and longevity. Most metal roofs have a useful lifespan of more than 50 years, which is music to the ears of many homeowners living in the hail belt. He says it's important to establish the benefits with customers and to explain the advantages of going with a longer-lasting product on their "forever home."
"People know that metal roofing is a little more expensive than asphalt," said McCollum. "However, customers are looking for impact, fire and wind resistance, as well as solar reflectivity. I've had people tell me they've wanted a metal roof for years, but they don't want it to look like a barn. When you're able to actually show customers the samples, their eyes light up.
"Clay tile is very popular in the Southwest and the Matterhorn is especially spot on," McCollum continued. "I grew up in New Mexico surrounded by stucco homes with tile roofs and you could put a Matterhorn Tile roof in the middle of 10 clay tile roofs and you would not be able to tell the difference. It's that good, so we think there's a huge potential market for it with architects and specifiers."
McCollum says contractors should consider metal roofing specialization a long-term investment. He suggested becoming a credentialed installer in order to demonstrate expertise and be able to offer better installation warranties.
"When I was looking at metal roofing, I wasn't looking at it to make a lot of money right away," says McCollum. "We were concerned about learning how to do it correctly as opposed to squeezing money out of the first couple of jobs. My best advice would be to find a mentor and do some training. It's money well spent."
TEAM
Roofing Contractor: McRoof Residential and Commercial Roofing, Edmond, Oklahoma, https://www.mcroofrx.com
MATERIALS
Metal Roof System: Matterhorn Tile, CertainTeed, www.certainteed.com/metal-roofing