Just north of California's iconic Golden Gate Bridge in the idyllic town of Novato sits The Quest. Home to a progressive Christian faith community and its church and day care facility, The Quest offers both an in-person gathering place for worship and community services, as well as livestreamed services and celebrations. With aesthetically unique roof attributes, Novato's Quest gained fame when its recent roof enhancement was recognized by the Spray Polyurethane Foam Alliance (SPFA) as the winner for the category of Sprayfoam Roof Less than 40,000 Square Feet in the 16th Annual SPFA National Industry Excellence Awards.
Wedge Roofing, the contractor responsible for Quest's roof retrofit, is a frequent SPFA award winner with a reputation for outstanding commercial work throughout Marin and Sonoma Counties, as well as in San Francisco and Napa.
Quest brought Wedge in to address the needed roof enhancements on the 12,000-square-foot structure, which was initially built in the 1960s. The re-roof project included a fully tapered substrate for positive drainage, rooftop thermal protection enhancement, and the removal of clerestory windows. Installers Victor Ceja, Guillermo Martinez, Gerado Salcido, Gaspar Penaloza, Edvin Lorenzo, Eric Carreno, Juan Valle, Fortino Juarez, Isidro Landin and Nehemias Lopez, along with SPFA professionally certified project manager Gary Harvey, were tasked with completing the job. The team worked in two phases within a strict three-week summer break window.
Challenging Application
Aside from the short project timeline, Wedge dealt with some challenges. Measurable moisture in the region made substrate readiness absolutely critical. Teachers and staff, as well as maintenance personnel using the building, needed to be relocated to other segments of the facility while roofing activity occurred. Finally, amidst industry-wide supply chain challenges, Wedge Roofing had to make critical materials decisions, relying on supplier Cal Roofing Supply to ensure it had all the high-performance materials it needed to complete the project on time without sacrificing quality.
The team first vacuumed the aggregate of the existing built-up roofing system, which removed more than 45,000 pounds of ballast from the structure. Original construction incorporated a dead flat roof surface and, because of the large distance required to remove water, in some cases more than 60 to 80 feet to drains, Wedge Roofing recommended a tapered design. The system chosen utilizes readily available lumber, including two-by Douglas Fir materials, half-inch OSB roof sheathing, and pre-manufactured galvanized connecting members.
"Right off the shelf, this unique, go-to tapered system allowed us to achieve consistent, positive drainage," says Gary Harvey, general manager with Wedge Roofing. "Paired with a high-performance spray foam roofing and coating system from Huntsman, we were able to give Quest a roof that withstands weather and moisture, while enhancing energy efficiency and long-term energy savings."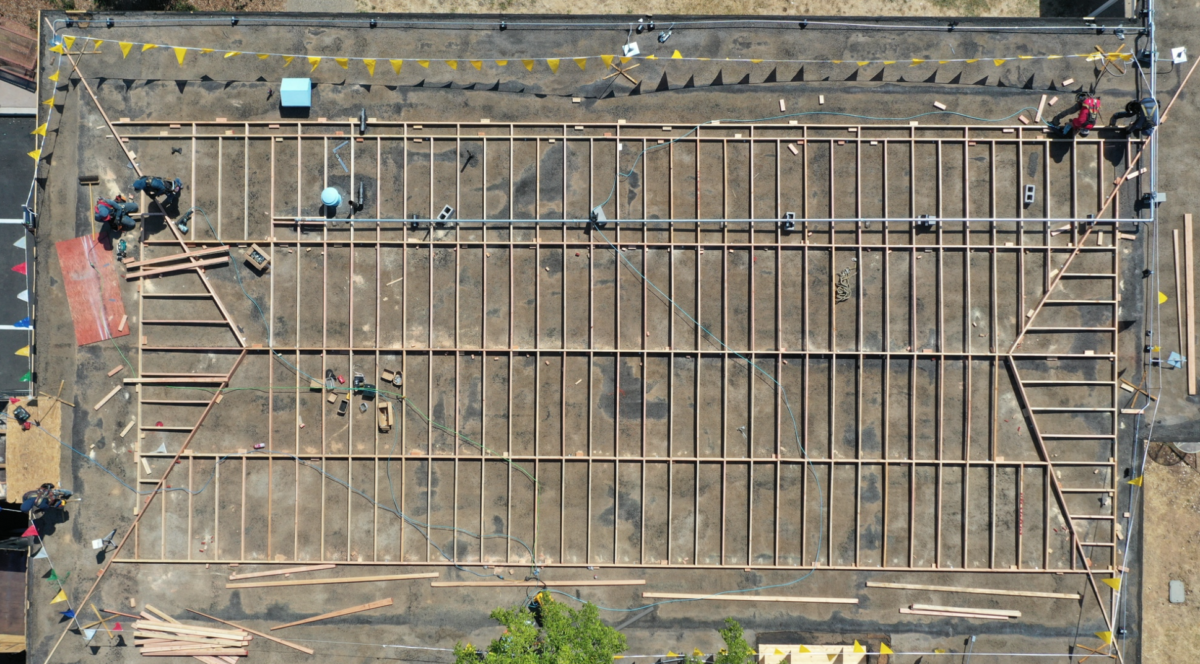 The roofing team installed FOAM-LOK LPA 2800-4G Spray Foam Roofing, a closed-cell system offering a fully-adhered, seamless monolithic membrane overtop of the roof. The lightweight option gives the Quest facility both insulating capabilities and a watertight seal on the roof. The spray foam used was notably the first roofing SPF in the industry to leverage the HFO blowing agent technology. HFO spray foams are much more Earth-friendly that older generation foams, offering zero-ozone depletion potential (ODP) and a global warming potential (GWP) of 1, which is 99.9% lower than HFC blown spray foams.
Wedge Roofing is an outspoken proponent of spray foam roofing. "We complete quite a few commercial projects throughout the region with spray foam," notes Harvey. "It's cost effective, withstands regional moisture and wind, and offers substantial R-value and energy saving benefits to our customers. It's also low maintenance and easy to repair."
All spray foam roofs must be coated for protection. Two gallons of Thermo-Sil NP Silicone Coating in white was applied over the spray foam on the Quest facility. The high solids coating yielded over 30 mils of protection to help the roof withstand UV degradation, extreme weather, moisture and more. Lucas #11 Fire White Granules were also applied with the coating. Both FOAM-LOK LPA 2800-4G and Thermo-Sil NP are manufactured by Huntsman Building Solutions.
Even working with a challenging timeline, Wedge Roofing was able to finish before its target date.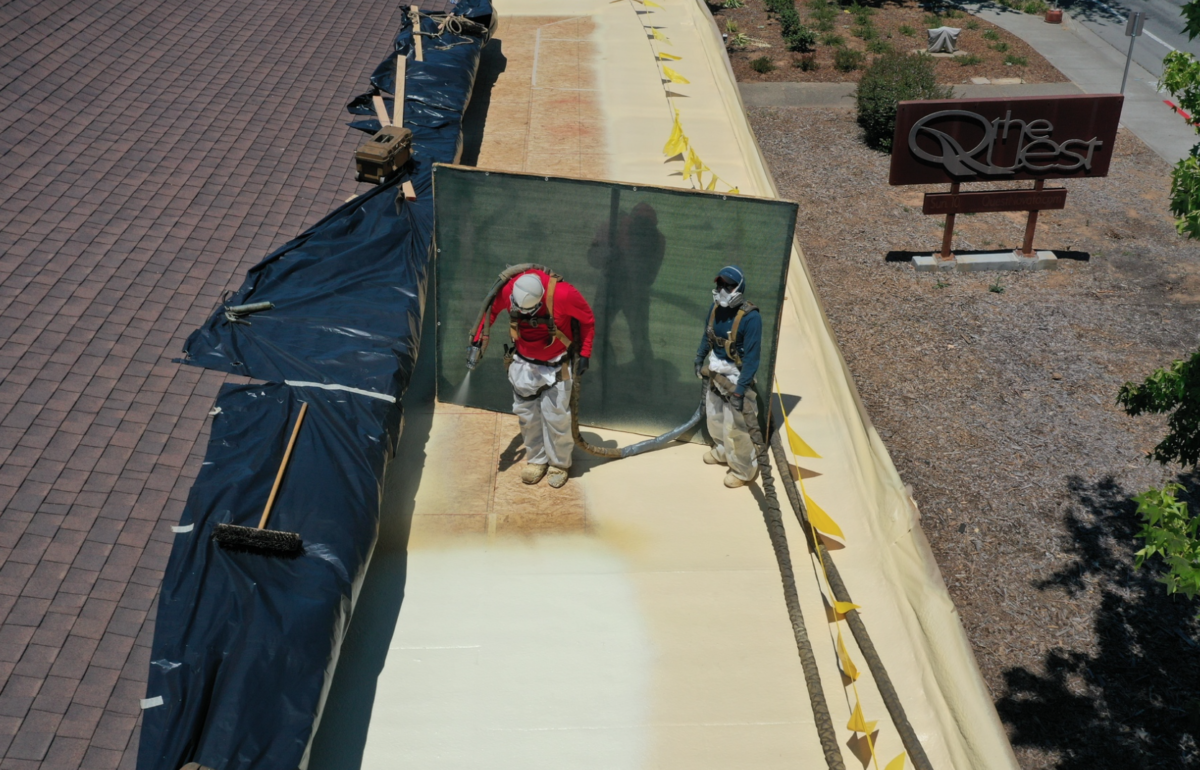 "We were given 21 calendar days to complete this roof, and on the tenth day, we swept the grounds, walked with the prime contractor and departed, happy with our work," Harvey says. "The representative from Quest we worked with on this project is also the president of a widely successful general contracting company and was extremely pleased with the end result, as well as in our team's ability to come in on-time and on-budget. We also received great feedback on the immediate interior air temperature reduction, which is being thoroughly enjoyed by all members of Quest."
About the author: Dave Feitl is VP Global Roofing and Specialty Products with Huntsman Building Solutions, a global manufacturer of spray polyurethane foam roofing and insulation. The company's solutions are utilized to optimize commercial and residential structures worldwide in both new construction and retrofit applications. For more information, contact the author at dfeitl@huntsmanbuilds.com and visit huntsmanbuildingsolutions.com.
TEAM
Roofing Contractor: Wedge Roofing, Petaluma, California, wedgeroofing.com
MATERIALS
SPF Roof System: FOAM-LOK LPA 2800-4G Spray Foam and Thermo-Sil NP Silicone Coating, Huntsman Building Solutions, huntsmanbuildingsolutions.com