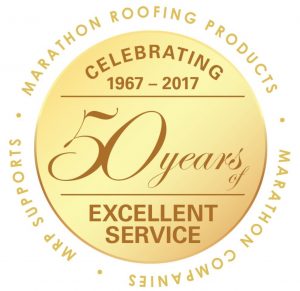 Marathon Roofing Products and owner Tod Cislo are celebrating a milestone of 50 years in business. Marathon Roofing Products is a manufacturer and distributor of commercial roof drains, vents, equipment, and accessories. They are committed to providing architects, specifiers, and contractors with products, competitive prices, and quality customer service.
Marathon was started in 1967 as a manufacturing facility of copper drains in Buffalo, N.Y., with an emphasis on growing their customer base and line of products. Since those beginnings, Marathon has expanded to its new facility in Orchard Park, N.Y., and now includes a second company called MRP Supports, which sells pedestal support products throughout the U.S., Canada, and countries abroad.
Marathon's long-time employees work hard to ensure that they will continue to give the service that customers have been used to for all of these years. Marathon's innovation, relationships with their customers, and their reputation for service will foster continued growth for the future.