The Bozeman Public Safety Center houses the Bozeman Police Department, a fire station, the Municipal Courts and Prosecution and Victim Services. The ambitious new construction project encompasses 95,000 square feet. The facility needed a roof system that would withstand the tough Montana winter weather for decades to come. The architect on the project, ThinkOne Architecture, specified a TPO system from GAF, which was installed by Summit Roofing, a GAF Master Select Commercial Roofing Contractor with offices in Missoula and Helena, Montana.
"Summit Roofing was a great fit for the project because of their specialty in low-slope commercial and sheet metal roofing in Montana," notes Mike Chrismer, Senior Territory Manager for GAF. "ThinkOne Architecture specified and put together an adhered TPO specification which requires assembling a lot of ancillary products. As soon as Summit Roofing began to review the bid documents, they reached out to GAF with questions regarding assembly and taper designs."
Roof Installation
The 55,000-square-foot roof deck was first covered with GAF's SA XL self-adhered vapor retarder, which was directly applied to the deck. It was topped with two 3-inch layers of polyisocyanurate insulation — the first mechanically attached, the second adhered. Tapered polyiso was adhered to flat roof sections to ensure proper drainage. After a half-inch layer of high density polyiso was adhered, 60-mil GAF TPO membrane was fully adhered using GAF Quick Spray adhesive.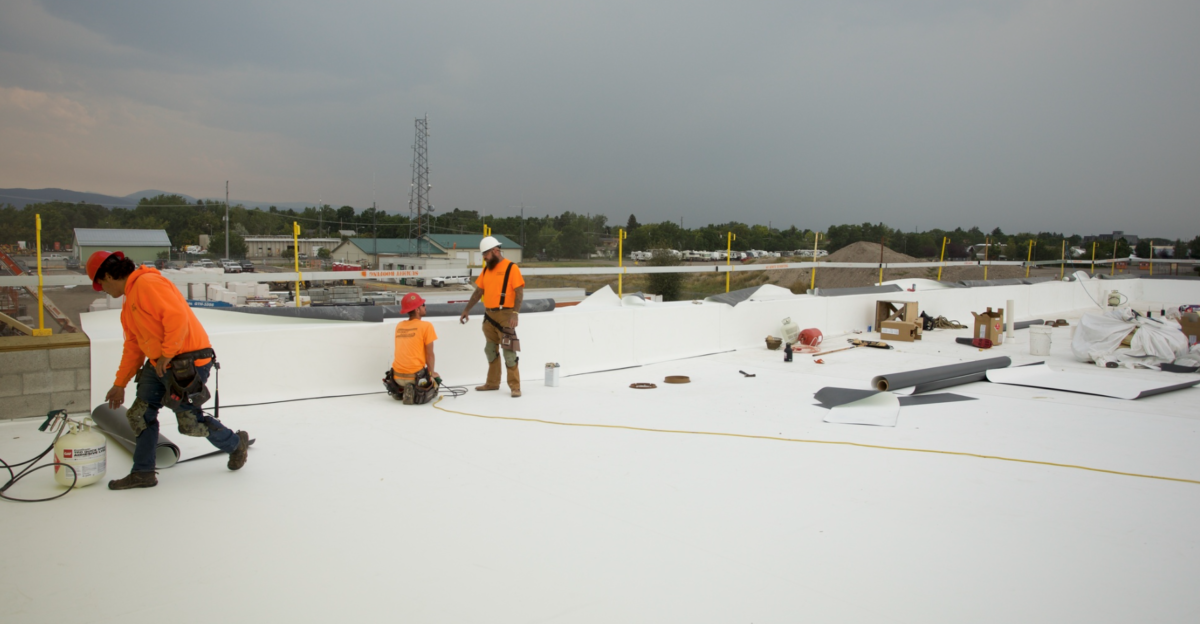 "The system provides both the uplift resistance and longevity that is required for a government building that is expected to be in service for many years," Chrismer says.
Installation challenges included blustery weather conditions. "Some of the project was installed in the winter with limited temperatures," notes Chrismer. "We had to take special precautions to make sure all the adhesives were at the correct temperature during installation. This included storing them in a heated area and using heat blankets for the tanks."
Safety was the top priority, according to Bill Johns, president of Summit Roofing. "The main concern is always fall protection," he says. "This project had ten different deck areas and various roof elevations. Some roof areas required 100 percent fall protection; others utilized safety railing and a preventative warning system. Weather in Bozeman is always a safety concern."
Teamwork was needed to cope with a supply chain that was stretched thin by the effects of COVID-19. "Since the pandemic, sourcing everything has been a challenge," Chrismer says. "It took a lot of cooperation among the partners, including the general contractor, Langlas & Associates, to help unload, store and stage material for this project."
"GAF is committed to delivering best-in-class service for our customers, which is crucial to our goal of becoming the leader in the commercial roofing industry," Chrismer concludes. "As such, despite the supply chain issues, GAF was able to pull product from several of our facilities across the U.S. to facilitate this project amid supply chain issues. We also shared our SA XL vapor retarder as a test project, which worked well and adhered to the deck."
TEAM
Architect: ThinkOne Architecture, Bozeman, Montana, think1.com
General Contractor: Langlas & Associates, Bozeman, Montana, langlas.com
Roofing Contractor: Summit Roofing, Missoula and Helena, Montana, summitroofing.info
MATERIALS
Membrane: 60-mil TPO, GAF, gaf.com
Vapor Retarder: SA XL, GAF