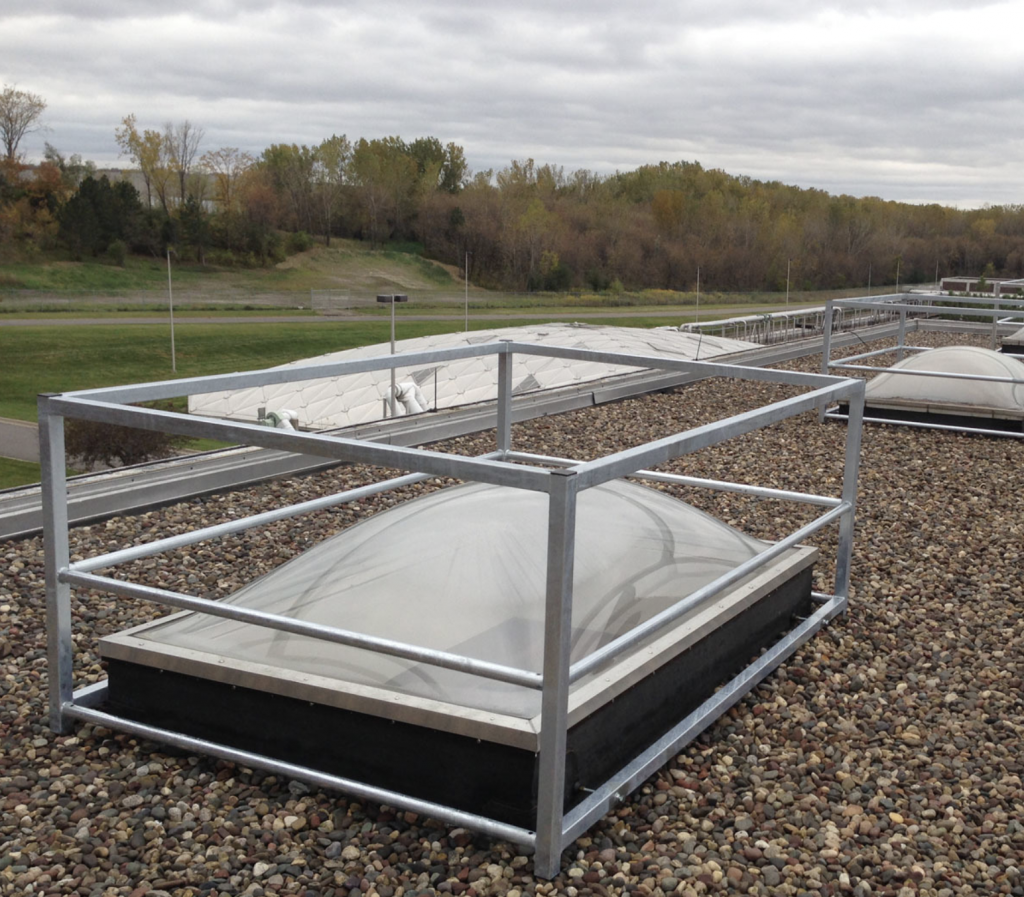 The importance of fall protection for employees working at heights needs little introduction: falls remain one of the leading causes of workplace injuries and fatalities in general industry and construction. One fall hazard in particular can be especially dangerous to construction workers on roofing jobsites: skylights.
Skylights are a popular feature in modern architecture, which tends to emphasize natural light and an unobstructed view of the sky. Skylights are increasingly becoming a part of the rooftop designs of homes and commercial buildings of all kinds, particularly in high-end construction.
Because of their prevalence, skylight hazards for construction workers have earned special attention from regulators and advocacy groups. A recent National Institute for Occupational Safety and Health (NIOSH) alert from the Centers for Disease Control cites hundreds of lost-time injuries and dozens of fatalities caused by workers falling through skylights, existing roof openings, and existing floor openings. Most of these injuries occurred in the construction industry, according to the Bureau of Labor Statistics.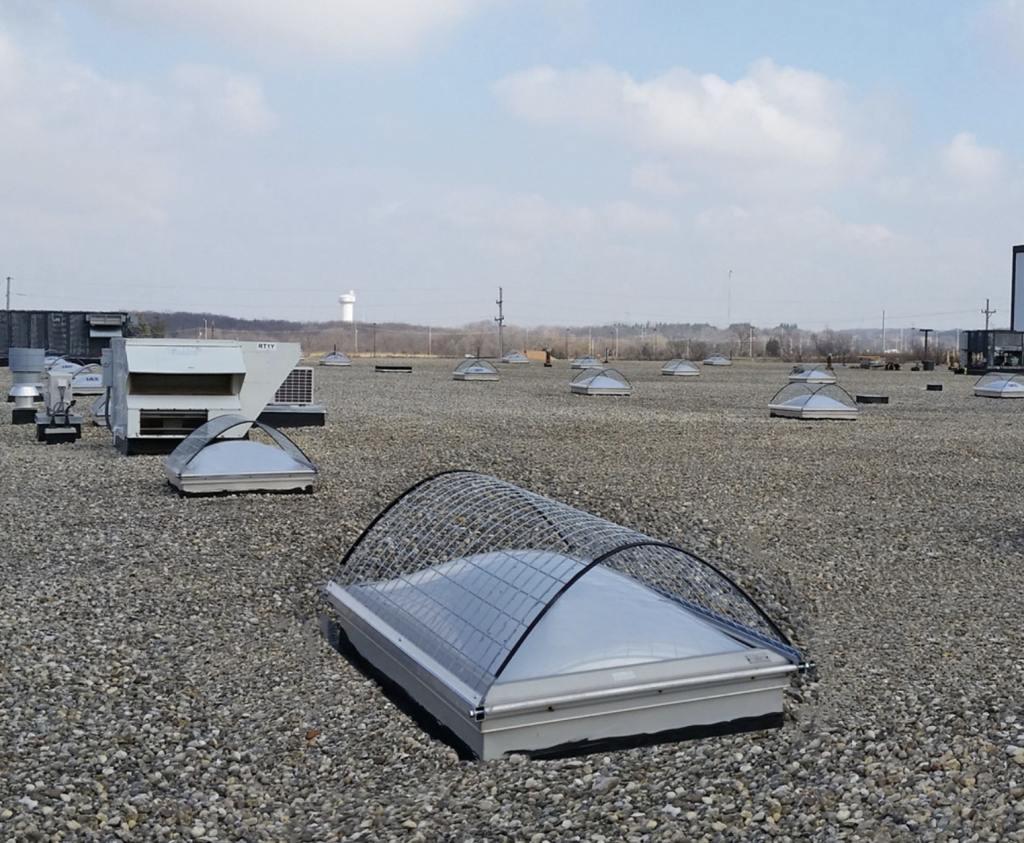 The report highlights the dangers of skylight-related falls during snow removal, when the skylights may be covered with snow and their positions can become difficult to judge. The report also cited several cases of falls related to skylights that were unguarded or unsecured during construction or repairs on a roof.
The Occupational Safety and Health Administration (OSHA) has developed standards intended to safeguard workers—particularly in construction and general industry — who operate near skylights and roof and floor openings. OSHA 29 CFR 1926.501(b)(4) states: "Each employee on walking/working surfaces shall be protected from falling through holes (including skylights) more than 6 feet (1.8 m) above lower levels, by personal fall arrest systems, covers, or guardrail systems erected around such holes."
Thankfully there are many options for protecting workers from the fall hazards associated with skylights. Let's consider each of the types of solutions that OSHA recommends.
Personal Fall Arrest Systems
A personal fall arrest system should include a full body harness; connectors such as a self-retracting lifeline (SRL), shock-absorbing lanyard, or vertical lifeline assembly; and an appropriate anchor point on the roof. There are permanent and temporary options when it comes to roof anchors. Which you choose will depend on whether you intend to install the anchor fixture permanently — if you own the building, for example — or simply need an anchor temporarily for a short-term job. Permanent anchors can be installed in wood, steel, and concrete surfaces, whereas reusable anchors can be installed with screws or nails and then removed with minimal damage to the roof.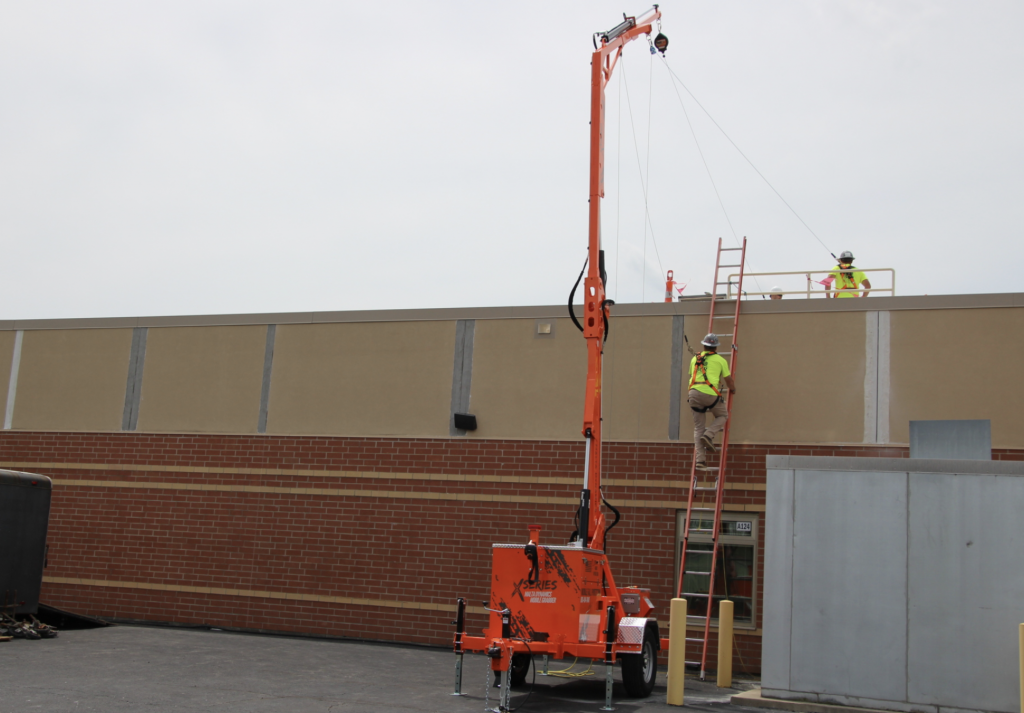 There are several good temporary options for fall protection anchors in rooftop applications that do not puncture the roof's surface, including roof carts and mobile fall protection units. A roof cart can be pulled around the roof's surface to provide anchorage to workers where it is needed; these typically use friction or puncture the roof in order to arrest a fall. Mobile fall protection units include road-towable, free-standing systems that can provide overhead tie-off for multiple workers up to 34 feet in the air without damaging the roof's surface even in the event of a fall.
Covers
Covers must meet the criteria set out in OSHA Standard 1926.502(i)(2): "covers shall be capable of supporting, without failure, at least twice the weight of employees, equipment, and materials that may be imposed on the cover at any one time." This means that a cover must be able to support the weight of all workers who may be using the cover, plus all their gear and tools, times two. Covers need to be clearly marked either by color coding or with a word such as "HOLE" or "COVER." A cover also must be secured in such a way that wind, equipment, or the employees are not able to move it.
Guardrails
Guardrails are a great way to partition off areas where skylights present a fall risk, especially for rooftops where snow cover may obscure a worker's view of the hazardous area. Guardrails are classified as hazard barriers, acting as a physical barrier between the worker and the fall hazard. Portable, free-standing, and non-penetrating safety rail systems can be used as flat-roof fall protection along skylights and roof perimeters. These systems are easy to install and allow work crews the versatility to work around the existing infrastructure.
In addition to preparing the jobsite with appropriate covers or guardrails and outfitting workers with the necessary personal fall arrest systems, there are several general steps employers can take to identify and mitigate the risk of falls through skylights or roof and floor openings:
Assign a Competent Person to inspect the worksite before work begins to identify fall hazards and provide recommendations on what fall prevention system(s) workers should use for the job.
Conduct periodic inspections to ensure workers are using their fall protection equipment consistently and correctly, and that fall prevention systems such as covers and guardrails are being properly used and maintained.
Train each worker who may be asked to work on a rooftop to enable them to recognize fall hazards and become familiar with the procedures and equipment needed to minimize their risks.
Having adequate personal fall arrest equipment, covers, and guardrails — or a combination of these — in place whenever a worker ascends to the roof to complete construction or maintenance work will go a long way in keeping your team safe. You can go further by training your team and making sure the equipment and processes that are provided are being used consistently and correctly. A little extra effort will help to save lives and prevent injuries.
About the author: David Ivey is the Product Engineering Manager for Malta Dynamics, where he oversees the engineering of all mobile fall protection and custom fall protection systems. For more information or with questions about OSHA compliance of fall protection systems, contact divey@maltadynamics.com.