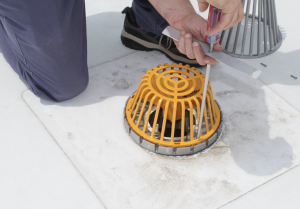 OMG Roofing Products introduces the Vortex Breaker Strainer Dome for retrofitting OMG Hercules Drains. The new strainer dome with built-in vortex breaker technology is designed to improve water flow from the roof. According to the manufacturer, independent studies demonstrate that when upgraded with the Vortex Breaker Strainer Dome, Hercules Drains offer up to 2.5 times greater flow capacity than Hercules Drains without vortex breaker technology. Faster water flow off the roof also means that the drains get excessive weight off the roof faster. In addition, the integrated vortex breaker technology greatly reduces the chugging effect that occurs when a vortex collapses, which can overload the plumbing system.
Vortex Breaker Strainer Domes are made of heavy-duty cast aluminum for long life on the roof. The safety yellow powder coat makes them easily visible on the roof, so they do not pose a trip hazard. The new domes are compatible with all 3-, 4-, 5- and 6-inch OMG Hercules and OMG Aluminum Classic drains, including thermoplastic coated versions, and are installed using only a screwdriver with a #2 square drive.
For additional information, please call the Customer Service team at OMG Roofing Products at (800) 633-3800.