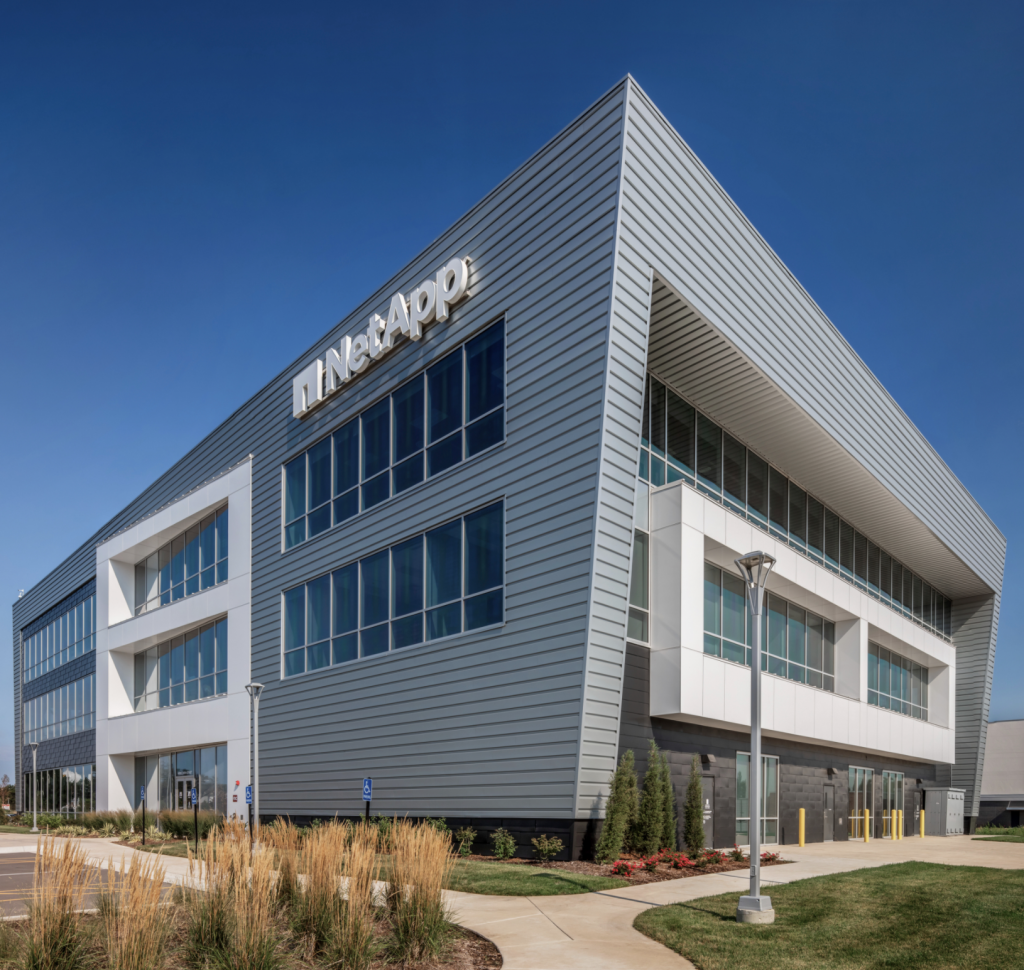 When general contractor Crossland Construction faced a complicated wall panel installation on a tight schedule, the company tapped a long-time partner to get the job done — Mahaney Group.
Headquartered in Wichita, Kansas, Mahaney Group is a commercial construction company that provides low-slope roofing, steel erection, architectural sheet metal and facility services. Mahaney was brought in by Crossland Construction to install the wall panels for an office building on the campus of Wichita State University known as Partnership Building 3. The structure is part of a larger development called The Innovation Campus, which is designed to provide research facilities, laboratories, and office space for local companies. Partnership Building 3 houses temporary offices for NetApp, which is currently building a headquarters facility on the Innovation Campus.
The Wall System
The design for the wall panels incorporates three types of PAC-CLAD panels manufactured by Petersen. Crews installed 20,000 square feet of Highline S1 panels in Silver, 2,200 square feet of Snap-On Panels in Bone White, and 9,000 square feet of Flat-Lock Panels in Matte Black. The Highline S1 Panels were delivered to length by PAC-CLAD, while the Snap-On and Flat-Lock Panels were fabricated in Mahaney Group's shop.
"Due to the building's size, budget, and aggressive schedule, we had to select a material that would not only look great, but also allow us to install at a rapid pace," says Kyle Harryman, Vice President, Metals Division, Mahaney Group. "We were able to purchase 22-gauge flat sheets, lay them out, and water-jet (cut) the profile required to fabricate Flat-Lock panels with as little waste and as much efficiency as possible."
To install the Highline S1 panels, crews added a 1.5 inch, 18-gauge hat channel vertically and attached the horizontal panels with clips. The vast majority of the installation was done from a boom lift.
The vertical and horizontal reveals were made from extruded aluminum, painted to match the panels. "We installed all of the extrusions, measured for panels, then cut them with our CNC routing machine on a weekend rain day," notes Harryman. "We finished the install with the pre-cut panels to save time with no wasted 'weather' days."
The installation of the Flat-Lock panels went smoothly, according to Harryman. "The general contractor installed 5/8-inch plywood at these locations to make our install even faster," he notes. "The color and panel types all went together perfectly, and the final look proves just that."
Bustling Jobsite
Challenges included an aggressive schedule, which required multiple trades to be working at the same time. "We had a three-month schedule on the project, which was really tight for the amount of work required," Harryman says. "That made it tough, but we got it done with four crews, four boom lifts, and a telehandler on the project for three months solid."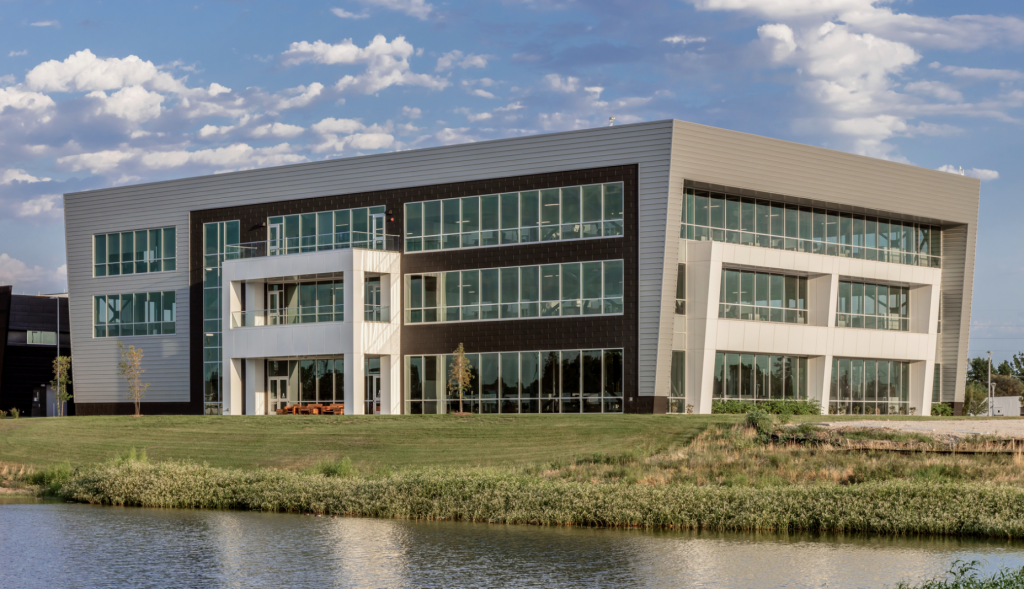 Mahaney Group brought the project in on time, thanks in part to seamless material delivery. "We were 100 percent complete in approximately 11-12 weeks, which was an amazing accomplishment, given the size and detail required on this project," Harryman says. "There can be zero delays or issues with the product, or your schedule is busted. PAC-CLAD did an amazing job the entire project, which is why we are a big supporter of PAC-CLAD/Petersen."
The safety plan had to encompass not only Mahaney's four crews but members of other trades as well. "Other than the aggressive production schedule and coordinating deliveries and staging areas for four different panel systems, the biggest challenge would have been accommodating other building envelope trades and our four metal crews onsite at one time," Harryman says. "Here at Mahaney we require 100 percent tie-off in any boom lift or scissor lift. So, the key safety concern was with all of the other trades around while we were in the boom lift — we had to make sure no one was below our work area."
The architectural details on the project also puts crews to the test. "There were numerous window and door trims, four different panel types, all with a tight schedule and a lot of trades/workmen around the building envelope for the duration of the project," says Harryman. "It was a daily challenge to make sure everybody had enough material, had the right material, and knew what they were doing. We never had to wait for material, so that helped us a lot to keep moving forward. There were no setbacks."
The success of the project demonstrates the strengths of Mahaney Group, according to Damon Young, the company's president. "Relentless problem solvers, elevating the craftsman and elevating excellence are some of our core values and pillars, and this project highlights each of those," Young says. "This project brings together the components of estimating, design, planning, problem solving, communication, and excellent craftsmanship to culminate in a beautiful result."
TEAM
Architect: GLMV Architecture, Wichita, Kansas, glmv.com
General Contractor: Crossland Construction, Wichita, Kansas, crossland.com
Wall System Installer: Mahaney Group, Inc., Wichita, Kansas, mahaneygroup.com
MATERIALS
Wall Panels: PAC-CLAD Highline S1 panels in Silver, Snap-On Panels in Bone White, Flat-Lock Panels in Matte Black, Petersen, pac-clad.com