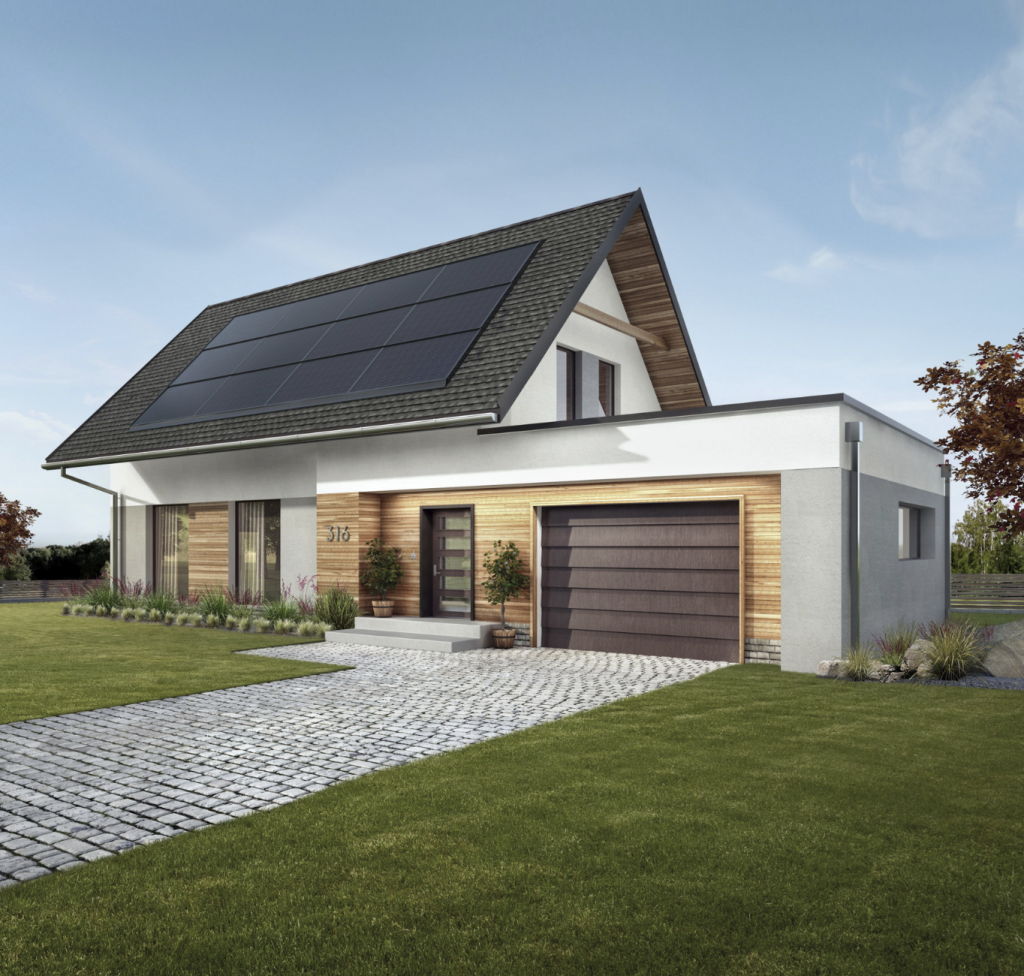 Earlier this year, Standard Industries launched GAF Energy, a new company with a lofty goal: revolutionizing residential rooftop solar. Working in tandem with GAF, GAF Energy is driving the adoption of integrated and affordable rooftop solar solutions across GAF's established distribution network. The business model is designed to tap into the strength of GAF's network of more than 6,000 certified roofing contractors to offer homeowners a comprehensive and economical approach to solar installation.
"We've created GAF Energy to take on roof-integrated solar and bring it to the next level," says Martin DeBono, president of GAF Energy. "By leveraging GAF's roofing expertise with GAF Energy's solar expertise, we've created a solar kit designed specifically for roofers and their customers during the re-roof and roof construction process."
The company believes that by standardizing these integrated solar solutions, they can be more easily installed on residential roof replacements and new construction projects. "By putting everything in a kit, we really simplify the process for a roofer," DeBono says. "In fact, our target roofing contractor is someone who has never done solar."
Connecting With Contractors
GAF Energy is currently working with GAF sales teams to identify contractors with residential sales teams that would be good candidates for adopting solar. Initially, the company is focusing on nine states, with plans to expand nationwide. The nine states are California, Florida, Illinois, New Jersey, New York, Connecticut, Pennsylvania, Massachusetts, Rhode Island. Key factors in the consideration of these markets included the climate, the price of electricity, and state and local programs for utility rebates and incentives.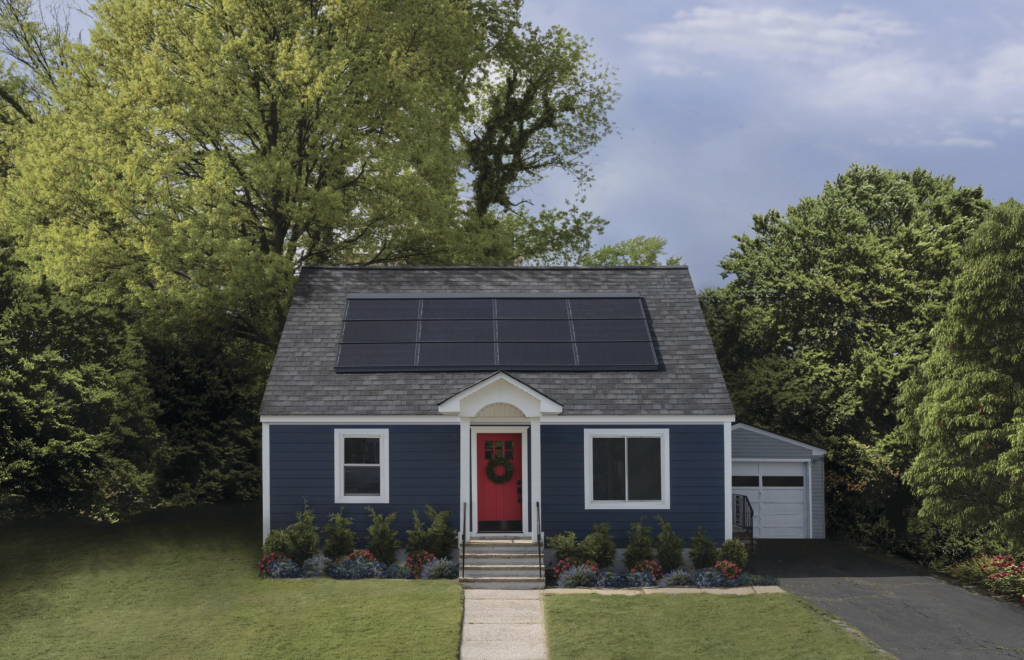 If contractors seem like they will be a good fit, GAF Energy sets up a multi-pronged training program, which includes classroom training and training in the field for both salespeople and installers. "We have full day of classroom sales training with a professional sales trainer," DeBono explains. "After contractors complete the sales training in the classroom, we provide field resources for in-home sales training and on-the-roof training. We have field resources that we send out with roofing contractors' salespeople into the field. Once we have a successful sale, we also provide on-the-roof training for the first installation. All of that is done just for being part of the GAF contractor network because it is our belief that we need to enable a new generation of roofers to sell and install solar."
According to DeBono, GAF Energy is then able to provide all of the services that roofers typically do not have, including electrical services, design services, and connection services. "If the roofing contractors have the wherewithal to continue the project with the electrical and the design, we're happy to enable that, but what we've found is that roofing contractors like GAF Energy to do that. We work with the roofing contractors and their customers to determine which services we provide and which services the roofer provides. It really lowers the barrier for adoption for both the roofing contractor and the homeowner."
Contractors are already selling and installing the system. "We launched the company in January, we conducted our first sales training sessions in February, and we've already received our first purchase orders," DeBono notes.
The Solar Kit
The GAF Energy solar roofing kit arrives at the home complete with everything needed for installation, including the integrated photovoltaics (PV), flashings, all of the power and electronics that are necessary, along with the hardware.
The system itself screws into the deck and is flashed in a method similar to a skylight installation. Power electronics plug into each other below the system and out of sight, and leads are connected to the inverter, which can be installed by the roofing contractor or GAF Energy.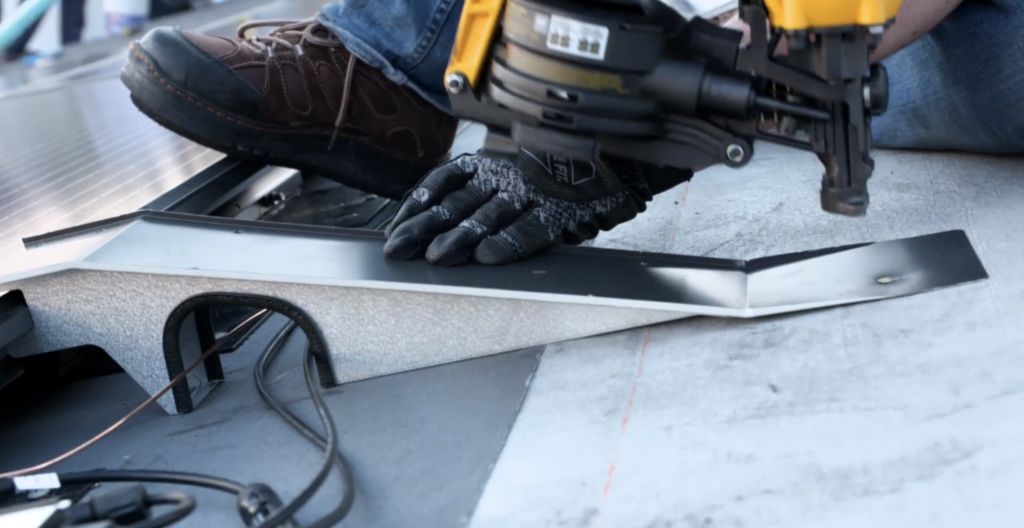 The kit — and the business model — are designed to provide synergy with the roofing contractor. "It is our firm belief that the roof is the domain of the roofing contractor," says DeBono. "You do not want anybody other than a roofing contractor working on your roof. As part of the Standard Industries family, we were founded to tap into this market, but we have a strong heritage from GAF, so we completely subscribe to that. We built a solar offering explicitly for roofers. First and foremost, if the roof is not a waterproof barrier for your home, it's a failure, and we would never allow that to happen."
The kit is also designed to be aesthetically appealing. "It is a truly roof-integrated solar system — the solar becomes the roof," DeBono says. "It's lower profile to the roof, and it simply looks better. The roof being one of the largest influencers on the physical appearance of one's house, and the house being one of the largest assets a homeowner owns, homeowners don't want to put anything ugly on their roof. By making it beautiful, we immediately eliminate the objections of those folks who say 'I don't want solar on my roof because it's ugly.'"
Value for Homeowners
The relationship with GAF Energy is designed to benefit the homeowner as well as the contractor. "The value for the homeowners is they have a local contact who sells and installs our system and will be there if there is ever an issue, and they are working hand-in-hand with a manufacturer to provide an unparalleled level of support," DeBono says. "The solar kit is covered by the same warranty as the roof. It's backed by a waterproof guarantee from Standard Industries, which has been around for over 130 years."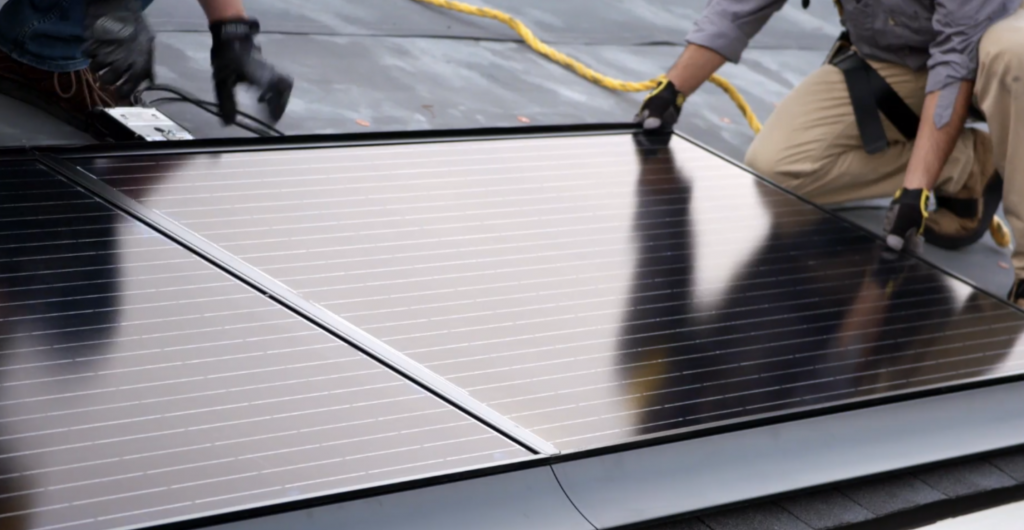 DeBono believes that for most customers, the decision to add solar comes down to the bottom line. "The primary reason people go solar is to save money," says DeBono. "There is this vision that people go solar because they are green. But the tipping point to go solar is really about saving money. As we roll this program out, we've been focusing on the nine states that offer the best savings."
DeBono notes the sales cycle for his company's solar system is about the same as that for a re-roof. "It's definitely not longer," he says. "The reason for that is it's a very simple sale. With our system, we are turning your roof from a static asset into an energy-generating asset that saves you money every month. The only increase in the sales cycle may be the matter of 15 minutes or 20 minutes in the home where we explain it to the customer. What's critical about our model — remember we have our heritage as a roofing company — is our approach is perfectly compatible with the way roofing contractors sell and do business today."
Customers calling for a new roof might be good candidates for solar, whether they know it or not. According to DeBono, contractors handling calls about a roofing estimate first check Google maps to determine if the location will be compatible with a solar application. If so, the discussion could lead to adding the solar kit: "The contractor might say, 'In the same time frame it will take us to put in your new roof, we can make it a solar roof. Instead of this great asset that lasts for 25 years and keeps you warm and dry, you can have a great asset that lasts for 25 years, keeps you warm and dry — and oh, by the way, it generates electricity every day and saves you money every month.' We're seeing that people are really interested in that value proposition."
With a background as a nuclear engineer, submarine officer in the Navy, and six years in the solar industry, DeBono believes the roofing industry is the key to expanding the rooftop solar market. "We at GAF Energy have this mission: energy from every roof," he says. "And when you look at the size of the roofing industry compared to the size of the solar industry, if you really want to accomplish energy from every roof, it has to be done from a roofing platform."
For more information about GAF Energy, visit www.gaf.energy.