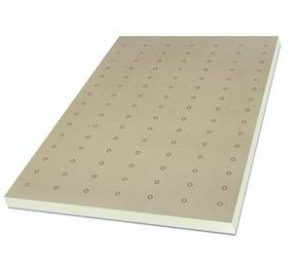 GAF introduces a new non-halogen polyisocyanurate insulation: EnergyGuard NH Polyiso Insulation Board. According to the company, GAF is the first roofing manufacturer to offer a full line of Red List Free roofing assemblies across their asphaltic and single-ply product lines.
The development of EnergyGuard NH Polyiso Insulation Board demonstrates the GAF commitment to providing architects, contractors, and building owners with affordable products that help them meet their sustainable and environmental design goals, by offering products that do not contain halogenated compounds.
As with their current EnergyGuard Polyiso Insulation, this product line offers high insulating values to help save on energy costs and is available in a variety of thicknesses. Because of its lightweight, this material is easy to handle on the jobsite and installs fast. Easy cutting in the field provides the installer with simple fabricating on the roof deck.
For more information, visit www.gaf.com.