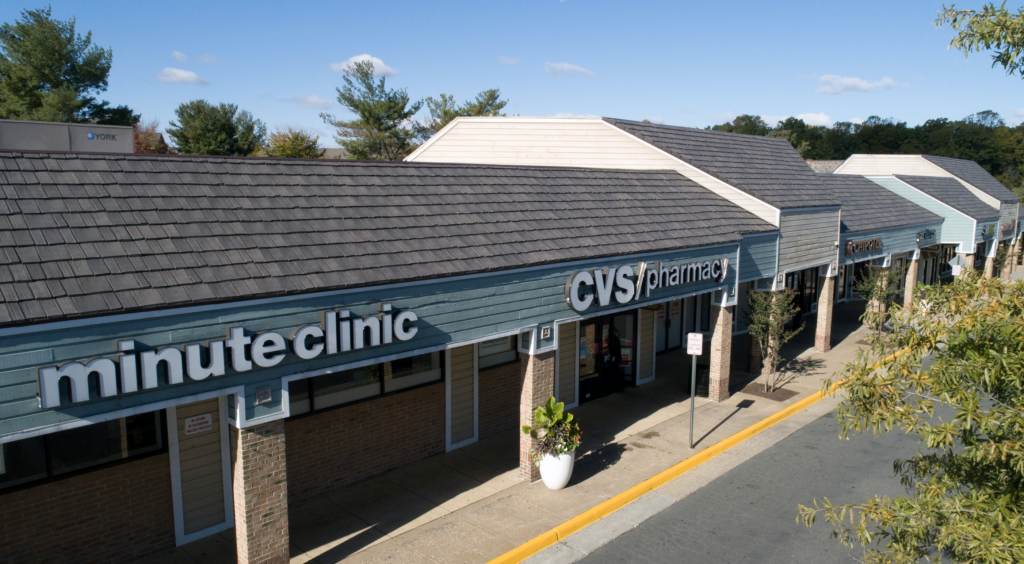 LK Construction tackles many composite shingle roofing projects each year. On an average, they've been known to knock out 20 or more commercial and residential composite roofs annually. And, while each project is special, nothing compares to their 2018 mega-project: the re-roofing of South Lake Village Shopping Center in Reston, Virginia.
With almost two dozen retailers and businesses, the shopping center has 109,527 square feet of space. And every building in the connected community center had a failing cedar roof.
Built in 1984, South Lake Village had a natural cedar roof complementing a low-slope membrane roof system. Fast forward to 2018. Functionally, the roof was failing badly. Stores complained of water leaks. Shingles were cracked and had moss growth, degrading the look of the entire shopping center. That's when the management company decided to invest in a new roof system featuring Bellaforté Shake from DaVinci Roofscapes.
"We knew this project was a winner the moment we started the installation," says Scott Kim, vice president at LK Construction in Annandale, Virginia. "Both store residents and shoppers were astonished by the transformation. Everyone expressed their excitement at the look of the new synthetic shakes. We immediately got calls from people wanting the Bellaforté Shake on their homes. Within several months, 10 houses in the area had composite shake roofing. And now there are many other homeowners inquiring about the DaVinci product on a regular basis."
Safety First
The process of re-roofing South Lake Village came with a unique set of challenges for the team at LK Construction. While shoppers were going in and out of Safeway, Starbucks, CVS Pharmacy and other stores, the team had to take great care.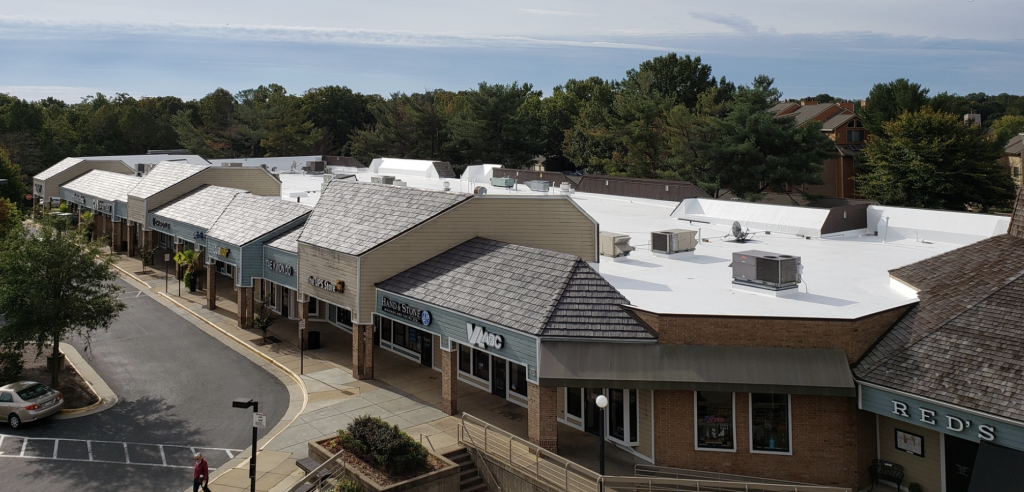 "This is the largest DaVinci project we've ever done," says Kim. "There were a lot of moving pieces. From ordering, receiving and storing the composite shakes to staging onsite. In addition, when it came to assuring pedestrian safety during the roofing process, the challenges were enormous. We focused a great deal on safety measures throughout the entire two-week project."
LK Construction brought in traffic controllers and road guards to help control the active environment. "Our goal was to safely install the composite roofing without disturbing the businesses," says Kim. "Safety was our top priority. And, we were able to achieve that goal."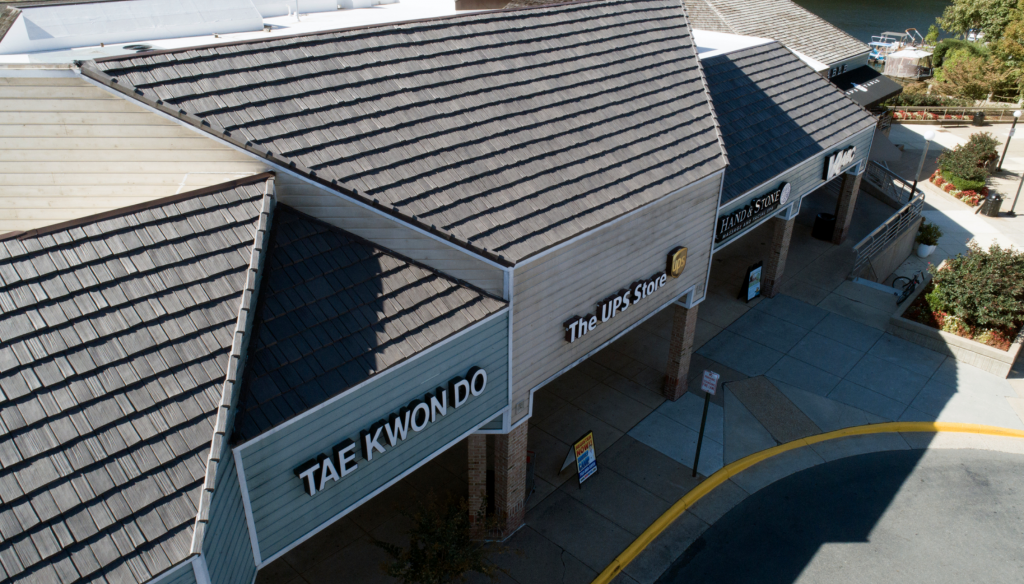 As shoppers moved smoothly in and out of stores, the LK Construction team replaced the flat roofing with a new thermoplastic membrane. Approximately 52,000 square feet of Sure-Weld TPO from Carlisle SynTec was installed on this project.
Crews then installed the Bellaforté Shake tiles. Made to withstand fire, impact and severe weather, the synthetic shakes are ideal for the shopping center location.
"There's no other synthetic product in the market that can mimic natural hand-split cedar as perfectly as Bellaforté Shake," says Kim. "These tiles are designed to simulate a multi-width look. They're extremely realistic and cost-effective."
Mission Accomplished
With their beautiful new roofs overhead, the shops at South Lake Village now stand out again as a showplace in the Reston community. From banks to restaurants to retailers, each structure can count on their DaVinci roofs to provide long-term beauty and durability.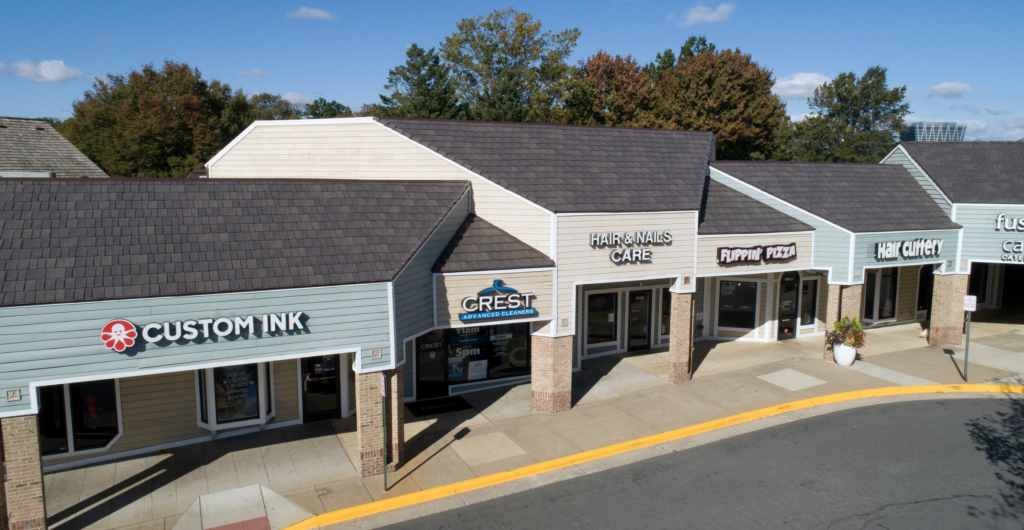 "The high visibility of this project opened the door for us even more in this marketplace," says Kim. "We're now busy replacing old cedar roofs throughout the area with synthetic shake."
"People are embracing the look of Bellaforté," he continues. "They love the many advantages of the product. At this point, we're forecasting a great number of homeowners throughout Reston will switch to DaVinci products in the near future."
TEAM
Roofing Contractor: LK Construction, Annandale, Virginia, www.lkconstructionusa.com
MATERIALS
Composite Shingles: Bellaforté Shake, DaVinci Roofscapes, www.davinciroofscapes.com
Low-Slope Roof: Sure-Weld TPO, Carlisle SynTec, www.carlislesyntec.com