At 700 square feet, the roof on the Earle Abbey vault was certainly not the largest job Charles F. Evans Company, Inc. has ever handled, but the care and attention to detail on the slate roof restoration exemplifies the craftsmanship the company is known for.
The vault is located in Glenwood Cemetery in Homer, New York, which first opened in 1867. The historic structure was clearly in need of repair, so the Village of Homer, which oversees the cemetery, reached out to Charles F. Evans Company, Inc. to assess the state of its slate roof. Charles F. Evans Company, Inc., a union roofing contractor headquartered in Elmira, New York, tackles all types of roofing projects, including complex historic restoration projects using natural slate.
The first steps involved visiting the site to assess the condition of the roof and underlying structure. "On any project, we begin with the exploratory phase," says Vice President Bob Pringle. "We determined that the eaves and rakes were rotted, and the existing slate, many of them damaged could not be reused. We determined this project would be a full replacement."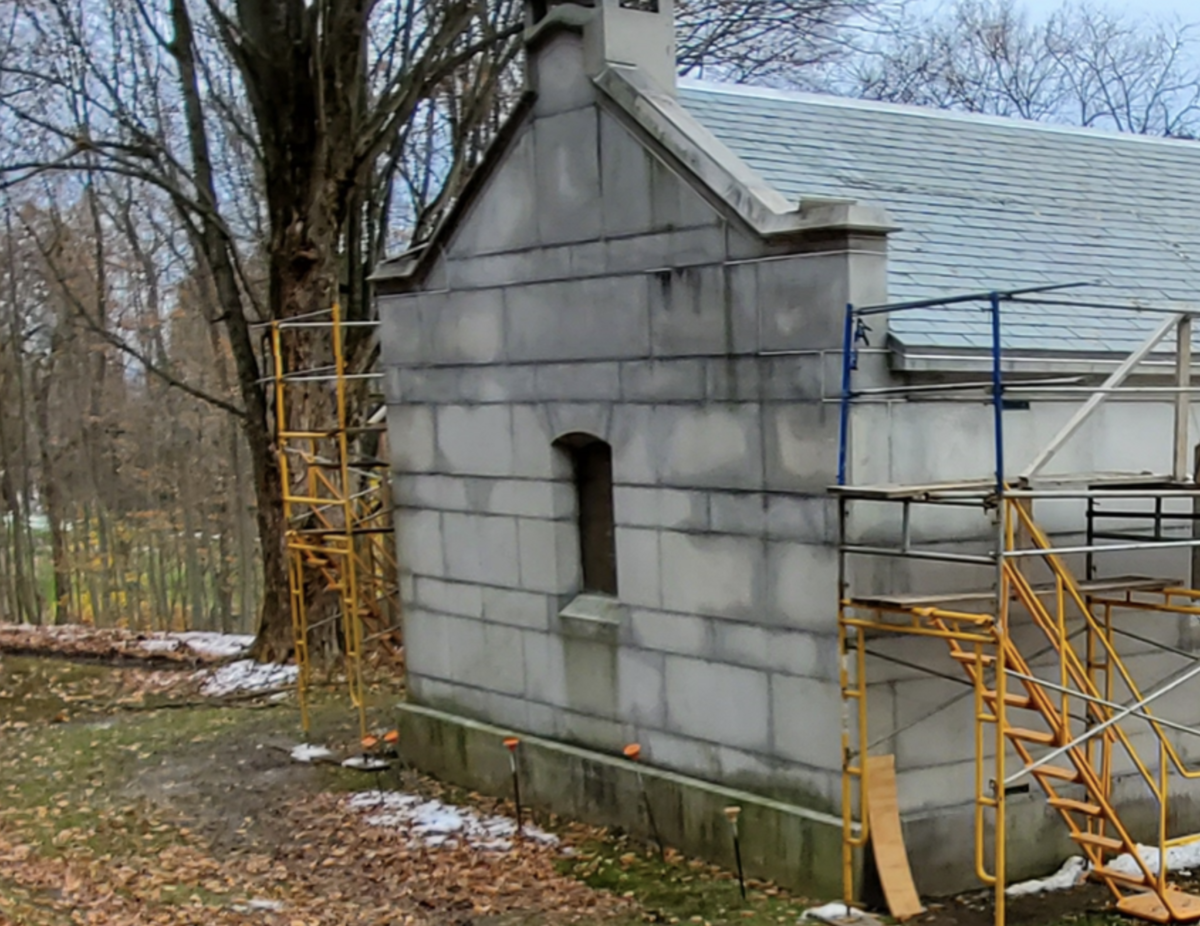 The slate chosen was Mottled Green and Purple by Vermont Structural Slate Company —popular colors in the region that closely replicated the look of the original design.
The goal was to restore the roof to its original state. "It is not uncommon to see these smaller structures that are deteriorating," notes Pringle. "In many cases, no one seems to care. No one wants to spend the money, and sometimes no one has ownership of these buildings. In this case, the municipality stepped up to the plate. I wish more did that. It was wonderful."
One of the company's many qualified slate crews was selected for the job, and the first task was to establish the safety plan. "As small as the building is, safety is still our number one priority," Project Manager Kent Duane states. "We set scaffolding up and used a personal fall arrest system to protect our crew from falls."
The existing concrete deck was so severely deteriorated it had to be repaired and covered with a layer of CDX plywood. After the underlayment was installed, the pre-punched slates were nailed in place using copper nails.
Extreme care had to be taken in order to ensure the vault was not damaged during construction. "The outside walls, given their age, were very brittle," Pringle points out. "We had to do our details, including flashing work, very carefully to not disturb the existing structure."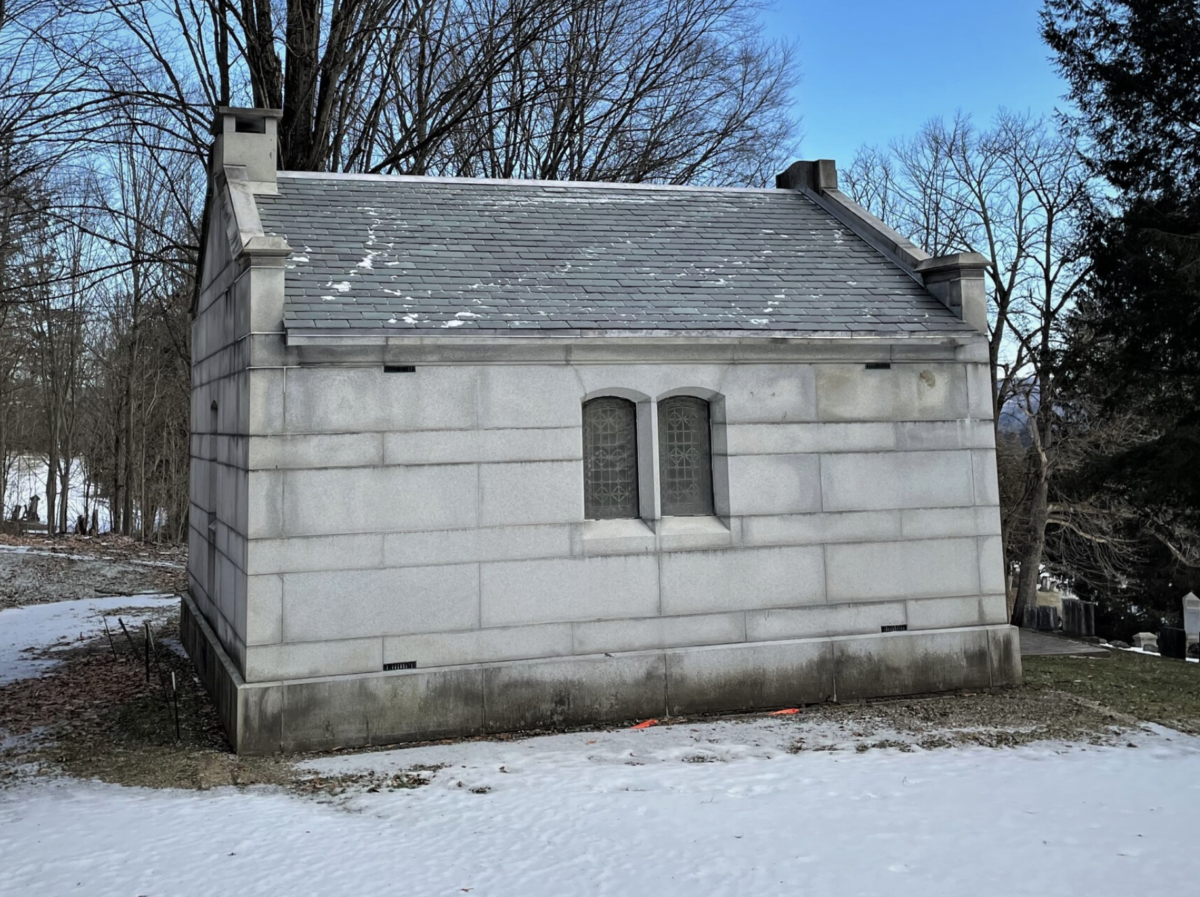 Traditional slate installation using natural stone is a niche Charles F. Evans Co., Inc. excels in, notes Pringle, who is also the current president of the National Slate Association. "We promote natural slate for historic restoration," he says, "To do a true, historical restoration means that we have to go back to the natural stone, nailed the traditional way, with a historical profile assembly. In this case, it was imperative that we use like materials. We used natural slate, installed as it was back in the 19th Century."
It is a skill that can be hard to find these days. "Traditional, natural slate installation is a dying art," notes Pringle. "It's a labor of love for people who are involved with this type of practice today. It's easy to use synthetic or lookalike materials, but it's not the real deal. Charles F. Evans prides itself on being one of the few qualified slate installers in the Northeast."
Many in the roofing industry are hoping to keep the tradition going. "The NRCA is currently working on a ProCertification program for slate," Pringle notes. "We want to make sure new people entering the roofing industry can take the knowledge and the history of how to do these roof installations using natural stone."
There is no denying natural slate is a beautiful, sustainable roof system, according to Pringle. "It stands the test of time," he says. "It came from the earth, and eventually it will go back to the earth."
TEAM
Roofing Contractor: Charles F. Evans Company, Inc., Elmira, New York,  evansroofingcompany.com
MATERIALS
Slate: Mottled Green and Purple, Vermont Structural Slate Company, vermontstructuralslate.com