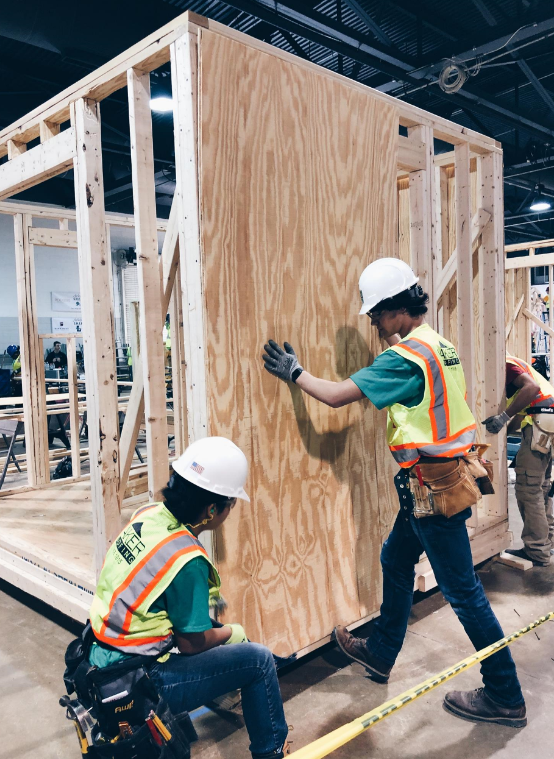 The roofing industry and the trades in general are facing a labor shortage of epic proportions and it doesn't look like it's going away anytime soon. When the recession of 2008 hit, the construction industry lost 600,000 jobs. According to GlobeSt.com, a recent report from the Associated General Contractors of America shows that 79 percent of construction companies want to hire more employees this year, but the industry is only estimated to grow its workforce by 0.5 percent annually for the next 10 years. This means competition for workers is fierce.
Baker Roofing, headquartered in Raleigh, North Carolina, has implemented an aggressive program to recruit the labor they need. According to Brendan Hale, regional operations officer and former director of career development and recruiting, the company had to shift its approach to recruiting. "We used to only advertise when we had open positions," explains Hale. That method turned out to be challenging, and they recognized that they needed to try something different. Like a sales pipeline, they realized they needed to create a hiring pipeline in order to have a pool of candidates in the funnel when positions opened.
To build that pipeline, the company increased its online activities. "We've got a heavy presence online through social media, staying on top of the latest trends," says Hale. "We are on Facebook, LinkedIn, Twitter and Snapchat with the goal of publishing content that could be of interest to younger people."
Baker Roofing maintains a strong presence on job boards too, with hiring ads rolling throughout the country to create awareness of their company and the opportunities. The company also relies heavily on word-of-mouth referrals from current employees, friends and family. "People choose to come here because they have confidence in the types of people who work here," states Hale.
Partnering With Local Schools and Colleges
"We do a lot of outreach with local high schools, especially in Raleigh," explains Hale. "We sponsor Shed Day where all throughout the state, the trade classes build these sheds that they auction off and our head of recruiting is on the board. We donate time, materials, and money and talk to the kids broadly about construction but more specifically about a career at Baker Roofing."
Hale notes the company tries to have a corporate presence throughout the schools in their service areas and assists the local offices with building the relationships when they can. "We're a big company with 22 offices. Right now, we've got a presence in the high schools in Charleston, South Carolina; Raleigh, North Carolina; Asheville, North Carolina; and Richmond, Virginia. Every year we try to grow that a little bit with the staff that we have and the resources we have."
Baker Roofing is a big believer in internships for college students. The company hires interns throughout the company in accounting, recruiting, construction management and estimating. The students work for Baker Roofing over school breaks, and the company has programs in place so that they possibly can be hired full time.
"We are a growing company and we know that people are your most precious resource; if they spent the time with us and we feel they have the right cultural expectations, morals and ethics, we can typically find a spot for them here," says Hale.
Veterans Are a Resource
Baker Roofing has also turned to the pool of veterans who are looking for work after leaving the service and reserves. "We have a large number of our employees who are veterans," Hale says. "We have a registered apprenticeship program, so we try to appeal to veterans where they can get started with us, learn the industry from the ground up and utilize their GI Bill benefits."
When Baker Roofing hires veterans and places them into the registered apprenticeship program, the veterans can receive money from their GI benefits in addition to the paycheck that they are receiving as a Baker Roofing employee. "As they are getting promotions and moving up within the company, the GI benefit begins to taper off. By the time they complete the three-year program, the idea is that they would be on their feet in a stable and long-term position," explains Hale.
Starting a Strong Recruitment Program
Hale says it's tough to share advice on how to start and build a strong recruitment program because there isn't one simple answer. "For smaller contractors, it's going to be harder. There isn't a silver bullet out there that will solve all the problems," says Hale. "It takes a variety of strategies. For a smaller contractor who may have a smaller team, it's difficult to assign these kinds of tasks to someone who already has a full-time job doing something else."
A full-time recruiter is ideal, according to Hale. "Ideally if a company has the capability, they need a champion who does this, and it needs to be their full-time focus. In order to sustain it someone has to constantly be working on it and thinking about it," he says.
Benefits are important, too. Hale says that Baker Roofing employees have access to company benefits including health insurance, dental, vision, short-term and long-term disability, a 401(k) that offers a match. They also offer a clear guide for employees, so they understand what it takes to advance within their career, and they understand what the opportunities are within the company.
If contractors don't have the manpower or resources to do it on their own, it's possible to get involved with the many other organizations who are already looking at recruiting into the trades. SkillsUSA and Keep Craft Alive are two initiatives that may offer an opportunity for a roofing contractor or someone on the team to volunteer and help introduce the youth involved to the idea of a career in roofing.
Another area to think about tapping into for recruiting is the female workforce. There is a small percentage of women in the roofing industry overall, and the National Women in Roofing (NWIR) wants to change that. NWIR recently surpassed 1,200 members, and one of the organization's efforts is the recruitment of women into the industry. NWIR is exploring initiatives that partner with organizations serving women in crisis to help those women get back on their feet and show them what a career in roofing could be like for them.
About the author: Karen L. Edwards is a marketing consultant for the roofing industry and director at the Roofing Technology Think Tank (RT3). For more information about the Roofing Technology Think Tank, visit www.rt3thinktank.com.