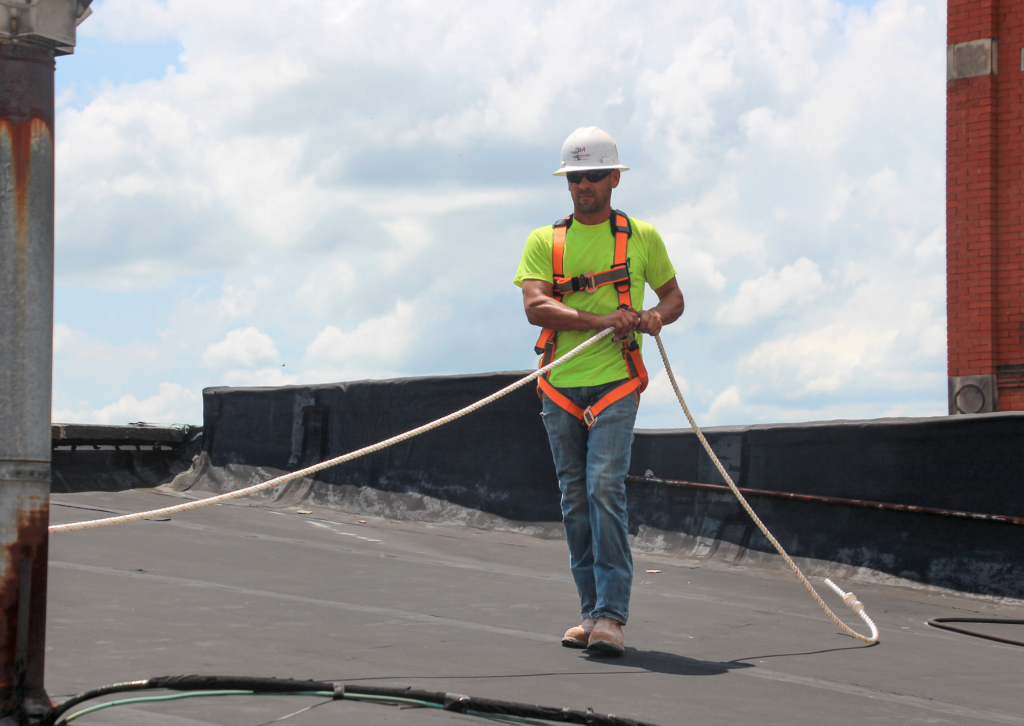 Falls accounted for almost 40 percent of fatalities in construction in 2017, according to OSHA, and failure to provide fall protection remains the most frequently cited OSHA violation. Nearly 400 construction workers died in the United States as a result of falls in 2017 alone. These are more than statistics on a page; these sobering numbers mean as much to the roofing industry as they do to any other profession. By nature, roofing jobs require working at heights, where we and our teams may be exposed to fall risks. It's important to do everything we can to mitigate these risks and ensure that we and our teams go home safely at the end of the day.
Some simple precautions early on can prevent much more dangerous and costly scenarios later. Fall restraint and restricting access to hazardous areas can prevent falls in the first place, which is the preferred approach whenever possible. Guardrails are an excellent, cost-effective way to restrict access to roof perimeters, skylights, roof hatches, ladder access points, and other fall hazards. If your jobsite lacks these safety features, temporary guardrails are available that don't penetrate the roof and damage it. These portable, free-standing safety rail systems are great for temporary jobsites or one-time contracts, where you aren't installing permanent guardrail fixtures.
Whenever workers need to access areas in which there is a fall risk, however, fall protection is key. Personal fall protection systems are a cost-effective way to ensure the safety of your team. The basic ABC's of fall protection are Anchors, Bodywear, and Connectors, which combine to make a complete personal fall arrest system.
Anchors
Anchors are the fixed points on a roof to which personal fall protection gear can be tied off. Anchors provide a solid foundation for any fall protection system, ensuring the rest of the worker's fall protection equipment is secured to a stable point that can support their weight and the force of a fall.
Many styles of roof anchors are available, including standard single-worker anchors, four-way anchor plates, and swiveling anchor points that allow for increased working range, as well as reusable anchors that can be installed with screws or nails for temporary use on rooftops.
Bodywear
The gold standard of bodywear for fall protection is a full body harness. The full body harness is the roofer's equivalent of a sailor's life vest — both can save one's life in an emergency. Worn properly, harnesses evenly distribute the force of stopping a fall throughout the parts of the body best able to absorb it — across the larger muscles of the legs, shoulders and chest.
Few other pieces of equipment are as personal to the user as one's harness, so it's important to find one that fits well and is comfortable to wear. Many harnesses offer optional padding for the back, neck and shoulders to help keep the pressure off, even when wearing a toolbelt. One-piece designs eliminate shoulder pad slippage and help to keep the harness and padding in place, allowing it to be worn safely and comfortably even while moving around on the jobsite.
Connectors
Connectors include self-retracting lifeline (SRLs), shock-absorbing lanyards and vertical lifeline assemblies. These components are what actively arrest a fall and stop an uncontrolled descent. They also assist in absorbing the fall's impact and diverting some of the stopping force away from the worker's body and harness.
An important factor to consider when choosing a connector for roofing jobsites is the location of your anchor point relative to the working surface. Most standard SRL and lanyard systems are designed for overhead tie-off, but this isn't always possible when working on a rooftop. When you're working on a leading edge — a walking/working surface with an unprotected side or edge 6 feet (1.8 m) or more above a lower level — and you don't have an overhead anchor point, foot-level tie-off requires a different style of connector that's designed and rated specifically for these kinds of applications.
Of course, all the best fall protection gear in the world means little if your crew doesn't know how to use it correctly or fails to wear it because it's uncomfortable or ill-fitting. Training and proper fitting and use of personal fall arrest systems is an important final step to take with your teams.
OSHA 29 CFR 1926.503 states: "Employers must provide a fall protection training program to workers who might be exposed to fall hazards. Training must include how to recognize fall hazards and how to minimize them." OSHA cited 1,978 companies for failure to properly train their teams in 2018, up from 1,728 citations in 2017.
Simply purchasing fall protection equipment isn't enough to keep your workers safe. Your team needs to know how to properly use, inspect and store safety equipment to prevent injury, and your equipment must be properly maintained and kept in good repair. Safety training courses are available from fall protection equipment manufacturers, who can train your teams on how to inspect, use and maintain their products. Knowing how to identify jobsite hazards, having a fall protection plan that meets your jobsite's specifications and a rescue plan prepared should anything go wrong are all part of any successful training program.
Coming to a jobsite prepared to employ fall prevention, equipped with personal fall protection, and trained in the proper use of your safety systems lays the groundwork for keeping your crew safe when working on roofing projects at heights. These precautionary steps are important to ensuring that your team members don't become another statistic.
About the Author: David Ivey is a Fall Protection Engineer for Malta Dynamics, where he oversees the engineering and installation of all custom fall protection systems. For more information or with questions about OSHA compliance of fall protection systems, contact him by email at divey@maltadynamics.com.